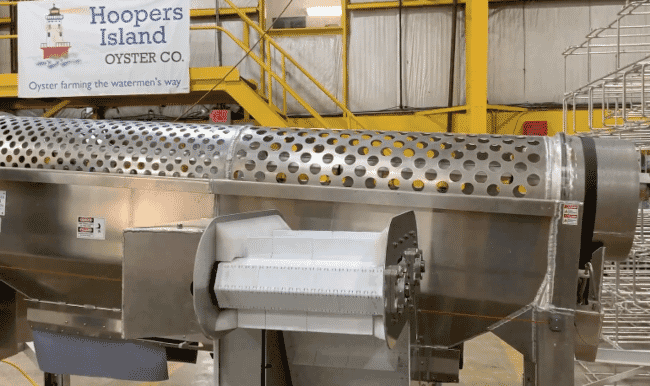 Manufactured at the Maryland firm's fabrication facility, the hydraulic bin tipper and outfeed tumbler conveyor were designed in response to industry service, safety and production issues identified by Hoopers and other oyster growers.
"These machines are the latest in the line of innovative processing equipment developed by Hoopers Island, based on observations from our own oyster farm and discussions held with other growers," said managing partner Ricky Fitzhugh. "Employee safety, efficient handling and dependable customer service are critical to today's high-volume shellfish-growing operations."

Outfeed tumbler conveyor
The outfeed tumbler conveyor is the first model of its kind produced in the United States that can be configured with one or two portable conveyors that attach to the sides of a tumbler frame verses a standard end-of-unit position. The unit seamlessly integrates with Hoopers' line of tumblers and can be modified to adapt to other models.
By resting perpendicular to the tumbler, the outfeed unit eliminates the need to stop work to change the tub or discharge conveyor. This allows the tumbler to operate continuously increasing the number of oysters processed from 300 to tens of thousands.
"The conveyor increases speed and capacity," said Hoopers Island senior equipment manager Chris Wyer, "and it's the only tumbler model to convey and bag oysters at an ergonomically correct height, helping to mitigate the risk of work-related injuries as the operator oversees production."
Because the aluminum-framed conveyor is often operated outdoors, Hoopers Island designed the unit with enclosed, waterproof controls to prevent electrical shortages, improving safety and dependability.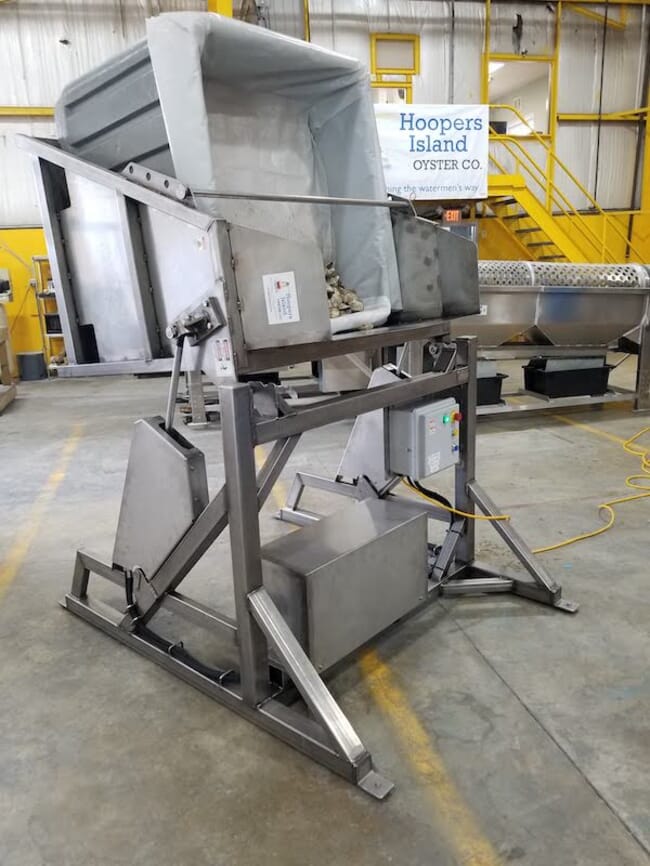 Hydraulic bin tipper
Developed at the request of Hoopers long-time customer Little Wicomico Oyster Co in Heathsville Virginia, the hydraulic bin tipper eliminates the need for manual tipping and automates the transfer of heavy bins of shellfish into processing equipment such as hoppers, conveyors, and tumblers.
The freestanding, stainless steel unit uses two hydraulic cylinders to lift the large heavy plastic bins used by Little Wicomico and other shellfish farmers. The unit is portable – requiring no floor anchoring – and therefore adaptable to any workspace.
Capable of raising totes with up to 1,500 lb of shellfish, Fitzhugh believes Hoopers Island's tipper is the only American-made and serviced machine of its type.
"I have an existing, stationary tipper that I purchased from another manufacturer that hasn't been as dependable as the equipment I've purchased from Hoopers Island," said Myles Cockrell, Little Wicomico owner. " So I approached the Hoopers team and asked if they could develop a tipper that is portable, serviceable and also has the ability to increase carrying capacity. Since receiving the Hoopers tipper, I couldn't be more pleased with its efficiency and durability."