Sponsor message
Are you trying to break into aquaculture industry or already working in the field and looking to gain additional expertise for career development?
Overcoming Challenges to Export in Kenyan Aquaculture
KENYA - Issac Njagi, from the Technical University of Kenya, explains some of the common challenges faced by Kenyan fish farmers wanting to export to international markets, such as the EU, and how some of these problems can be mitigated.
A few months ago the Kenyan aquaculture sector got a boost after the country was allowed to export fish produce to the European Union. The deal is under the EU sh 1.4 billion project dubbed Standard and Market Access Programme (SMAP), which seeks to sensitize Kenyan farmers of how to produce fish for the international market.
This will imply that fish farms that supply fingerlings for outgrow purposes must strive to produce quality fish that meet international standards for health and quality.
The most commonly farmed fish species are Nile tilapia (Oreochromis niloticus), which accounts for about 75% of production, followed by African catfish (Clarias gariepinus), which contributes about 21% of aquaculture production.
The biggest challenges in Kenyan aquaculture is the lack of efficient quality and inexpensive farm-made feeds for different stages of fish development.
Due to the increased demand for fish feed, unscrupulous dealers sometimes sell feed of compromised quality, prompting the government to initiate efforts to establish national standards for fish feed.
Research work from March 2014 to July 2014 to investigate intensity of infections of bacteria and fungi in fingerlings reared in different hatchery systems revealed the presence of bacterial and fungal agents in numbers to cause mortality in fish. But if farmers follow the best practices, then diseases in fish farms would be a thing of the past.
A hatchery is an enclosure where young fish after hatching from eggs are held until maturity. It can be made of concrete, glass or hexangonal plastics tanks.
Recirculatory aquauculture systems (RAS) have an inlet water pipe and outlet pipe systems simple to create and that allows for maintainance of required parameters like Ph, dissolved oxygen, salinity and oxidative reduction potential, among others.
The stocking density of fish is a factor in disease in farms such that small sized hatcheries had more infectious agents and deaths were also reported frequently in them.
Physiochemical parameters differed variably between all the farms especially in regard to the Ph, salinity and dissolved oxygen levels. Water temperature though was between the accepted normal ranges by FAO.
Results indicated that formulated feeds had higher levels of bacterial and fungal contamination compared to commercial feeds because of the mould formation, high moisture, storage facilities, and poor handling and preparation methods.
Findings of the present study suggested that Nile tilapia was more susceptible to disease compared to catfish. The two species have different feeding habits and their body morphologies are different.
What can be done?
Adoption of improved design of Hatchery systems by all fish farms and best feed storage practices.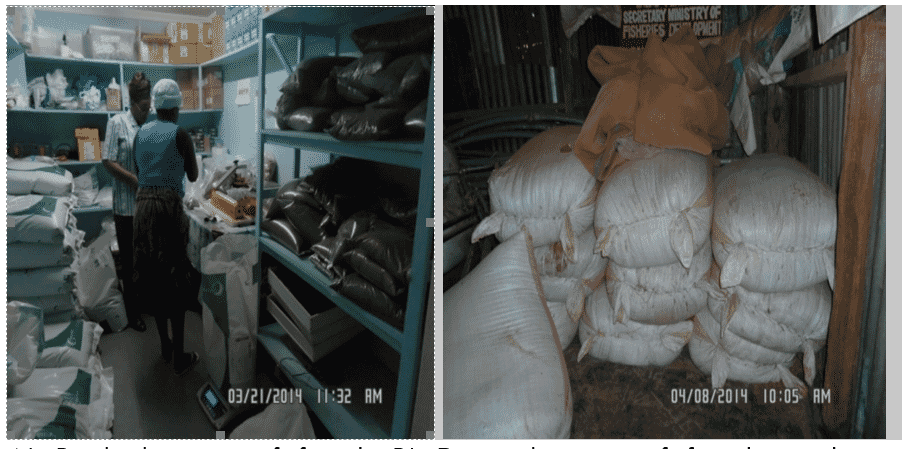 A) Best storage of feeds B) Poor storage of feeds and source of aflatoxin producing fungi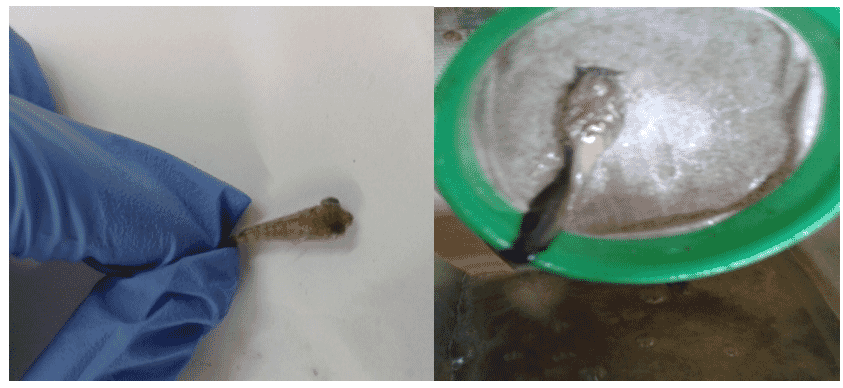 A) Fungal infection due to saprolegniasis B) A dead catfish with eroded abdomen

D) Streptoccous which causes the C shape and erratic swimming C) Body and fin hemorrhagic lesions and pop eye syndrome
Water from river sources contributes to Zoonotic diseases in fish which are also implicated in human and animal populations.
This also indicates the potential outbreak of serious fish diseases in farms that are poorly managed and those that use contaminated river water and feeds for fish farming.
Recommendations
Frequent laboratory analysis of water parameters. Farms can buy a multi analyser meter to frequently check physiochemical parameters in water.
Borehole water was considered an alternative source of water. Farms that utilsed it had minimal infectious agents. Ground water is usually free of suspended matter, pollutants, and fish disease organisms.
Proper preparation, packaging and storage of Formulated feeds and commercial feeds. Farm workers should be trained on sourcing feed, raw materials, handling and processing procedure of these raw materials and how to store them.
Good health records for each farm showing water quality records, fish ages, species, disease symptoms seen and any other relevant data that deals with fish, are also needed.
Setting up an animal laboratory in each county for epidemiology, surveillance, disease reporting, risk analysis, laboratory diagnosis, disease control, quarantine and inspection and antibiotic studies.
The successful development of sustainable aquaculture lies in the promotion of aquaculture as a viable investment opportunity whereby potential investors identify opportunities to make economic gains in the country.
Sponsor message
UMass Sustainable Aquaculture Online Courses
Aquaculture is an increasingly important source of safe, nutritious, and sustainable seafood for people worldwide. Globally, aquaculture production must double by 2030 to keep pace with demand. These increases in demand for aquaculture products, food security considerations, and job creation have generated an increased need for skilled workers.
Discover how you can be part of this rapidly expanding industry.