This year's event, sponsored by Nutriad, was held in Chennai and attracted industry professionals from all over India, following a strong growth year where the country closed in on the global leadership position in shrimp production. Nutriad has been present in the Indian market for years, building relationships with local producers and industry experts.
Aqua India started with a full day session on key topics in aquaculture nutrition. This nutrition session was attended by aquaculture nutritionists, feed formulators and technical service providers working in feed companies together with researchers and academia in aquaculture nutrition and feed technology. Topics presented included progress in aquaculture nutrition research and practice, ingredient knowledge and feed formulation, the use of feed additives including organic selenium, enzymes and amino acids, and the need for education in aquaculture nutrition.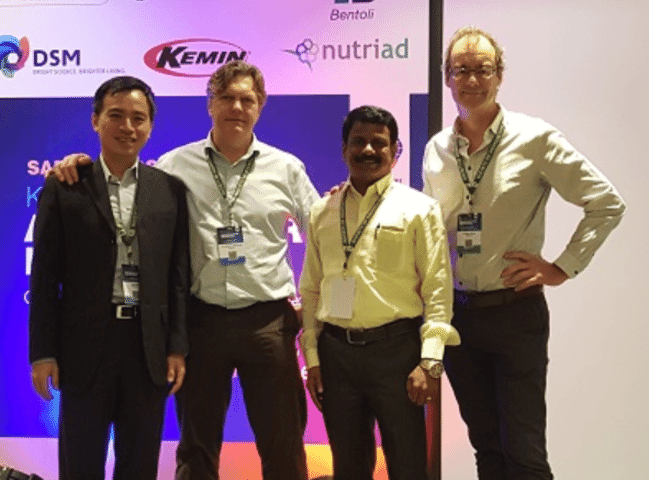 Nutriad showed its commitment to the Indian aquaculture industry through a Sponsorship for the event and was represented with Allen Wu, Regional Manager – Aquaculture, Asia Pacific; business unit director aquaculture Dr Peter Coutteau; and country manager Gnanamani Thangairulappan.

Alexander van Halteren, business development manager aquaculture nutrition, presented "Balancing nutrient levels in commercial shrimp feeds" in which he commented on a 2016 Feed Survey organised. The survey investigated the different nutritional strategies in commercial shrimp feeds during 2016, when the number of shrimp feed suppliers increased sharply. The study analysed representative feed samples of eight major brands that were collected in the market. Analysis included proximate composition as well as a number of essential nutrients (amino acids, phospholipids, cholesterol, n-3 highly unsaturated fatty acids). Some of the nutrient levels detected during the survey, revealed the potential for functional feed additives to optimise nutrient utilisation in shrimp feeds in India.