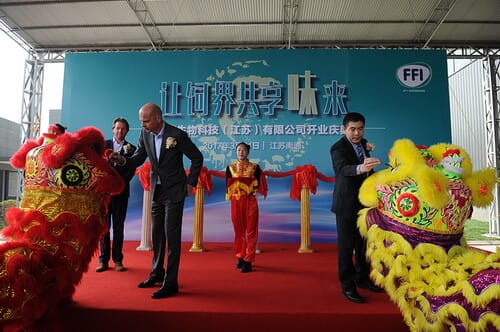 The ribbon cutting ceremony was attended by government officials, industry leaders and local staff. A pioneer in flavour and sweetener solutions for livestock applications in China, Nutriad invested in a new state of the art production facility allowing the introduction of the most recent product development from their laboratories in Europe.
The new factory, with a 10,000 Mt capacity/year, will operate under the FFI (Feed Flavour International) brand. Building on strong experience in swine nutrition, the new plant will also service ruminant and aquaculture applications.
Stated Erik Visser, CEO Nutriad, "As the Chinese industry has developed, both government regulations as well as customer demands have changed over the years. This new factory is in full compliance with the latest environmental and safety regulations and brings together our years of experience from producing and servicing customers across the world."
The new 4,150 M2 facility, will see production capacity increased and incorporates lab facilities that were built following European quality standards. Introduction of new bags will enhance the product quality and introduction of ERP software will support supply chain improvements.
The opening ceremony was follow by a seminar that hosted speakers from Chinese universities and international industry expert and concluded with a dinner attended by industry leaders from all over China.
Concluded Nutriad CEO Visser: "China is a dynamic and growing country. We are proud to be investing in this market and in our relation with local producers. We are confident that we will continue to be successful as we have shown to be able to convert global knowledge into practical local solutions helping producers to overcome feed intake challenges."
Multinational feed additives producer Nutriad, headquartered in Europe, was established more than 50 years ago. Through organic growth and selective acquisitions Nutriad has grown to be a global leader in specialty feed additives solutions for enhancing performance and promoting health in livestock and aquaculture. Nutriad delivers products and services to over 80 countries. Find out more at www.nutriad.com