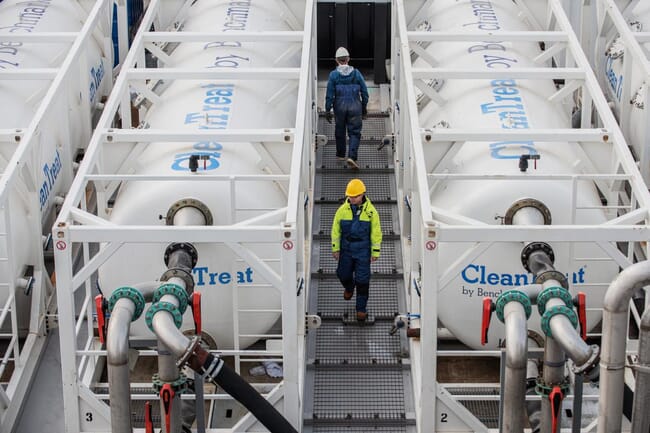 Called Ectosan Vet, the sea lice treatment will be used exclusively in conjunction with the company's breakthrough water purification system, CleanTreat.
Trond Williksen, CEO of Benchmark, welcomed the first CleanTreat vessel into Norwegian waters on 31 July, ahead of its first commercial deployment, following full regulatory approval of Ectosan in Norway last month.
CleanTreat removes medicines from treatment water before returning cleaned water to the sea. The system also removes the organic material from treatment water including sea lice, egg strings, fish scales and faecal matter - an essential step in combating parasitic resistance to medicines.
The CleanTreat vessel, which arrived in Norway on Saturday, is the culmination of over a decade of innovation, research and extensive trials. After winning the Nor-Fishing Innovation Award in 2019, the system has been further developed and refined. The vessel arrives with a full maritime crew, plus eight Benchmark technicians and specialist chemists, to operate this system.
Benchmark intends to have two CleanTreat vessels operating in Norway during this season, with the ability to add additional capacity to meet customer demand.
Following the arrival of the vessel in Norwegian waters, Trond Williksen, CEO of Benchmark, said: "I am pleased to welcome the first CleanTreat vessel in Norway. As an innovative aquaculture biotechnology company, we are truly excited to bring this much-needed solution to the vital salmon industry in Norway. It will drive sustainability and increased yields through improved animal welfare, while also protecting the environment. I want to thank my teams who have been working tirelessly to bring this innovative and essential product to market."
Neil Robertson, head of operations at Benchmark Animal Health, said: "Today marks a major milestone in Benchmark's journey to support a more sustainable aquaculture industry and create a future where no chemicals are applied directly to the sea. I am proud to finally see the CleanTreat system now ready for commercial use, following over a decade of research, development and trials. We look forward to working with our customers and partners in the deployment of this innovative new solution in Norway in the coming weeks."