Speaking at Aquaculture 2019, the company's chief science officer expressed his satisfaction that the facility is "the ultimate IMTA [integrated multi-trophic aquaculture]… in our facility we have zero discharge – from 1.1 tonnes of feed we get 1 tonne of fish and 6-10 tonnes of leafy greens, so that's amazing."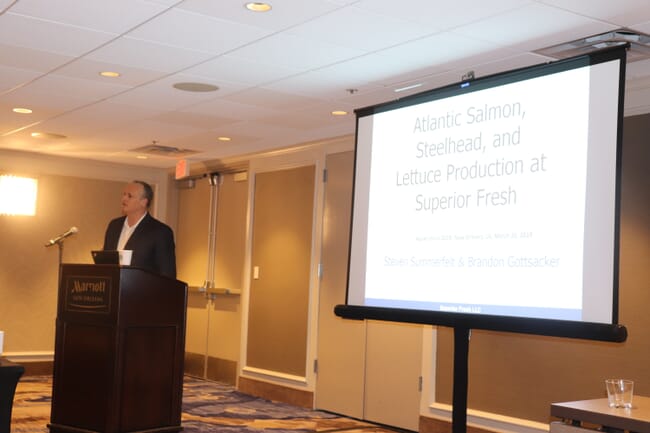 Superior Fresh is, according to Summerfelt, "the largest aquaponic producer in the US and we think in the world" as well as the first commercial land-based Atlantic salmon farm in the USA to send its produce to market. It currently produces about 100 tonnes of salmon and trout a year, exceeding expectations.
"I'm so proud, we designed it to produce just over 70 tonnes of salmon and steelhead and our production manager, Kyle, has optimised the system – we still have fantastic fish, but he's pushed the biomass density to 25-30 percent over our production goal, which is all the more impressive given that most systems struggle to reach their production targets," he reflected.
Since July they have been selling salmon, at an average size of 4-5 kg, every week as well as "sporadic" harvests of steelhead, at 2-3 kg on average, and now have plans to increase fish production capacity by 500 tonnes a year.
Meanwhile the current three-acre greenhouse is producing 600-1000 tonnes of greens a year, for both retail and wholesale, and construction of an additional three-acre greenhouse is due to start in April.
Realism
In his presentation Summerfelt stressed that business sense, not idealism, was the key factor in going down the aquaponics route.
He helped to design the facility while at the Conservation Fund's Freshwater Institute, but it was largely due to Wisconsin's strict regulations that they decided to go down the aquaponics, as opposed to the standard RAS, route.
"We chose aquaponics, not only for economic reasons but also to conform to our regulatory framework – the impact on the environment is tightly controlled, in Wisconsin unless you were on this little bit of river that we didn't have access to, you have to discharge your phosphorous levels at less than a part per billion, which is very difficult to get to," he explained.
"When you look at cleaning the water we thought let's do aquaponics, and the Freshwater Institute some years ago did research on using the effluent in aquaponics for basil and lettuce production. So the facility was designed really to conform to permitting," he added.
It is, he stressed, very different from traditional aquaponics systems.
"If you think about the traditional ma and pa aquaponics system in which you traditionally raise tilapia and the water quality is not all that great and you don't intensify with pure oxygen, this is completely different. This, I want to emphasise, is an agribusiness… using the best technology across the board," he explained.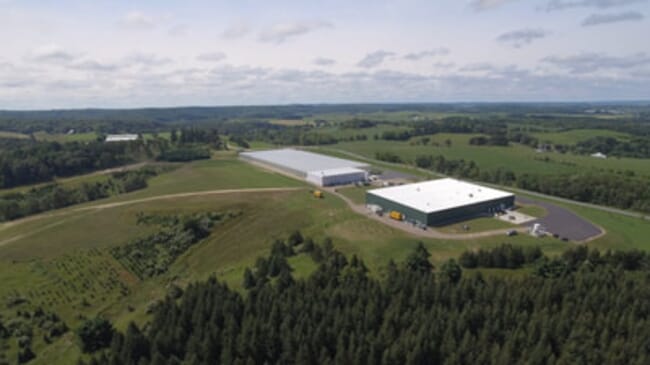 Marketing
In terms of selling the produce grown by Superior Fresh, Summerfelt was also keen to emphasise the need to maintain consistently high quality across the board.
"We're trying to change the food system, to disrupt it – to become a presence you have to actually produce great food," he argued.
"We're not doing this to be environmentally friendly, we're doing this to have a product that sells well," he added.
It helps, he said, that their leafy greens are USDA-certified organic, while their salmon falls into Seafood Watch's 'best choice' category. But, as well as ticking these certification boxes, he reflected that consumers have to be satisfied with other aspects too.
"It has to taste perfect, it has to look perfect, it has to be what people expect when they go and buy salmon," he explained.
It is clearly a strategy that's working, if the company's plans to expand are anything to go by.
"We're going to expand to 15 acres on site, as well as looking on both coasts [for opportunities to establish new sites]," he revealed.