The harvest, which is expected to yield 5 tonnes, is scheduled to take place at the end of May. AquaBounty then plans to ramp production to reach the facility's full capacity by the end of the year.
AquaBounty is the first and only company in the world to raise and market a GE Atlantic salmon approved by the US Food and Drug Administration (FDA) and Health Canada. According to the company, they can "produce up to 70 percent more fresh salmon annually compared to conventional Atlantic salmon grown in the same period under the same conditions".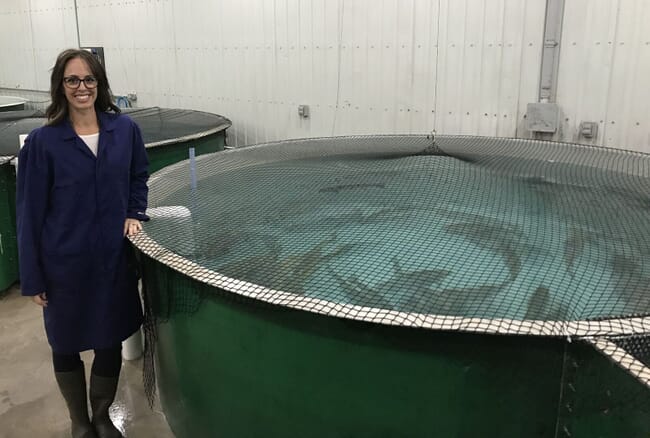 "The benefit is a fresh, healthy protein that is produced more efficiently and feeds more people, which is good for consumers and the planet," they state.

"I'm proud to see AquaBounty reach this important milestone using science and technology to provide sustainable seafood for a growing population," said AquaBounty CEO Sylvia Wulf in a press release. "Our land-based aquaculture technology allows us to bring to market a healthy protein source. By raising our fish in freshwater from hatch to harvest, we offer an Atlantic salmon with a fresh, mild taste that consumers will enjoy."
Market demand
AquaBounty says that they have experienced widespread demand for their salmon.
"AquaBounty's sustainable land-based operations have a lower carbon footprint with reduced transportation requirements than Atlantic salmon that we import from other suppliers, and that's exactly what this industry needs to feed a growing population," said Joe Lasprogata, vice president, new product development at Samuels and Son Seafood Co, a Philadelphia-based seafood distributor of AquaBounty's Atlantic salmon. "AquaBounty's genetically engineered salmon is a reliable and efficient source of salmon that is a product of the USA, tastes delicious and looks great. We can't wait to share this with our customers."
Chef Charlie Baggs, from Charlie Baggs Culinary Innovations, who is also AquaBounty's executive chef, commented, "The quality is excellent with firm texture, vibrant color and a clean taste. I believe these positive attributes will drive consumer purchases."