The facility will be operated by a new subsidiary of Nordic Aquafarms, California Marine Investments, which has entered into an exclusive option agreement with the Humboldt Bay Harbor, Recreation and Conservation District in Northern California to lease 30 acres on the Samoa peninsula near Eureka.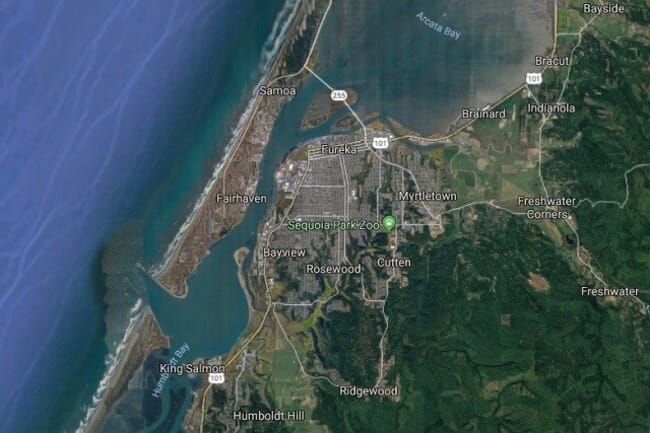 It is the first involvement in the US west coast for the company, which is currently planning a similar project - ultimately capable of producing 33,000 tonnes of salmon a year - in Maine.
According to Nordic Aquafarms´ CEO, Bernt-Olav Roettingsnes, the agreement is aligned with the company´s US strategy of building its facilities close to the regional markets it plans to serve.
"As we did on the East Coast, we conducted a thorough search over the past few months to find the right location for our West Coast expansion," said company president Erik Heim. "This site meets all of our criteria for building a safe, clean, and sustainable fish farm, and we have been welcomed by local authorities who are excited about the many benefits this project can bring to the area."
The location, he adds, greatly simplifies permitting and provides significant infrastructure savings. The location already has an outfall pipe in place, established access to good freshwater and seawater sources, a substation with power on site and many more benefits. Key permits such as aquaculture licences are already in place.
Nordic Aquafarms has developed an innovative energy management approach that enables the company to be cost-competitive independent of local energy costs. Solar power, among other sources, will be a part of the energy mix in California.
Heim said the company is considering raising salmon or steelhead as options for the land-based facility. A final decision on which species to raise will be based on market considerations market and further discussions with the local permitting authorities.
"We will now be situated on both coasts, which fits into our strategy of locating fish farms close to major regional markets," added Commercial Director Marianne Naess. "The Eureka location will enable us to reach more than 50 million people within a 14-hour drive or less, which reduces the cost and environmental impact of transportation while supplying the market with super-fresh, sustainably raised local fish."
According to local economic officials, the project is also seen as a good match for Humboldt County because it fits into their strategy of developing coastal-dependent industries in the region. The Humboldt Bay Harbor district has already permitted the property for aquaculture and has been looking for an anchor project that will be a catalyst for attracting and developing an aquaculture cluster, so the permitting process is expected to go very smoothly.
Naess said the company has already begun engaging in discussions about the project with local authorities and stakeholder groups.