Aqua Nor has received a total of 30 applications for this year's Innovation Award from innovator companies in 11 countries including Norway. 40 percent of applications are from foreign companies. Chairperson of the Board Liv Holmefjord and project manager Kari Steinsbø are very pleased with the support.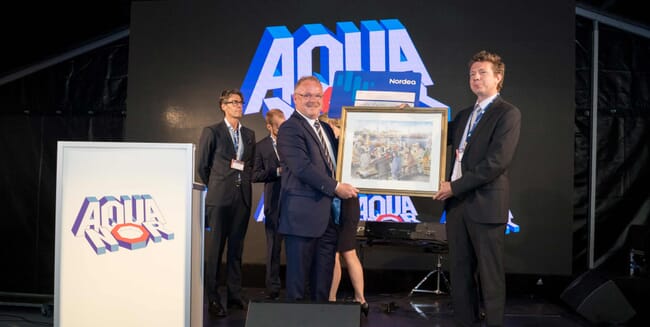 The jury has consisted of Section Manager Kjell Maroni of the Fisheries and Aquaculture Research Fund, senior advisor Oddvar Staulen of Innovation Norway and senior advisor Jan Henrik Sandberg of the Norwegian Fishermen's Association. It has been a demanding task to choose the finalists, taking into consideration the degree of innovation, the importance of the project for the aquaculture industry and the international market value for the developer. The jury has made its assessments based on the information in the applications.
The following three finalists have been nominated for this year's award:
Benchmark Animal Health, has developed a water purification system for the Aquaculture industry to prevent medicines entering the sea. "CleanTreat by Benchmark", is currently deployed in Norway, working alongside wellboats to remove medicines from sea lice bath treatment water. There is an opportunity for the system to be used alongside treatments for many other diseases and parasitic infections. To date the CleanTreat system has processed more than 300,000 m3 of treatment water.
Ecotone AS, Trondheim, Norway has developed "SpectraLice" – a fully automatic underwater camera that counts lice on freely swimming salmon. The camera has software that analyses all colours in reflected light and uses it for automatic detection. "SpectraLice" counts and reports salmon lice via 4G networks to the desired platform (plant, head office and portable devices). The system can also report to authorities and researchers as desired.
Mørenot Robotics AS, Bodø, Norway has developed an autonomous underwater robot that prevents fouling growth on the net by using a continuous low-intensity brushing. NetRobot X2 is put into the water in a clean net and will keep the net wall continuously clean and free of fouling as long as the fish farmer wishes. The robot has electric thrusters that ensure proper pressure against the net and manoeuvring according to the operating pattern of cleaning the entire net wall. NetRobot is a new tool for the fish farmer who wants to contribute to the fish's well-being and growth, for the environment and for a good result for the farmer.
The Board of the Nor-Fishing Foundation will review the jury's recommendations in a meeting on Monday 19 August, and this year's Innovation Award of NOK 100,000 and a diploma will be presented to the winner on the opening day of Aqua Nor on 20 August