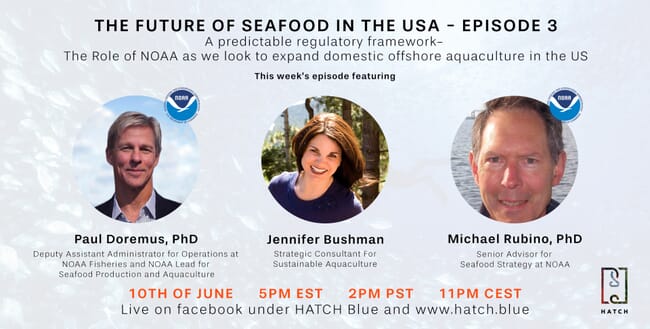 Paul Doremus, NOAA's lead for seafood production and aquaculture and Michael Rubino, the organisation's senior advisor for seafood strategy, will be discussing the topic with Jennifer Bushman on 10 June.
They will be explaining how NOAA will follow up on last month's Executive Order and the forthcoming AQUAA ACT, as the US strives to establish national standards for offshore aquaculture.
A predictable regulatory framework and national standards for aquaculture production are critical to the competitiveness of the American seafood industry, which currently faces a seafood trade deficit of $14 billion. However, they will also be discussing how to ensure new aquaculture ventures operate sustainably from the point of view of both the environment and coastal communities.
The webinar is the third in a series by Hatch, which aims to air a range of opinions on the prospects for the sustainable development of commercial offshore aquaculture in the US.
"Aquaculture, especially on the open-ocean has long been a shunned topic in the US and not discussed fairly in public. Our goal is to cover all angles and bring all parties to the table. We are not interested in pushing an agenda or hyping the topic, it is about facts, concerns and ideas that ensure the future sustainable seafood production in the US," explains Moritz Mueller, head of marketing and communications at Hatch.
The first two seminars featured input from representatives of the Stronger America through Seafood initiative and the Aquarium of the Pacific and have been moderated by Jennifer Bushman.
"Having a competent and knowledgeable moderator on board makes it a pleasure to host these webinars and the response to date shows that we can deliver value to many interested fellow aquaculturists as well as generate a lively discussion amongst all those who have tuned in," Mueller explains.
Looking ahead the series will include participation from Josh Murphy, the director of ArtiFISHal, the Patagonia-funded critique of salmon aquaculture and Todd English, the director of sustainability at Riverence, the trout producer.
"We are delighted to have guests who have taken a critical stance on aquaculture in the past and we welcome them to the debate. It suggests that the series is indeed perceived as a platform for discussion and not a hype show for aquaculture," Mueller adds.
To tune in to the webinar – which will take place on 10 June at EST/2PM PST/11PM CEST – register here.

The first two installments can be accessed here.