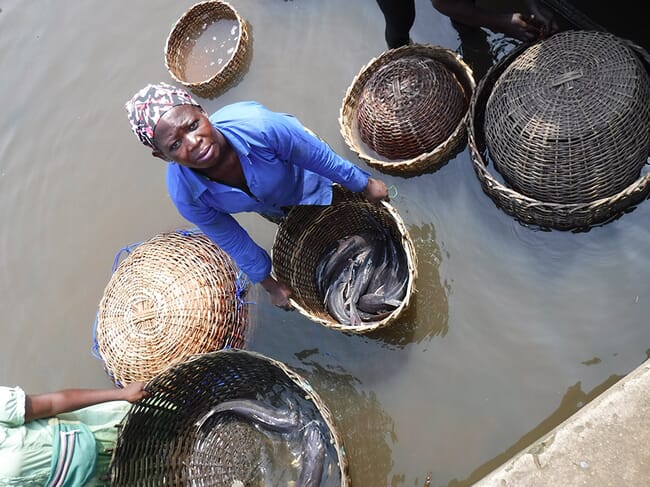 The initiative has promised to help protect and strengthen the country's aquaculture sector through a co-investment partnership between the USAID-funded West Africa Trade & Investment Hub and Partners for Development, a global organisation that collaborates with governments and other development organisations to adapt innovative but tested solutions to meet local needs.
Through the 24-month "Investment in Delta State Aquaculture" project, Partners for Development will leverage $1.1 million of private funds in addition to Trade Hub's $500,000 grant to build fish farmers' resilience to the ongoing impacts of Covid-19. This co-investment activity will be implemented across three local government areas of Delta State: Uvwie, Ughelli North, and Ndokwa West.

Nigeria is one of the largest farmed fish producers in Sub-Saharan Africa, with catfish being the most farmed species. Prior to the pandemic, artisanal small-scale farmers in the Niger Delta had been successful in generating more than 80 percent of the country's total domestic fish production. But the outbreak of Covid led their costs of production to rise significantly as their sales were whittled down.

"Strengthening food security initiatives in Nigeria has been made even more critical because of Covid-19," says Anne Patterson, mission director of USAID Nigeria. "Given the important role that fish farmers play in ensuring food security and in the economy as a whole, the Trade Hub's co-investment with Partners for Development represents a thoughtful and focused approach to meeting the country's pandemic-induced food security, trade, and employment challenges."

Key project goals include improving production, helping sales rebound, and increasing employment in the aquaculture sector, including for women and youth. While women currently make up an estimated 50 percent of the fish producers in the Niger Delta, and youth about 20 percent, they both stand to gain from increased representation across the aquaculture value chain.
To achieve these goals, the co-investment partnership will strengthen the capacity of eight fish farmers' associations and 600 fish farmers to enable them to use improved aquaculture and business management practices to increase their productivity by 25 percent. These same farmers will benefit from the project boosting the capacities of 15 hatcheries and 15 fish feed distributors that supply the farmers with fingerlings and fish feed, respectively. Through technical assistance, the hatcheries and fish feed distributors are expected to improve the quality of their inputs and increase production capacity by 25 percent. The project's additional focus on strengthening the capacity of 10 Ministry of Agriculture fisheries/extension officers in the region to better support fish farmers provides a firm foundation for the partnership's success and sustainability of interventions.
"We are excited about this co-investment partnership," says John Marrkand, executive director of Partners for Development. "We are looking forward to not only strengthening the capacity of fish farmers, hatcheries, fish feed distributors and key government officials, but to also providing loans to expand and improve the performance of those working in the aquaculture value chain."