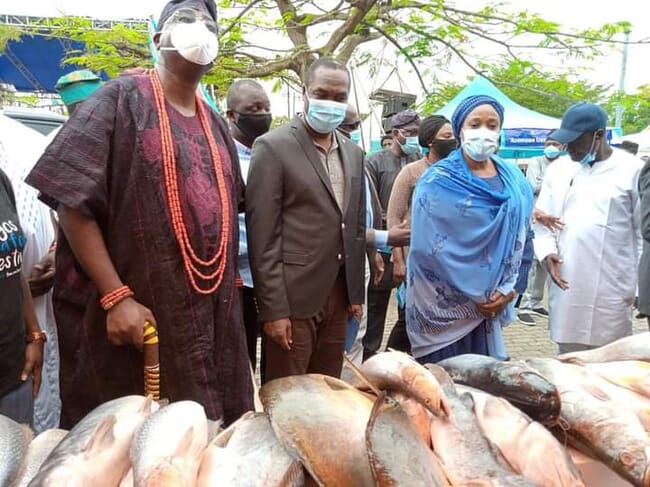 The Governor of Lagos State, Babajide Sanwo-Olu (who was represented by Deputy Governor Dr Obafemi Hamzat), announced that the State Government, in partnership with a private investor, was in the process of establishing the Lagos Aquaculture Centre of Excellence (LACE) to drive fish production in the state.

According to Sanwo-Olo, the centre will have a hatchery with a capacity to produce 50 million fish - enough to supply 5,000 smallholder farms. It will also include a 24,000 tonnes feed mill and a 20,000 tonne capacity fish processing centre. He said that the annual demand for fish in the state was 374,000 tonnes, considerably below the state's current 155,000 tonnes of production.
"This supply deficit provides us with a valuable investment opportunity," he said.
The announcement was made at the ninth edition of the festival. Lagos State's Commissioner for Agriculture, Ms Abisola Olusanya, said that the objective was to "showcase the aquaculture and seafood potentials of Lagos State to the local and international markets, and to stimulate investment". She said that fisheries and aquaculture were crucial to the creation of employment, provision of valuable animal protein.
With support, she said, the sector could contribute more export revenue than the 25 billion naira (£49 billion) which was earned from the export of shrimp and smoked fish in 2019.
George Odeh, a fish farmer, was happy with the interest shown by visitors at the festival.
"I sold all the catfish I brought, which I would normally have sold in over a week, with prices dictated by middlemen. So in that sense alone it has been worthwhile. But I hope the State Government will follow through with the plans it is developing for the sector. The aquaculture centre of excellence is a great idea, if there will always be professional expertise and technical advice, and training programmes, at our disposal," he said.
Aquaculture is receiving a significant amount of attention from government agencies in Nigeria in recent times, due to concerns about the cost of fish imports. The Federal Minister of Agriculture and Rural Development, Alhaji Muhammad Nanono, said on 24 November that Nigeria's 2.5 million tonne fish supply deficit was plugged by imports.
Nigeria imported $1.15 billion of seafood in 2019, according to the US Department of Commerce. Imports for 2020 are projected to fall to $85 million, before increasing to $1.05 billion in 2021.