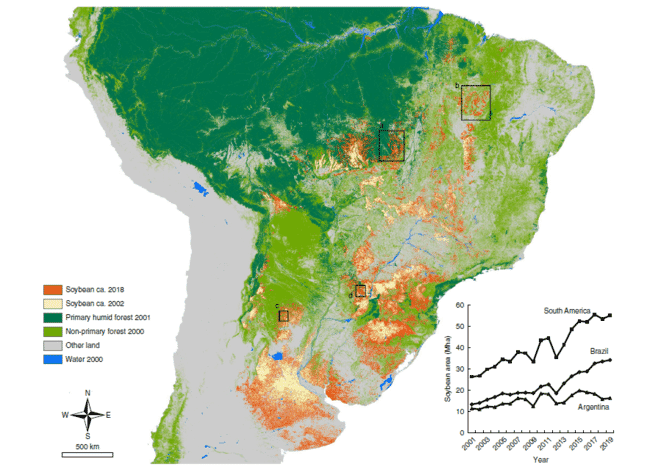 Soybean, which originated in China, is the world's largest source of protein for animal feed and the second largest source of vegetable oil after palm. Eighty percent of global production comes from the US, Argentina and Brazil and - since the turn of the century - the land devoted to its production has increased by 57 percent in Argentina, and 160 percent in Brazil. According to the researchers, much of the growth in South America's soy sector has been inspired by rising demand from China, which has increased its imports from the continent by 2000 percent in the last 20 years – a trend that is likely to continue due to trade restrictions between China and the US, which was previously the main source of Chinese soy imports.
The researchers note that this demand is exacerbated by the increase in livestock production in China, as demand for meat increases, and they say that that to fill the shortfall in China caused by the restrictions in trade with the US, as much as 13 million additional hectares of land for the cultivation of soybean are needed.
In order to assess the overall growth of the soy sector in South America, the new study combined satellite observations and sample field data to reveal that the area of the continent producing soybean increased from 26.4 million hectares to 55.1 million hectares.
According to the authors, most of this soybean expansion occurred on pastures originally converted from natural vegetation for cattle production, while the most rapid expansion took place in the Brazilian Amazon, where soybean area increased from 0.4 to 4.6 million hectares. Across the continent, 9 percent of forest loss was due to it being converted to soybean by 2016. Soybean-driven deforestation was concentrated at the active frontiers, nearly half located in the Brazilian Cerrado -prompting concerns about the conversion of biodiverse ecosystems into monocultures, that have a much larger impact on water use and greenhouse gas emissions.
"Efforts to limit future deforestation must consider how soybean expansion may drive deforestation indirectly by displacing pasture or other land uses. Holistic approaches that track land use across all commodities coupled with vegetation monitoring are required to maintain critical ecosystem services," the researchers recommend.
In 2019, several of the world's largest aquafeed producers – Skretting, BioMar, Cargill and Mowi – pledged to stop using soy that has been produced in deforested areas of South America. More recently, Mowi, BioMar and Skretting announced plans to take this policy one step further – signing an agreement in 2020 which stipulates that, from Q3 2021, their suppliers will not trade soy that is grown on deforested land, including legally deforested land.

"With the current situation in Brazil, where the protection of the Amazon and the Cerrado is being deliberately dismantled, we must make sure that we do not trade with soy suppliers that contribute to this unacceptable development. With this announcement, we ensure that our suppliers as well as our supply chains are clean," Catarina Martins, Mowi's chief sustainability officer, said at the time.