New Shrimp Farming Method To Revitalise US Industry
A Texas AgriLife Research scientist in Corpus Christi believes he has achieved a new world record in shrimp production using an environmentally friendly system with no water exchange throughout the growing cycle.
Dr Tzachi Samocha, a Regents Fellow and professor at the AgriLife Research Mariculture Laboratory in Corpus Christi, said yields from the new system are about tenfold higher than the current US shrimp farm production in outdoor ponds.

"This biosecure and sustainable process can be used by producers in this country to supply high-quality, live and/or fresh, never-frozen marketable shrimp on a year-round basis," he said.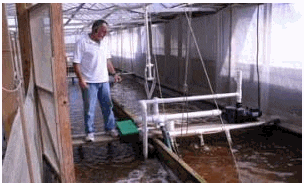 Dr Samocha is convinced his studies show that the new system will increase shrimp production and food safety while lowering costs to producers and consumers.

The new system, called a "super-intensive raceway system," has taken five years to develop and could revive a shrimp-farming industry decimated over the years by cheaper foreign imports.

"This grow-out system could be built near large cities to cater to a niche market of consumers willing to pay premium prices for tasty, fresh, never-frozen shrimp," he said. "Diners could actually pick the shrimp they'd like to eat out of a restaurant tank, much like they do lobsters."

The new system also is a greener way to grow shrimp because its water is never released into the environment, he said.

"The nutrient-rich water used in traditional shrimp farming ponds must be released and replaced periodically," Dr Samocha said. "The danger is that the incoming water can introduce harmful pathogens. And the release of the nutrient-rich effluent can contaminate the receiving streams with high levels of nutrients that promote algae blooms. They, in turn, can deplete oxygen and cause fish kills and other negative environmental impacts."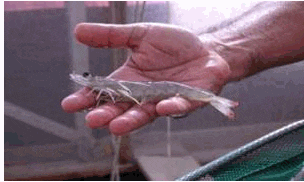 By creating a sustainable production system, water levels are occasionally topped off to replace minor losses to evaporation and management of particulate matter.

Dr Samocha said he was able to create the new system by improving on the management of existing systems.

"We found just the right formula for mixing and oxygenating the culture medium using a commercially available feed, with careful feed-management and bio-floc control, which means you don't let the nutrients and particulate matter in the water get out of control," he said.

The result is dramatically improved production in a safer environment, he said.

"For the first time ever, we were able to produce 9.75 kilograms of shrimp per cubic meter of water using very little pure oxygen that resulted in very low levels of ammonia and nitrite in the water," he said.

The resulting shrimp, Dr Samocha said, are anything but shrimps.

"These are good-size Pacific White Shrimp," he said. "They are of marketable size – about 23 grams each -- meaning about 30 tails per pound."

That translates into 21.5 pounds of shrimp in 264 gallons of water, a production level Samocha said is unheard of in the industry -- and likely a world record.

Higher production translates into reduced cost per unit, Dr Samocha said.

"When considering fixed and variable costs, our total cost to produce shrimp was about $5.52 per kilo (about $2.50 per pound)," he said. "That's relatively low considering the quality of the shrimp being produced."

Dr Samocha said his work with an economist shows the system could be commercially viable.

"We've crunched the numbers every which way possible and our studies show that with an initial investment of $992,000, a successful commercial operation could show returns of about 38 per cent annually, with a payback period of about 2.8 years."

Using this new system, the cost of production will likely drop as commercial farms expand, Dr Samocha said.

"Our studies leave no doubt that production will rise, food safety will increase and costs to both producer and consumer will likely drop."

Mr Fritz Jaenike, general manager of the Harlingen Shrimp Farm in the Rio Grande Valley, said Dr Samocha's new system is a promising breakthrough.

"Dr Samocha is to be congratulated for the results he's been able to achieve in production," he said. "It was an ambitious goal he set for himself and he reached it, approaching high-density shrimping the way he's doing it: cost-effectively with no bells and whistles."

Low-cost, high-density production is desirable, Mr Jaenike said, because cheaper frozen foreign imports are hard to compete with here.

"Imports are produced year-round with low labor costs," he said, "and once you get into more intensive handling, like de-heading, grading and peeling, we're at a competitive disadvantage."

Due to lack of funding, Dr Samocha said, he had to release what he calls the "golden water" from his experimental shrimp production tanks but is confident he could have continued growing shrimp had he had the proper heating equipment.

Exactly how long the golden water can be used can be determined only by further research, he said.

"After 108 days, the system did not reach its maximum carrying capacity," he said. "Nevertheless, we had to terminate the production trial as we had no way to heat the water. As the ambient temperature here in Corpus Christi began to drop, so did the water temperature."

Lower water temperatures mean a drop in growth rate and an increased risk of losing shrimp to the cold, Dr Samocha said.

"There is a huge demand for live and/or fresh, never-frozen shrimp in this country," he said. "This new method will allow shrimp farms to be built near large and small cities all over the country where restaurants can buy live, local shrimp. They could even offer organically produced, pollutant-free shrimp."

"This system can even be set up in colder climates where, using insulated buildings with the proper water heating equipment, they can produce shrimp year round," he said.

Locally produced shrimp, Dr Samocha said, means restaurants will be able to buy fresh, live shrimp from producers they know and trust.

"It will taste better because it never has to be frozen," he said. "Buying live shrimp locally instead of importing frozen shrimp from other countries means food safety will increase, and our food dollars will stay in this country."

"Also of great significance," he added, "is that the shrimp raised in this system are never treated with antibiotics."

Dr Samocha said the taste of processed, imported frozen shrimp pales in comparison.

"The quality of the shrimp we produce is so high that they can easily qualify for sashimi lovers," he said. "They are that tasty and safe."
January 2010