Nanobubbles lead to major oxygen savings in salmon farms
The use of nanobubbles has been shown to dramatically improve the efficiency of oxygenating semi-closed containment salmon pens.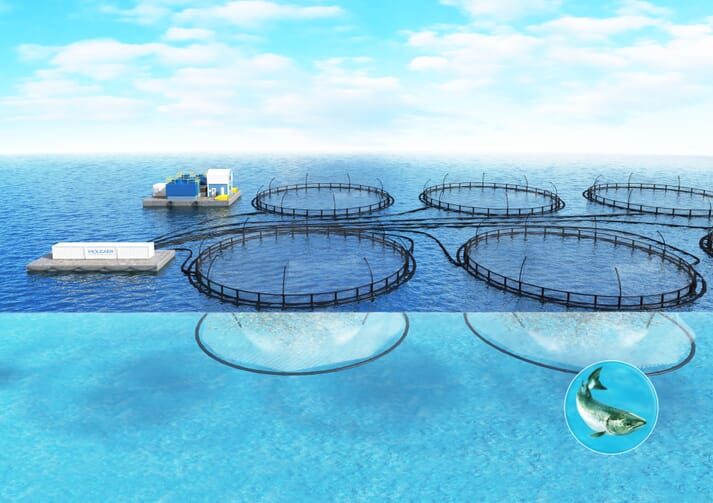 Moleaer has been trialling its nanobubble technology with Grieg Seafood BC and CPI Equipment. The project, known as the CO²L Flow (pronounced cool flow) system, was conducted by Grieg using Moleaer's patented nanobubble technology and CPI's ODiN system, for the development of a semi-enclosed containment salmon farming system. The use of Moleaer's nanobubble generators resulted in a 75 percent reduction in oxygen use when compared to existing technologies, according to a press release from the Californian firm.
The generators work by injecting trillions of oxygen-rich nanobubbles into water supplies, increasing the dissolved oxygen (DO) levels at the highest transfer efficiency and the lowest cost, reducing operational expenses of salmon farms.
"We are committed to implementing sustainable, long-term solutions to address some of the challenges we face as ocean farmers. Using Moleaer's technology, we can safely deploy sea lice barriers down to 15 metres without compromising mixing and dissolved oxygen levels inside the net pen. This is important for us as maintaining optimal conditions within the new CO²L Flow System when the barriers are down is critical to the health and welfare of our fish," said Dean Trethewey, seawater production director of Grieg Seafood, in a press release.

"Technology and innovation are the backbone of the aquaculture industry. We work very closely with our clients, especially Grieg Seafood BC, to always listen to the farmer's issues and recommendations to help improve our technology and create innovative solutions. Our latest collaboration with Moleaer's nanobubble technology was a huge success and if deployed will be a game-changer for other fish farming companies in every region in the world," said Kris McNichol, President or CPI Equipment.
"The aquaculture industry requires sustainable solutions that enable increases in output without jeopardizing our environment. Our technology is unique because we're delivering nanobubbles with proven benefits in reducing oxygen and energy costs, while remediating the surrounding environment, and producing better water quality and higher output of fish," said Nicholas Dyner, CEO of Moleaer.