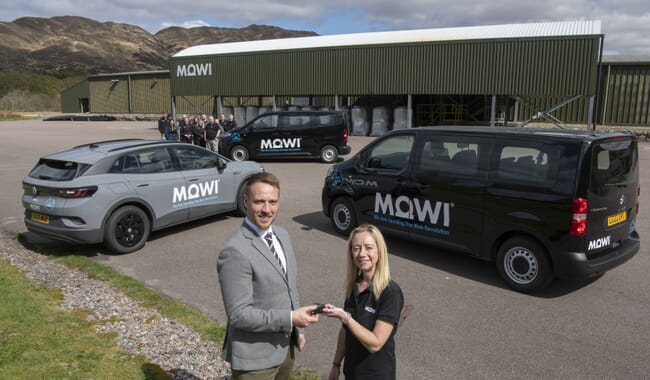 The vehicles, which include two Citroen E-Space Tourer 8-seaters, will be based at Mowi's recirculating freshwater aquaculture farms, at Inchmore and Lochailort, and will be used to transport staff to and from work, predominately from Inverness to Inchmore and Fort William to Lochailort. Both hatcheries have also had electric vehicle charging points installed.

Speaking about the new electric vehicles, Allan MacMaster, manager at Lochailort, said: "Both production sites now have electric vehicles. In addition to the clear environmental benefits from this move, thanks to the electric people carriers, it is now easier to transport staff to and from their place of work which is a real advantage that will also help with recruitment in the future."
Mowi's stated mission to lead the Blue Revolution is driving many purchasing decisions across all areas of the business, and this is the latest example of changes being implemented to achieve that ambition.
As Ian Barrett, purchasing manager at Mowi Scotland, explains: "Mowi's vision is to lead the Blue Revolution and sustainability is at the core of Mowi's global strategy. To support the achievement of these goals, Mowi Scotland intends to implement a zero emission/hybrid fleet by 2025. We now have e-vehicle charging points at the Farms Office in Fort William as well as at our hatcheries at Inchmore and Lochailort. The plan is to install charging points to our larger sites such as Blar Mhor and Kyleakin Feed Mill."