The minister attended the opening ceremony of the leading business event for the aquaculture industry on the British Isles, which takes place at the Macdonald Resort in Aviemore.
Scottish salmon farming had a banner year in 2017, with reports of growth up 35% compared to 2016, with exports reaching a record value of £600 million. This year's Aquaculture UK exhibitionis set to be the biggest on record, with over 190 exhibitors and 1,800 delegates expected through the door over the two-day event.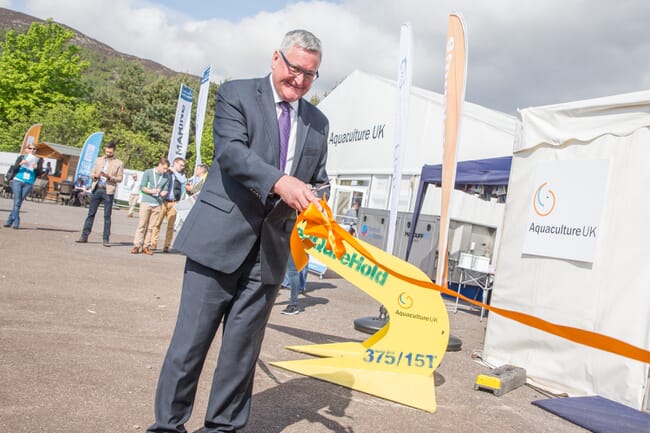 Rural Economy Secretary Fergus Ewing said: "Aquaculture UK provides a unique opportunity for the industry to get together to discuss innovation, sustainable growth and the challenges for the future. Aquaculture remains an important and valuable sector to Scotland with farmed salmon the UK's number one food export while the sector currently supports more than 12,000 jobs and makes a major contribution to rural, island and coastal communities. That's why it is crucial that we work with the industry to ensure it can grow sustainably."
With the Scottish parliament's salmon inquiry well underway, the 2018 Aquaculture UK event offers a valuable opportunity for stakeholders to network with key players in the industry, discover new innovative products and meet decision makers.
Matt Colvan, Aquaculture UK Event Organiser, commented: "We're delighted that Mr Ewing opened the show this morning. It signifies the importance of trade events such as these in sharing knowledge and best practice across the industry."
"Aquaculture UK shines a spotlight on the research, innovation, technology and expertise that is the driving force behind the development of a sustainable aquaculture industry in Scotland."
To find out more about the Aquaculture UK Conference 2018, explore the website www.aquacultureuk.com , follow us on Twitter at @aquacultureuk, or drop us a line at info@aquacultureuk.com.