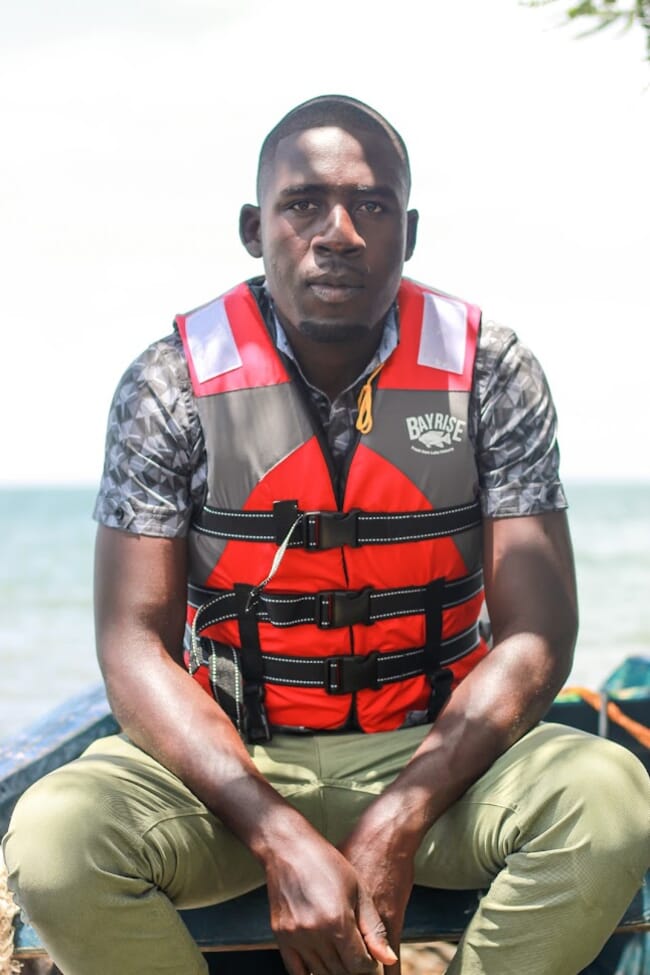 How long have you been farming for?
I have been in fish farming for the last eight years. I have been with Bayrise for one year now and before I was doing extension services for fish farmers, majoring mainly in HDPE cage assembly, mooring and installation.
What size is your farm and what species do you produce?
Our farm is still expanding, but right now we have the capacity to produce up to 385 tonnes of Nile tilapia (Oreochromis niloticus) per year.
What sort of production system do you operate?
At Bayrise we do cage fish farming on Lake Victoria. We buy fingerlings from well-established hatcheries with a good history in selective bleeding. We first raise them in a nursery cage until they reach 12g before transferring them to our grow-out cages. This process usually takes about two months. In the grow-out cages fish usually take five to seven months before being harvested, depending on the size required.
Why did you embark on a career in aquaculture?
I chose aquaculture because it's marketable and I also saw it as an opportunity to reduce the pressure exerted on the lake through fishing by producing high quality fish at fair prices.
What is your ultimate ambition in the sector?
My ambition is to help Bayrise grow to become one of Kenya's biggest producers of high-quality tilapia. This will create more direct and indirect opportunities for the community where Bayrise is based, as well as for Kenya at large. In spite of fish being among the healthiest foods on the planet, Kenyans average consumption rate of fish is only about 4.5 kg per year, compared to a global average nearing 20 kg. The government has also identified this gap and intends to increase the consumption to over 10 kg per annum by 2030. This is truly an ambitious goal for a country that produces only about 180,000 tonnes of the 600,000 tonnes of fish it consumes.
At Bayrise, we are also strong on sustainability, especially on activities focusing on economic empowerment of youth and women. Our sustainability goals are aligned with The United Nations 2030 Agenda for Sustainable Development plan of action for people, planet and prosperity. Our current initial four focus areas are:
SDG5 – Achieve gender equality – Through economic empowerment for women, with the aim of eliminating the notorious "sex for fish" unethical activity along Lake Victoria.
SDG8 – Achieve economic growth and decent work for all – Through job creation and fair compensation of our employees.
SDG12 – Ensure more sustainable consumption and production – through the production of tilapia, which is a high-quality animal protein with a relatively small environmental impact.
SDG17 - Strengthen global partnerships for sustainable development – Our partnership with Aller Aqua to make high quality fish feeds available in the lake region is just one of the examples.
What's your greatest challenge at work?
The small size of fingerlings that hatcheries sell here in Kenya. They are sometimes as small as 4 grams, which means that we first need to grow them in fingerling cages, equipped with a small mesh nets. When they reach more than 10 grams they can then be transferred to normal grow-out cages. This extra stage could be eliminated if hatcheries sold larger fish, but they tell us that too many larger fingerlings die while being transported to customers. Small sizes require less oxygen during transport.
The shortage of high-quality feeds is another major challenges we face.
What is your greatest achievement to date?
My greatest achievement has been the number of fish farmers I have helped who have turned out to be my friends. This always makes me proud.
What piece of equipment would you most like to have on your farm?
An automated fish harvester. These make harvesting simple and precise. We will definitely be needing one when we expand our operations.
Kenya has had false dawns in the past in aquaculture. What can be learned from these past failures and do you think that the country's aquaculture sector can finally fulfill its potential?
The three major challenges we have faced here in Kenya are the lack of quality feeds, the shortage of qualified and experienced labour and the lack of good quality fingerlings.
I believe that good government policies could have minimised some of these challenges in the past, but now there is an effort to address some of these issues. There are more incentives to attract feed manufactures to open facilities in the country, though a reliable local source of soya beans still needs to be identified. At Bayrise, we are also doing our part to address this issue. We have recently entered into partnership with Aller Aqua of Denmark to distribute their fish feeds in the Lake Victoria region. To address the skills gap shortage, more institutions have introduced aquaculture learning in their curriculums, and some out-of-school aquaculture training can now be found. The government is also increasing the number of extension officers available to fish farmers in the country.
I have not seen any concrete plan to address the fingerling issues, but some farmers are deciding to start their own hatcheries.
It's yet to be seen if the country's sector will see any genuine sustainable growth from these new positive steps, but we are hopeful!