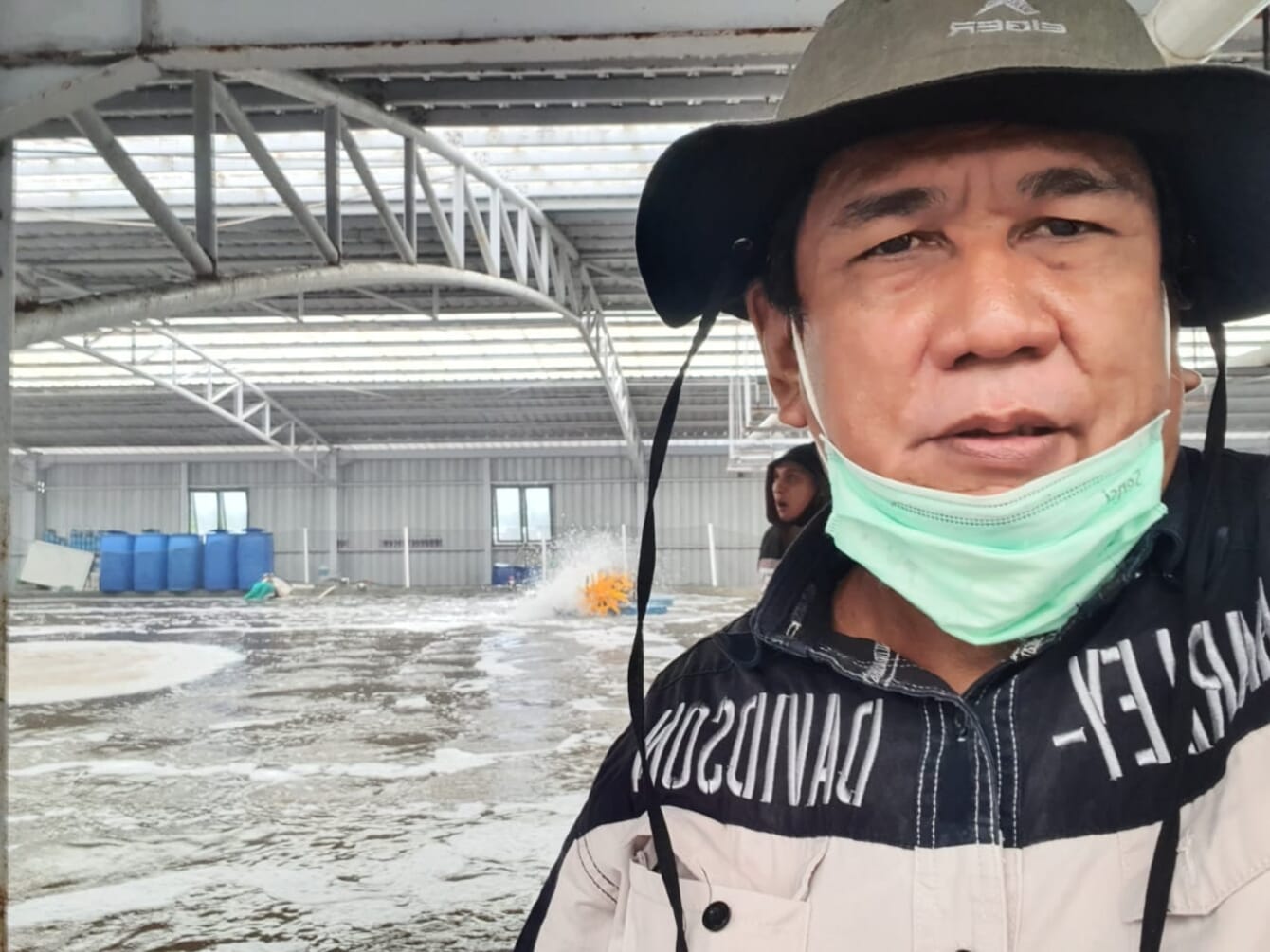 The 61-year-old is currently working as a consultant in a shrimp farm with super-intensive technology in South Kalimantan, Indonesia. He is also active in the Indonesian Coordinating Ministry for Maritime and Investment Affairs.
Why did you decide to embark on a career in aquaculture?
From a young age I used to go to the sea and I saw that Indonesia has extraordinary marine resources. When I was in school, I learned that Indonesia has the most islands and the longest coastline in the world. Then I chose to study in the Department of Fisheries, which at that time was not a favourite major in Indonesia, but I saw great potential in Indonesian marine resources. I was sure that fisheries and aquaculture had great prospects. At the end of the day, the sea is three times larger than the land.
How long have you been farming for?
I started shrimp farming in 1991, when I was head of the Regional Fisheries Agency in Barru, South Sulawesi Province, Indonesia. I've been heavily involved in shrimp farming and hatcheries while working in government as a civil servant for 35 years. In 2020, I retired from my government position and am now actively developing super-intensive shrimp farms.
What size is your farm and what species do you produce?
I am currently responsible for a super-intensive shrimp farm in South Kalimantan. We produce Pacific whiteleg shrimp. This particular farm is relatively modest in size, since it is merely a pilot project that will be developed into a much more sizeable operation. We use a two-stage system; nursery and grow-out. There are four indoor nursery ponds with an area of 17.5 x 17.5 m each. There are eight grow-out ponds with an area of 35 x 35 m each.
Each production cycle we stock 8 million post-larvae from Bali, Java and Makassar. We do partial harvest at size 50 – 60 head and final harvest at size 28 – 35 head. We have done four production cycles to date, with an average of 65 percent survival rate and an FCR of 1.5. From cycles 1 to 4 we produced 72 tonnes, 121 tonnes, 144 tonnes and 145 tonnes respectively.
What sort of production system do you operate?
The grow-out ponds are rectangular, concrete and 3 metres deep. Each pond has a central drain to ensure that sludge is properly drained and water quality is maintained. There are also paddle wheels and root blowers to meet optimal oxygen requirements and encourage sediment circulation to the central drain.
This super-intensive system generates so much waste that we use wastewater treatment plants to treat it before it is discharged into the ocean. Currently we are developing a seaweed farm in the coastal area as a means of waste filtration. Seaweed requires minerals contained in pond effluents. Seaweed can also help reduce phosphate and nitrogen content, so can reduce the risk of eutrophication.

The next project that I am going to help build will be an industrial shrimp farm integrated with seaweed farming. The farm will be equipped with state-of-the-art wastewater treatment plants and will produce commodities, both shrimp and seaweed with added value. We are currently at the land clearing stage. Hopefully the farm will start operating next year. In the future, I also want to integrate artemia cultivation with the shrimp farming activities.
How does your farm compare to the average shrimp farm in Indonesia?
Usually, shrimp ponds in Indonesia have a depth of about 1.2 m. In addition, the average pond that has a central drain system does not consider its design. Current velocity is one of the considerations in construction design. The current must not change because the formation of accumulated organic matter at the bottom will not be completely removed. Ideally, the construction should be with concrete. If using HDPE, there is a small wave so it cannot collect properly.
Furthermore, there must be a breathing tube poking above the surface. The goal is that the drain pipe in the central drain has a strong traction. This breathing tube will also be the rotating axis of the water. Most farmers don't really consider these details. They build central drains without really calculating the fluid mechanics.
You are highly regarded in the Indonesian aquaculture industry due to your innovations in super-intensive shrimp farming. How did you come up with the concept?
The first time I worked with whiteleg shrimp was in 1999 and I saw that they could be stocked at high densities. Unlike tiger prawns, which are bottom feeders, whiteleg shrimp are active in the water column. So I thought of deepening the pond because stocking is based on volume and we can take advantage of the water column to increase productivity.
There are two main concepts underlying this super-intensive technology. First, water conditions must be made homogeneous, vertically and horizontally, meaning that the surface and bottom conditions must be similar. Second, water quality must be managed properly because the shrimp feed and faeces are in the same water. For the first issue, we use paddlewheels on the surface and root blowers at the bottom. For the second issue, we can make a central drain, or shrimp toilet, to easily and consistently flush out the collected sediments at the pond bottom.
That was my hypothesis that I used to complete my dissertation. I did research for four years. I developed the concept on a small scale in Barru in 2007. Then, in 2011, I released it to the public. In 2013 this super-intensive technology was recognised as being able to increase productivity. In its journey to date, there are many people who are interested in developing it into a massive scale and I'm here for it.
What piece of equipment would you most like to have on your farm?
A sensor to determine shrimp appetite, so that the level of feeding can be adjusted dynamically according to conditions. So far we have used an automatic feeder, but we can't feed the shrimp constantly because their appetite will go up and down. Many things affect shrimp appetite, for example moulting and temperature.
In addition, I think sensors to determine water quality in real time would be beneficial.
What's your ultimate ambition in the sector?
I'm done with myself. I want this country to be fully independent. Looking at Indonesia's average per capita income, which is still at $4,000, I think we are not truly independent. I see that the aquaculture sector can help increase Indonesia's per capita income. Not only from shrimp, but various other species. In my opinion, it is necessary to look for alternative species that are resistant to environmental shocks, so that farmers with medium or low resources can reap the benefit of aquaculture. I see that people are starting to develop sea bass [barramundi] farms and I think that is a good alternative species for traditional, extensive farmers. If the aquaculture sector can help alleviate poverty in Indonesia, I will be happy.
What's your greatest challenge at work?
We need to cut the supply chain and increase the value chain. The eastern part of Indonesia has great aquaculture potential, but the supporting infrastructure is in the western part, so the supply chain is long. For example, Banggai, Central Sulawesi, an eastern part of Indonesia, has excellent potential for shrimp farming, but the post-larvae must be shipped from Lampung, a western part of Indonesia. Due to this, the price for PLs is three times higher. This is clearly inefficient. In addition, most of the exported commodities are in the form of raw materials. Only 40 percent of Indonesia's foreign exchange for shrimp exports comes from processed materials, the rest are from raw materials.
What's your greatest achievement to date?
Personally, I was satisfied when my hypothesis was proven; if we can manage the environment, productivity can be increased many times. It is proven by the research that I conducted for approximately 4-5 years with the super-intensive farm technology. My hypothesis was not wrong and it can be used to develop new theories that are more innovative, so that shrimp farming can be done better, cheaper, and faster than before.
How do you think Indonesia can achieve its full aquaculture potential?
In addition to the supply chain and value chain, a common problem in Indonesia is seeds. We are currently still importing broodstock from Hawaii. We need to change the mindset, that it is very important to develop the upstream industry, from seed. If the seed is strong, the farm will also be strong. It all starts with seeds.
If you were to give fellow farmers three bits of advice what would they be?
First, rest assured that the aquaculture business is a promising business. Second, don't just follow trends. You have to do research and ask the experts. Third, Indonesian farmers should unite. We should help each other instead of competing.
What's your favourite seafood dish?
Lobster
If you are from Indonesia and would like to be considered for taking part in this series, please contact us at content@aluneaqua.com with the details of your farm.