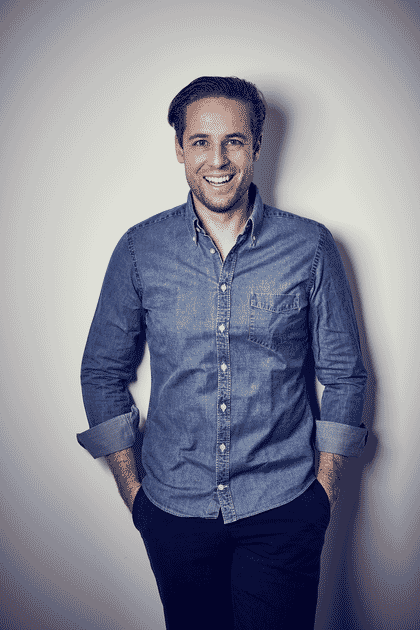 The company was founded in 2012 by Dr Fabian Riedel, a lawyer who decided to hang up his gown at the age of 29 to try something completely different.
"My former co-founder had fish ponds outside Munich and, having studied at the Technical University of Munich (TUM) in Weihenstephan, decided to farm yabbies [crayfish] in a small RAS," he explains.
It made Dr Riedel think about the potential offered of the ever-expanding aquaculture sector, and shrimp seemed like an excellent candidate species.
"There's a huge market. All of the major food styles have shrimp in their menus – it fits in well with the growing clean eating trend and the demand for shrimp in Germany is around 30.-50,000 tonnes a year, while in Europe as a whole it's around 600,000 tonnes," he reflects.
"But at the same time there's a very mixed quality of shrimp available – not everything from South East Asia is questionable, but there are social, environmental and antibiotic-related issues associated with conventionally farmed shrimp," he adds.
Having identified the demand for high quality shrimp, Dr Riedel then looked for a suitable site to produce them.

"We decided to put the farm close to the consumers: in the heart of Europe, 10 km from Munich airport, where we could sell the shrimp both nationally and internationally. It's a business model that's increasingly taking place in other parts of the aquaculture industry, in particular in salmon," he explains.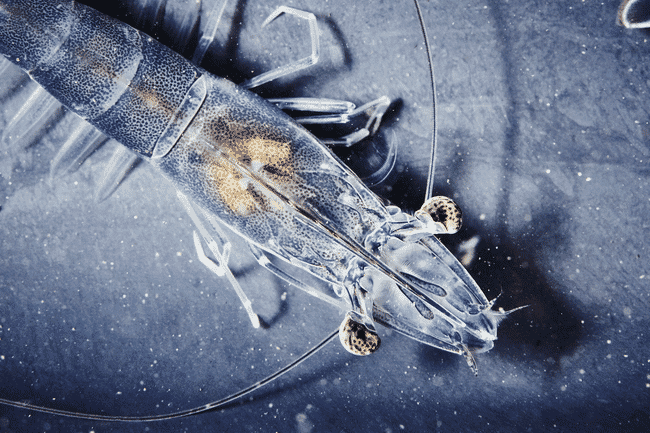 He felt that the time was ripe for a land-based shrimp farm in the heart of Europe, so Dr Riedel spent a year and a half drawing up a business plan.

"We took our time to plan, pre-finance the initial setup for the business and were able to pitch with a professional, disruptive and visionary business plan," he explains.
The end result was backing from Ponnath Die Meistermetzger GmbH – Germany's oldest, and one of the country's largest, meat processing companies. And, once finances were raised, Dr Riedel started building the biggest land-based shrimp farm in Europe with a German-engineered state-of-the-art technology, assembled by different experts.

"We were young entrepreneurs, we took our chance and we founded the business. Since the market entry in 2016, being the first-mover in Europe for land-based shrimp farming, we had a lot of attention from media and the food-industry. This was not because we are so cool, but because the idea was simple to understand and up-to-date with the trends in the food and agricultural industry," he laughs.
The business plan focused not only on the technology, but also on branding and sales to cover the comparatively high cost of producing a tropical species in temperate latitudes.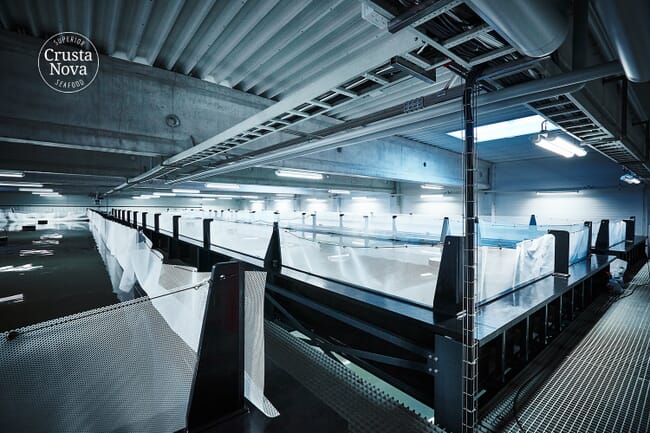 "The branding and sales point is very important – a business with relatively high running costs needs to have a certain price point, but we now have a proven and profitable model. 30 tonnes might be tiny, but we've proved that saltwater prawns can be grown our land-based system anywhere in the world," Dr Riedel reflects.

The company sells its shrimp to B2B and B2C customers in Germany and Austria. A private customer can by them through the own e-commerce shop starting at 5.90 per 100g, that is, according to Dr Riedel, in the top third of all high-quality seafood products offered in Germany.
"We might be in the top third of the price range for quality seafood products – you don't put our shrimp on pizza, but they're a locally grown, highly sustainable and 100 percent additive-free," he argues.
He sources post-larvae from an undisclosed distributor outside Europe and they reach market size (20-25g) in four months. While it might sound simple, he admits that it's been a process of trial and error in the last years.
"There's no manual for land-based saltwater prawn production, so we had to develop our own," he says.
"We tested different feeds, different probiotics, different levels of ozone, different photoperiods – we're not yet at the end of that road, but we've learned a lot over the last four years," he adds.
Crusta Nova has the space to build three more units on its existing site, but Dr Riedel is not rushing into expansion yet, despite the fact that the system is now running smoothly.
"There's no need to scale-up yet, but the market is ready. In the meantime we're looking to exchange ideas and scaling up our B2B seafood platform and E-commerce business," he says.
The shrimp farming business has also inspired Dr Riedel to add a wide range of exclusively sourced and audited high-end seafood products, that he distributes through his own B2B and B2C seafood platform in Germany and Austria. His worldwide suppliers are offering best in class products for each product category from aquaculture including New Zealand king salmon, black cod from BC and caviar from the oldest established sturgeon farms in China. And 2020 has seen the e-commerce side of the business really take off, while sales to restaurants have picked up to pre-pandemic levels after a short period of time, according to Dr Riedel.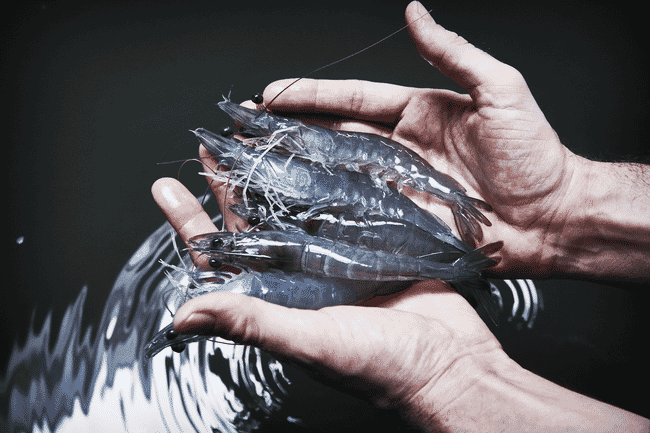 While shrimp might lag behind salmon, in terms of the scale of the current land-based production sites, he does see scope for larger operations to emerge – in particular in the US and Europe.
"Although the shrimp business is attracting more and more investors, at the moment land-based salmon projects are gaining huge financial backings for different projects in Japan, Europe and the US. The conventional shrimp industry is more diversified and also less innovative than the salmon industry – a great opportunity for companies like Crusta Nova. Yet there are not any really big companies producing shrimp in RAS, but the US is a big market and has the same legislation making it easy to scale up. In Europe it's tougher though, there are different languages and different regulations," he explains.
Despite this, Crusta Nova's success has apparently been noted, given that a number of land-based shrimp farms have been springing up all over Europe in the last few years.
"We know of at least two in northern Germany, and one each in Switzerland, Spain, France and the UK. We welcome them. We're very happy to receive visitors to talk about the future of aquaculture, and what a future shrimp farm should look like – in terms of sales, technology, marketing and personnel," Dr Riedel concludes.