Since 1990, the industry has grown 24-fold and now annually exports more than half-a-million tons of fish worth billions of dollars, according to the Chilean government.

But that massive economic growth has had equally massive environmental and social effects, say researchers. Today, the coast of southern Chile, where the aquaculture industry is based, has been altered by the introduction of exotic species of salmon, high levels of pollution, and the spread of parasites and diseases among the fish. And the influx of large, corporate-run salmon farms has transformed traditional fishing communities and drastically altered the livelihoods of independent fishermen.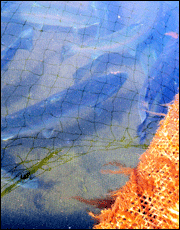 The dramatic growth of the salmon farming industry has transformed traditional fishing communities in southern Chile
Courtesy: Andy Gerhart, E-IPER/Stanford University
With the Chilean aquaculture industry targeting another two-fold increase by 2010, its impact will only grow, according to Zephyr Frank, associate professor of history at Stanford University. In 2008, Stanford's Woods Institute for the Environment awarded Dr Frank and his colleagues an Environmental Venture Projects (EVP) grant to map and analyse the transformation of southern Chile before and after the advent of salmon farming.

"Salmon aquaculture is changing life in Chile in a physical way but also in a larger social context," Dr Frank said. "We're trying to assess whether large-scale aquaculture has exacerbated inequality in the country."
Interdisciplinary Research
The EVP study arose from a collaboration with Woods Institute Senior Fellow, Roz Naylor, professor of environmental Earth system science at Stanford and director of the Stanford Program on Food Security and the Environment; and Andy Gerhart, a graduate student with Stanford's Emmett Interdisciplinary Program in Environment and Resources.

Dr Frank said that the project fits well with the interdisciplinary focus of the EVP programme. "We thought it would be an exciting case study where we could combine our interests in social science, biology, and history," he said. "It's looking at how people experience environmental change."

The initial goal of the project was to do a limited, targeted study of salmon farming in Chiloé, a province in southern Chile. "It was less of a historical, social analysis and more of an economic, environmental analysis," Dr Frank said. "Andy developed the historical-social side more and fleshed the project out as a holistic study."

In summer 2009, the research team collaborated with local enumerators, who conducted a random survey of more than 800 households in Chiloé. In addition to quantitative ecological and demographic data, including questions about income and health, the survey focused on social and cultural changes, such as the creation of new communities as people migrate to southern Chile to work in the aquaculture industry, and changing gender roles as more women enter the workforce.

Dr Frank hopes to use the results of the survey to detect patterns in attitudes about the environment and the salmon farming industry. "We were wondering if people perceived salmon aquaculture in contradictory ways," he said.
Survey Trends
The team is just beginning to analyse the survey data, but already some trends are emerging. "Right off the bat, what most stands out are significant differences in opinion from one community to another," Dr Frank said. "Specific place seems to matter."

The data suggest that there could be something particular to the culture or norms of individual communities that affects how they perceive the salmon industry, Dr Frank added, and he wants to explore what those differences are. "That's exciting, and it's something I can sink my teeth into," he said.

The next step in the project is to develop deeper, more probing survey questions and then gather in-depth oral testimonies from people in the region. Ultimately, the team will combine these survey results with plots of qualitative environmental and demographic data to produce a picture of the complex relationship among salmon aquaculture, the environment, and social practices. Understanding how the industry has transformed Chilean society today will offer a glimpse into how that transformation may continue in the future, Dr Frank explained.

Eventually, he intends to make the research available to local governments and NGOs, with the hope of contributing to a more informed policy discussion and a more sustainable aquaculture industry. "There are going to be lots of different voices," Frank said. "But by putting good-quality, reasonably complex research out there, it cannot help but enhance any policy debates."

And with aquaculture now accounting for half of all fish consumed worldwide, according to a recent study co-authored by Dr Naylor, the global community as a whole is fundamentally changing how it interacts with the ocean, Dr Frank said. Therefore, understanding the effects of aquaculture is more important than ever, he added, noting that the model he and his colleagues develop for Chile may become an important resource for examining the impact of fish farming worldwide.

October 2009