Atlantic Bluefin tuna has always been one of the most sought after catches for local fishermen around the Mediterranean region. The sky was the limit in terms of fishing effort, and after years of overfishing the population of Atlantic Bluefin tuna was near collapse in the 1990s. With catches decreasing in volume and size, the big players in the sector moved from solely fishing for tuna, to the fattening of tuna as well. By stocking undersized and lean tuna in large cages at sea, and feeding them with fresh fish, they could improve the size and fat content of their catch and further improve their profits. However catches and operations of these fattening farms were often grossly under-reported, and with now both large tuna and the smaller individuals being targeted, the population of wild tuna decreased even further.
Then about 15 years ago, the International Commission for the Conservation of Atlantic Tunas (ICCAT) and the European Union (EU) took action on this rogue fishing sector, and strict catch limits and control systems were implemented. With numerous NGOs exerting more pressure, these control systems were further tightened to include an electronic catch documentation system, obligatory observers aboard vessels and inspections during the arrival and harvesting of tuna at fattening farms. These measures paid off, and slowly but surely the stock of Atlantic bluefin tuna recovered, and so did the bad reputation of the sector.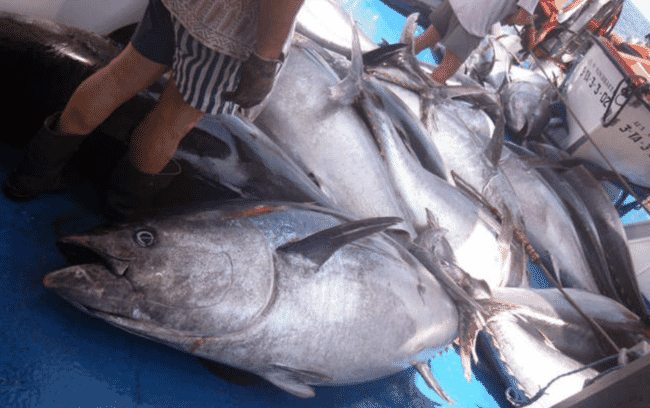 By 2017, the latest ICCAT stock assessment even determined that the wild stock of Atlantic Bluefin tuna was almost fully recovered. At the same time, several of the large fattening operations also started working together with European research institutes to invest in the development of closed cycle aquaculture protocols for bluefin tuna, paving the way for a sustainable aquaculture sector.
But then in June of this year, 29 locations of operators in the seafood industry across Spain were inspected by the Guardia Civil as part of an investigation into tuna laundering. Two executives of the country's biggest tuna fishing and farming company and executives of several trading and processing companies were arrested.
Although the investigation is still ongoing, it has been revealed that the company Richardo Fuentes y Hijos from Murcia in Spain, the biggest player in the Atlantic Bluefin tuna fishery and aquaculture sector, seems to be the spill in an intricate scheme to whitewash illegally caught and farmed Atlantic Bluefin tuna. Through a complicated web of over 40 subsidiaries, numerous fishing vessels and independent middlemen located in Morocco, Tunisia, Malta, Greece, Italy, and Japan and using a system of double invoices, the traceability codes of the Electronic Bluefin Catch Documentation System used by ICCAT were reused to "legally" sell illegally caught and farmed tuna.
A key player in the investigation is the fattening farm Mare Blu Tuna Farm Ltd. Located in Malta, but owned by the Fuentes group. In many cases it seems that one set of tuna from this farm was sold in Spain, while another set of tuna, with the same traceability codes from the electronic catch documentation system, was sold in Japan. With communication between ICCAT inspectors and the competent authorities in different countries along the Mediterranean Sea reportedly limited, the fraud remained undetected for a long time. In recent years the company was implicated several times in fraudulent fishing and farming practices and a number of large shipments of tuna without the correct papers had already been confiscated in Japan and elsewhere.
Jonah van Beijnen, who is a tuna aquaculture expert in Spain, explains that these revelations are a big setback to those in sector that are working hard on building up a sustainable tuna aquaculture and fisheries sector. "Spain has been at the forefront of tuna aquaculture in Europe these past 10 years" he says, and "a lot of private and government money has been invested in developing improved farming and closed cycle aquaculture protocols". He continues "If the allegations are proven to be true, the current investigation by the Spanish authorities inevitably shows that there are still a number of rotten apples in the sector that have little regards for sustainability, and that continue to overexploit the Mediterranean's still recovering aquatic resources". As he furthermore points out, "at least Spain should be commended for taking the lead in cleaning up its tuna fishing and farming sector, and hopefully other Mediterranean countries will follow its lead. Sadly it will take the honest companies in the sector most likely years again to recover from this reputational blow to the head".