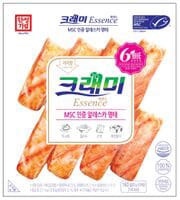 In addition, Hansung Enterprise announced the nationwide distribution of a new surimi product, Crami Essence, made with Alaska pollock sourced from the MSC certified Bering Sea and Aleutian Islands and Gulf of Alaska pollock fisheries. Crami Essence is available through the majority of major retail locations in South Korea, including Lotte Mart, Korea's largest retailer.
"Hansung is committed to sourcing seafood that can be traced back to sustainable fisheries that have been certified to the global MSC standard," said Mr Clifford Yang, Vice President of Hansung Enterprise.
"We would like to play our part in ensuring the health and vitality of the ocean, and to provide consumers with a choice – for products that are tasty and sustainably sourced."
Crami Essence surimi, which bears the blue MSC ecolabel for sustainable and wild-caught seafood, is now available through the majority of large distributors in South Korea through online and in-store retailer locations, including Lotte Mart, Lotte Department stores, Shinsegae Department stores, Hyundai Department stores and Aekyung Industrial Co Ltd. Department stores.
As South Korea's largest retailer, Lotte Mart introduced Crami Essence surimi as the first product in their stores to bear the blue MSC ecolabel with plans to source additional MSC certified products in the future.
"Sustainability and environmental friendliness is at the core of our business," said Mr Han, Director of Lotte.
"We gladly offer Crami Essence surimi in our supermarkets, as part of our long term plan towards sustainable and environmentally friendly merchandising. This marks the start of our sustainable seafood journey and we will continue to introduce more MSC certified products in our stores in 2015."
Mr Kelvin Ng, MSC Asia Pacific Director, said: "We welcome Hansung Enterprise to the MSC programme and are delighted that Lotte Mart is implementing an increasing commitment to source sustainable seafood. Consumers now can choose to support the sustainably managed fisheries by purchasing products that carry the blue MSC ecolabel and help to ensure sustainable seafood for this and future generations."