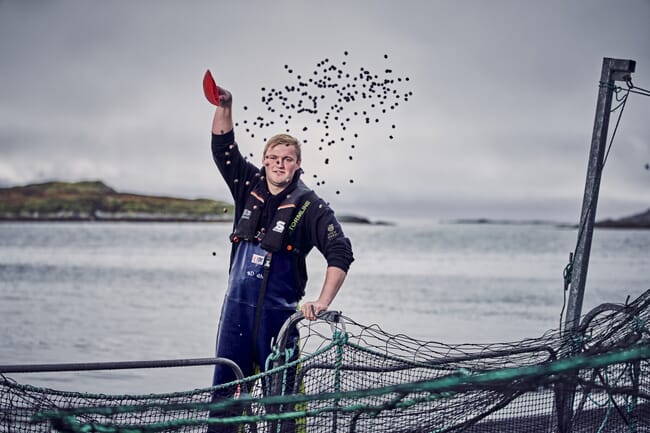 According to Loch Duart, the new feed means that the Scottish company can further improve its quality and sustainability through:

Further carbon footprint reduction – Loch Duart's carbon footprint from feed production is now below 2.0kg CO2 eq/kg. Standard farmed salmon average is 3.5kg CO2 eq/kg.
Managing scarce resources – The Blue Impact feed uses a minimum of 75 percent of marine ingredients from by-products from UK fish processing, which are more restorative to the planet.
Fish forage dependency ratio (FFDR) reduction – The change in the feed now means that Loch Duart Foraged Fish Dependance Ratio is just 0.7, under half of the current average levels for standard farmed salmon.
High omega-3 levels – The feed maintains a high marine content and a careful selection of ingredients guarantees industry-leading, high omega-3 levels for Loch Duart salmon.
Mark Warrington, managing director of Loch Duart, said in a press release: "BioMar's holistic approach to sustainability, with Blue Impact addressing multiple sustainability challenges in the industry, is a key driver for us switching to this diet. At Loch Duart, we are serious about reducing our impact on the planet because it's the right thing to do. With this switch in feed, we will take another major step in the right direction while further improving the health and quality of our unrivalled Scottish salmon."
Chris Orr, sales director at Loch Duart, said: "Loch Duart salmon are as close to wild as you'll find in the market and we firmly believe in feeding our fish what they naturally want to eat, a diet high in marine content. We also believe this diet should not come at the expense of the environment. BioMar's Blue Impact will not only reduce our carbon footprint but will help reduce the Fish Forage Dependency Ratio by increasing the use of circular ingredients and responsibly managing the world's resources. This increases the sustainability of how we raise our salmon without compromising the taste, texture, or high Omega-3 levels that our customers love, and Loch Duart is famous for."
Robert Wilson, business unit director at BioMar UK, said: "Blue Impact is our flagship diet dedicated to sustainability. We have defined distinct sustainability parameters based on our BioSustain programme to measure the sustainability of this diet and we will continue to implement improvements year-on-year to ensure sustainable development to transform aquaculture. We are looking forward to starting this sustainability journey with Loch Duart and constantly challenging each other to find new and innovative ways to improve the sustainability of the entire value chain."