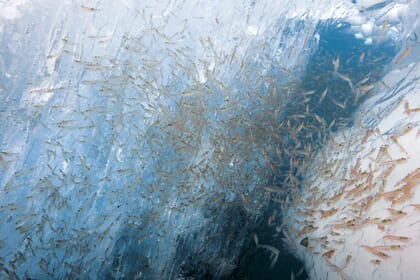 Similar to the findings in previous years, only 2.2 percent of the total catch volume of the reduction fisheries in this analysis came from stocks in "very good condition" and this corresponds to a single fishery: Antarctic krill - Atlantic Southern Ocean, the majority of which are caught by a single company, Aker BioMarine.
Aker accounts for 60 percent of Antarctic krill landings, catching around 158,000 tonnes a year. Given that krill stocks in the area they fish are estimated to be in the region of 60 million tonnes, the Norwegian firm is catching around 0.25 percent of the krill biomass, well under the 1 percent limit imposed by the Convention for the Conservation of Antarctic Marine Living Resources (CCAMLR).
Other fisheries
81 percent of the total catch volume comes from stocks that are reasonably well managed, a marked improvement from last year, where only 57.4 percent of the fisheries received that rating.
"The report shows a significant improvement for several other fisheries from last year, which is proof that many participants in the fishing industry are serious about doing business the right way," says Cilia Holmes Indahl, Director Sustainability at Aker BioMarine. "As a sustainability frontrunner, we are very satisfied that others are following. We have openly shared our data and expertise to drive positive change in the industry and take the right steps to ensure that the fisheries take responsibility for the ecosystems in which they harvest. We need omega-3s for our overall health and the all hands on deck approach to sustainability helps us balance our work for improving human health with taking care of the environment."
The Sustainable Fisheries Partnership, a young and dynamic, business-focused NGO analyzed data from 20 stocks from 13 species and two main groups (fish and crustaceans), rated according to the sustainability assessment presented on FishSource. Their full report, titled Reduction Fisheries: SFP Fisheries Sustainability Overview 2017, can be found here.