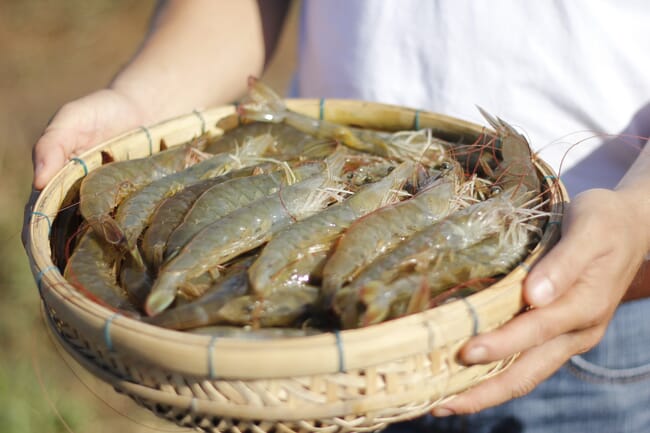 Typically, whiteleg shrimp reach their maximum size (230 mm) in marine environments after 12 to 14 months of growth. This growth rate is very difficult to achieve in pond-based aquaculture systems. Most shrimp farms operate 100 to 130-day production cycles and harvest shrimp weighing between 18 to 20 g. However, Kings Infra claims that recent harvest weights posted record-breaking growth during production cycle. According to a news release, Kings Infra achieved the growth by applying the SISTA360 protocols developed by its R&D wing.
"The information available with us shows that there is no record of L. Vannamei shrimps weighing 80 gm per piece have been grown in an aquafarm anywhere in the world. The SISTA360 protocol farming practice, a proprietary system developed by our R&D team, has enabled us to achieve such a record," said Shaji Baby John Chairman and Managing Director Kings Infra.
"The average weight of the shrimps in our farm during this crop has been in the range of 30 to 50 gm but we were surprised to find certain shrimps have grown to 75-80 grams during the final harvesting," he added.
According to the company, the protocols integrate principles from biofloc technology, aquamimicry and IMTA. The farm used antibiotic-free feed, probiotics and other natural supplements to boost shrimp immunity and disease resistance.

"The successful harvesting is a milestone in our R&D efforts to develop an eco-friendly and economically sustainable aquaculture practice that could be replicated by small and marginal farmers," said Shaji Baby John. "The success is noteworthy as our team had achieved the same in a 90 to 130-day harvest cycle despite facing several critical issues including adverse weather conditions."