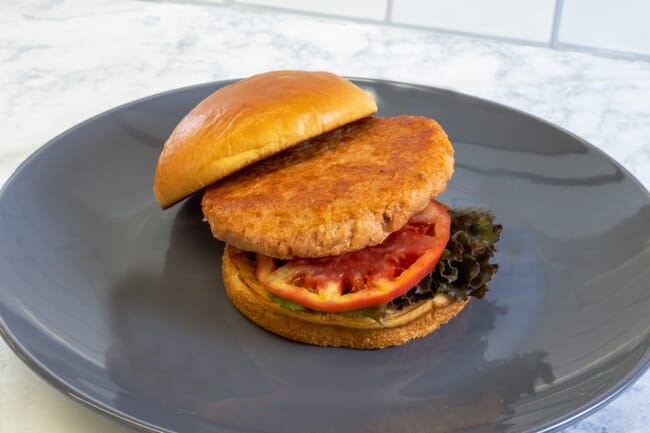 The plant-based salmon burgers follow its flagship products Shrimpish and Shrimpish Crumbles and will be available through a distribution deal with Dot Foods.

Salmonish burgers are made with 100 percent vegan ingredients, including kelp. Each serving provides 14 grams of protein and 300 milligrams of omega-3 fatty acids.
"After the successful debut of Shrimpish early last year, The ISH Company is thrilled to continue creating innovative, climate-conscious products during the rise of plant-based meat substitutes," said Christie Fleming, president and chief operating officer at The ISH Company, in a press release.
"The plant-based seafood market is primed for exponential growth and given the popularity of salmon, we have a great opportunity to help consumers make both delicious and more mindful food choices, further amplified with our ability to distribute through Dot Foods now as well."

Salmon is currently the second most-consumed seafood, after shrimp, in the United States. The growing demand for salmon worldwide is causing supply-chain and farming constraints, plateauing wild fish stocks, and increased climate change impacts. The ISH Company's salmon product is able to provide a clean alternative without harming the delicate marine ecosystem. The carbon footprint from the production and consumption of Salmonish is 5.6 times lower than traditional salmon and 44.9 times lower than beef.
This announcement comes on the heels of The ISH Company's $5 million seed funding round in January, led by ACCELR8 with participation from Stray Dog Capital and multiple angel investors. ISH has raised a total of nearly $10 million to date. The funds were primarily used to help the company continue to create more innovative products, allowing for the swift launch of Salmonish Burgers.
The company says that it has more than 25 products, including crab, lobster and cod alternatives in development.