Sponsor message
Are you trying to break into aquaculture industry or already working in the field and looking to gain additional expertise for career development?
Is There a Place for GM in Aquaculture?
GLOBAL - With no problems with sea lice, no risk of escape, minimal to no use of antibiotics and the same great taste and nutritional profile as other farmed Atlantic salmon, is the AquAdvantage Salmon the perfect salmon? The Fish Site Editor Lucy Towers talks to Dr Ron Stotish, CEO of AquaBounty Technologies about its sustainable production.
In a world where demand for food is growing, the Genetically Modified (GM) AquAdvantage Salmon (AAS) could be a sustainable option for meeting future dietary needs.
The fish starts its journey in land-based egg production facilities in Canada and is then, currently, transported to the hills of Panama where the eggs are hatched and the fish is farmed in a land-based flow through system.
AAS takes just 16-20 months to grow to market size (4-5kgs) compared to the 30-36 months it takes conventional farmed Atlantic salmon.
AAS is able to grow faster thanks to a growth hormone gene from Chinook salmon, with the breakthrough innovation occurring when researchers at Memorial University of Newfoundland, Canada inserted the growth hormone into fertilised Atlantic salmon eggs nearly 25 years ago. This growth hormone gene, which is coupled to a promoter sequence of DNA from ocean pout, enables AAS to produce its own growth hormone year-round instead of only in the spring and summer months.
These production advancements help address many of the current sustainability concerns faced in the farmed salmon industry such as problems with sea lice and predator attacks, the use of antibiotics and chemical treatments, and the interactions between wild and escaped farmed salmon.
Firstly, with the grow-out facilities for AAS being land-based, there is no/very low risk of escapes and no pollutants or contaminants leave the farm which could harm the environment – over 95 per cent of the water is reused in a modern recirculating aquaculture system (RAS).
"Land-based production also allows us to bring the salmon closer to consumers," said Dr Stotish. "This reduces the farm's carbon footprint and improves freshness."
In the past, the land-based grow-out of salmon has generally not been cost effective. However, due to the decreased growing time, better Feed Conversion Ratio (FCR) and recent improvements in the technology available for land based systems, AquaBounty has found production to be ever more cost effective and ultimately, more profitable.
Producing the fish in a controlled environment with optimum biosecurity practices also has the added benefit of a decreased risk of disease and infection. This in turn means the farm can operate antibiotic-free unless absolutely necessary for the health and welfare of the fish.
Fish welfare is an issue that Dr Stotish and his team take very seriously. Some people are worried that modifying the fish to grow faster, yet with the same body structure as a normal salmon, could impact on the welfare of the fish. However, Dr Stotish assured that everything possible has been tested to make sure that the salmon are healthy and happy.
"We have very happy fish," Dr Stotish said confidently. "Outside experts have performed studies showing that the modification of the salmon to grow faster has not impacted on the overall well-being of the salmon."
"One example of a difference between AquAdvantage and other Atlantic salmon is that the AAS response to predators is reduced compared to wild fish - the fish seem to be more interested in eating than fleeing from threats," said Dr Stotish.
Of course with no/minimal risk of escape predators are something that will not be problematic to the fish.
Overall, one of the biggest sustainability advantages of AAS is that it has opened up the opportunity to take cost-effective salmon farming around the world, including land-locked countries or countries that do not have the ideal water temperatures or conditions to farm in the sea.
Salmon is a nutritious fish rich in Omega-3 fatty acids. Bringing this fish to poorer communities where it is not usually available or, due to import costs, is too expensive to buy, could be a major step in the outreach and expansion of the salmon farming industry.
In some of the major salmon farming areas around the world there are limits to the expansion of salmon farming. In Norway, the growth of the industry is restricted in order to protect the environment and wild fish populations and in Chile the growth of the industry has been hampered by a series of natural disasters. "Taking this into account, the global salmon market is big enough for everyone, including AAS," said Dr Stotish.
Despite the apparent benefits of GM in feeding the world sustainably and two of the world's strictest food safety authorities giving the fish their seal of approval, there are still groups against GM production and those who are concerned with its safety.
To those who are against GM and who have concerns or fears over the product, Dr Stotish says he hopes people go out there and try it. "They will see it is just the same as other farmed Atlantic salmon they buy but, if anything, it is just more sustainable."
"The taste, texture, composition and nutritional profile of AAS is the same as other farmed Atlantic salmon," he said.
The nutritional composition of farmed fish is determined by what it eats, explained Dr Stotish. The diet of AAS will consist of the same commercial feeds as other farms. However, Dr Stotish went on to reveal that he is currently looking at more sustainable plant-based alternatives to fishmeal.
The production of AAS also requires less feed overall as, not only is the growth rate faster, the FCR is improved by 25 per cent. This equates to a reduction in feed and production costs.
Expanding Operations
As well as operations in the US, Canada and Panama, AquaBounty recently revealed that it is also carrying out trials of the salmon in Brazil and Argentina in order to expand production - the farm in Panama can only produce 50 tonnes a year.
"To produce or sell the salmon in a country, we have to demonstrate how we would grow and sell the fish there. This also shows how well the fish performs, i.e. growth, under the conditions of that country."
Looking to the future, Dr Stotish said he would like to continue to expand the company's operations and has had very encouraging interest from investors. But, for now, the company's main focus will be on the US and Canadian markets that are closer to home.
"AquaBounty itself is still only a small company with just 24 employees and we are already operating in five countries around the world," Dr Stotish added.
The company received approval for the sale of the salmon in the US back in November and Canada approved the product in May this year. With these important milestones reached, Dr Stotish now hopes to have salmon available for purchase within the year. The initial end-markets will be fresh, frozen and sushi markets, but Dr Stotish also said he is keen to explore the value added markets such as fish smoking.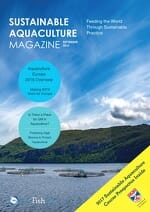 This article was taken from the September 2016 Sustainable Aquaculture Magazine.
Sponsor message
UMass Sustainable Aquaculture Online Courses
Aquaculture is an increasingly important source of safe, nutritious, and sustainable seafood for people worldwide. Globally, aquaculture production must double by 2030 to keep pace with demand. These increases in demand for aquaculture products, food security considerations, and job creation have generated an increased need for skilled workers.
Discover how you can be part of this rapidly expanding industry.