Called ITARC (INVE Tropical Aquaculture Research Centre), it replaces the SCRD facility that was previously on the site, and will concentrate on product development, with a particular focus on looking at novel diets and regimes that can optimize the balance of live feed vs diets without affecting the quality of shrimp fry and hatchery performance.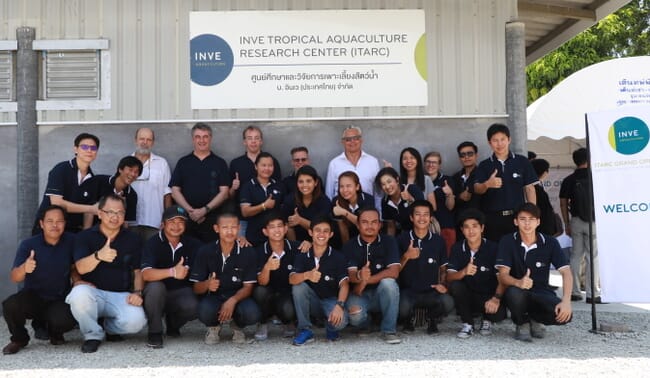 We are world leaders in both live feeds and artificial diets for shrimp and will be using the facility to help producers to come up with feeding protocols that are as performing and cost-effective as possible," says Patrick Lavens, New Business Development & Innovations Director at INVE Aquaculture.
"INVE has been at the site since 2000, but this new development marks a tremendous evolution," Patrick enthuses. "We now have 14 dedicated researchers onsite and have effectively doubled our capacity within 18 months, which is fantastic as it allows us to move faster on product development."
Tilapia research
INVE's tilapia research at the centre will continue to mainly concentrate on health issues.
"The tilapia research projects we undertake at Chonburi will be largely health-related, although this does of course tie in with feeds too, and the oral application of fish health products is always an option," Patrick reflects.
And the revamped facility will allow the firm to continue a number of ongoing projects, several of which have already produced very promising results.
"One of the projects underway at ITARC relates to the investigation of ways to reduce the occurrence of off-flavoured fish, and we are looking at developing anti-microbials to tackle the two main strains of bacteria that cause this," he continues. "We've already had good results in trials using a new probiotic and are now looking to improve the efficacy by testing different components."
This will help take the pressure off INVE's product development facility IARC in Italy, allowing this location to largely concentrate on products for Mediterranean species – largely sea bass and sea bream – while the Chonburi facility will be able to take over the bulk of the tropical species.
"We've got about 20 projects under development at the moment, and ITARC will be involved in 30-40 per cent of these," Patrick reflects.
ITARC not only complements INVE's existing research facility in Italy but also helps to cement Chonburi as something of a cluster of aquacultural expertise in the region – sister company Fish Vet Group (FVG) Asia, which is also part of the Benchmark Group, has two testing facilities within a 5km radius of the site.
"It's like our second home now," says Patrick, "and we're planning on working with FVG Asia and making the most of having their excellent disease control and challenge facilities. This will not only allow is to be more competitive but will also enable us to conduct some really nice trials. It is also close to several substantial production units in Central Thailand."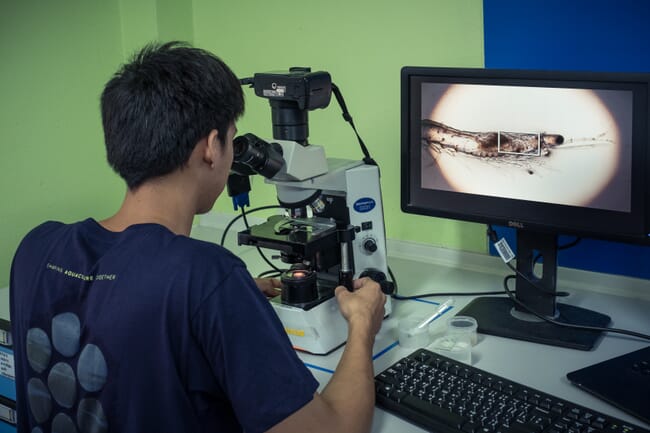 Shrimp schemes
Thailand's shrimp industry was hit hard by early mortality syndrome (EMS) in 2012 but is now beginning to recover and Patrick believes that INVE are well-placed to help this recovery continue apace.
"EMS – which first appeared in China in 2010, then spread to Vietnam – knocked back Thai shrimp production by around 50%," he explains, "but around 300,000 tonnes are forecast to be produced this year."
INVE's main areas of research for shrimp at ITARC have been to upgrade the Frippak line of feeds for shrimp larviculture.
"We are looking at ways to further balance diets vs live feeds without decreasing fry quality – this is so important in the grow-out stage because only the best fry survive should an outbreak of EMS take place – it's vital that they reach the ponds in good shape," says Patrick.
"We're also looking at developing better live feeds and will soon bring two new types of Artemia, which should help to improve biosecurity, to the market ," says Patrick, "and are working closely with an algal substitute produced by another Benchmark company, TomAlgae, which is a bio-secure and very high quality alternative to growing algae on site and may also help shrimp overcome the zoea-2 syndrome."
"The centre will also allow INVE to pursue our Care For Growth concept – the investment allows us work closely with our customers to make ensure their businesses run smoothly and can, over time, grow," Patrick adds.
At a time when the shrimp industry – both in Thailand and beyond – is poised for growth, such research into alternative feeds is likely to be widely welcomed.