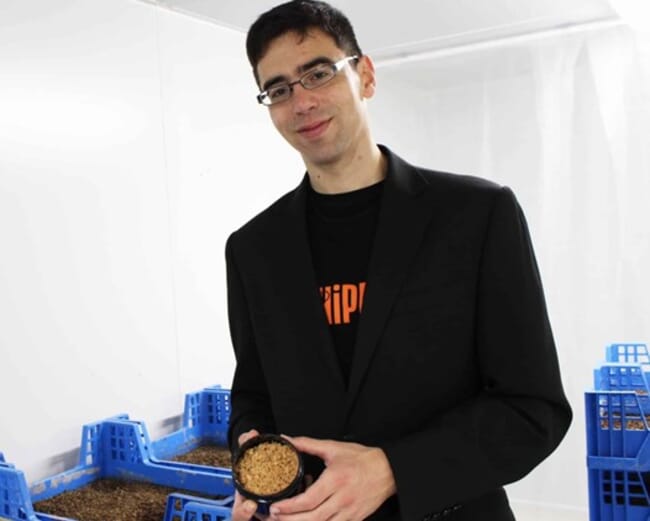 The Scottish startup aims to use the funding to scale-up the production, sale and supply of its black soldier fly eggs and larvae to the insect farming sector, as a sustainable alternative to current sources of protein for animal feed.

Based in Edinburgh, Beta Bugs has developed the UK's first comprehensive selective breeding programme and egg production site for the black soldier fly, which is farmed as an alternative protein source for use in aquaculture, pork, and poultry feed and can be reared on various waste streams, including agricultural and food waste.
The funding round was led by The Tricapital Syndicate, with participation from SIS Ventures, Scottish Enterprise, Beeches Group, Climate.vc, together with existing shareholders in the business and InnovateUK.

Black soldier fly farming provides a green, circular, and regionally produced alternative to the environmentally damaging production of soy meal and fishmeal, one of the prime causes of deforestation, biodiversity loss, and overfishing. With the global population forecast to reach 9.7 billion by 2050, livestock farming will require an additional 539 million hectares of habitat using current conventional methods – equating to an area 44 times the size of Scotland – to produce the necessary protein to feed this growing population.
Increased yields and enhanced quality
Although they have been farmed commercially for the past decade, Beta Bugs say that black soldier fly have not previously been genetically improved for large-scale production. By improving black soldier fly genetic performance and supplying it at commercially meaningful scales, Beta Bugs claims to provide superior larvae with which insect producers can increase both protein yield and quality for animal feed, enabling it to eventually compete with soy and fishmeal on price.
Thomas Farrugia, CEO and founder of Beta Bugs said in a press release: "Beta Bugs has supplied its industry leading products to an increasing number of established and new entrant insect farmers in the UK and international markets. The company continues to develop its outstanding HiPer-Fly breeding programme, which has demonstrated consistent increases in black soldier fly genetic performance across multiple, economically valuable production traits. Completing this investment will allow us to expand production capacity, drive to profitability over the coming 18-24 months and further strengthen our market leadership position in the strategically important insect farming industry."

Moray Martin, managing partner of the Tricapital Syndicate, said: "Insect farming is increasingly seen as a sustainable alternative protein source that could help mitigate the predicted increase in protein demand over the coming decades. The significantly lower environmental impact of insect farming places the sector at the forefront of sustainable food source development. In that context we are delighted to be able to support the acceleration of Beta Bugs to commercial scale."
Kerry Sharp, director of entrepreneurship and investment, at Scottish Enterprise, added: "We have supported Beta Bugs through our high growth ventures team, as well as financially, and this recent investment will help the company fly high as it expands the team and continues to develop its sustainable and innovative insect protein solutions.
"It's a great example of a Scottish bio tech scale up providing value in the supply chain for the agriculture industry and with benefits for the economy and environment."