Speaking ahead of Seafood Expo North America (SENA), in Boston next week, he said: "Scotland has some of the best fish and shellfish in the world, and we know that preparing it simply allows the true quality to shine through, but tastes in other markets can be very different. Scottish seafood companies need to take note and adapt accordingly, while still retaining the authenticity of the raw product.
"The 'quality sells itself' adage doesn't necessarily hold true any longer – innovative and tailored taste options, astute marketing approaches and smart use of market data all have a huge part to play in growing our exports, ensuring Scotland can stand up against intense competition from other seafood exporting countries.
"Developing the product, whether through flavour variations or by ensuring high levels of sustainability and authenticity, and creating bespoke marketing tactics that appeal to international buyers is the direction of travel for many savvy suppliers. If more of Scotland's seafood suppliers broaden their approach to suit, we stand to increase Scotland's share of the world market."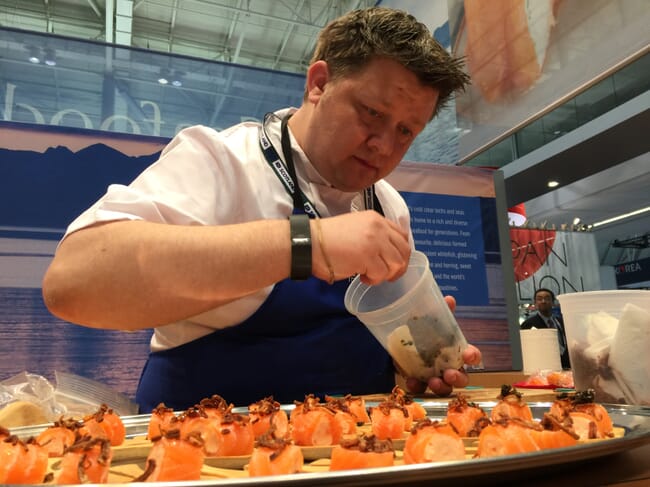 This week, seven Scottish seafood companies will exhibit on the Scottish pavilion in Boston to try to increase their overseas market share, and new products from aquaculture include:
Dawnfresh – Promoting fresh RSPCA accredited Loch Etive Trout alongside their smoked product range under the RR Spink & Sons brand, which boasts the Royal Warrant to the Queen.
Wester Ross Salmon – Promoting Fresh sashimi grade Wester Ross Salmon (whole and fillet) and Heather Honey Hot Smoked Salmon. Key emphasis on hand rearing, organic, natural salmon.
Marine Products Scotland – Promoting bespoke salmon fillets and portions, which can be natural, infused or lightly smoked to customer requirements. Also developing new salmon burger and sausage products, hoped to be particularly attractive to the US market.
Loch Fyne – Focusing on a lightly smoked salmon product that has been developed particularly for the high-end market and has had success in the UK and the Far East.
Campbells and Co – Showcasing innovative products alongside traditional smoked salmon, including Beetroot Smoked Salmon, Balvenie Whisky Smoked Salmon, alongside Glenfiddich Whisky Smoked Salmon and Hendricks Gin Smoked Salmon, new to the US market.
The Scottish Salmon Company (SSC) is introducing its new premium export brand at SENA, Boston and showcasing its award winning Native Hebridean Salmon, a unique strain of salmon sourced from the freshwater loch systems of North Uist and reared exclusively in the Hebrides - a truly unique and native strain with true Scottish provenance guaranteed.
Julie Hesketh-Laird, chief executive designate of the Scottish Salmon Producers Organisation, said: "With the USA being the largest single market for Scottish salmon, it is exciting to see new innovations being showcased for some of the world's most important buyers. Scottish provenance and high-quality standards are key to salmon's export success. Demonstrating our Scottish talent for innovation and product development in Boston will boost our excellent reputation in the USA."