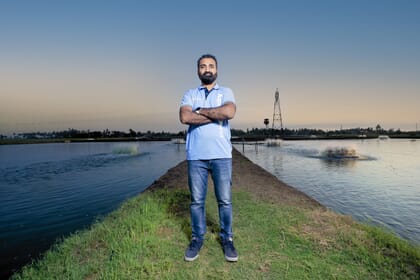 The round was led by Rebright Partners and Flourish Ventures, while AgFunder and 6G Capital also participated, along with existing investors Omnivore and Hatch.
Aquaconnect's digital platform helps fish and shrimp farmers maximise their income by connecting them with smart farm management tools, financial services and customers. Aquaconnect's mobile app features predictive SaaS tools for pond management, which improve productivity and help farmers avoid disease risks. This farm data intelligence is then leveraged by Aquaconnect's omnichannel marketplace, allowing farmers to transact directly with farm input manufacturers, banks, insurance companies, and certification bodies. Finally Aquaconnect's post-harvest market linkage solution helps shrimp and fish farmers sell their traceable and certified produce to buyers across the globe. Aquaconnect* currently works with over 30,000 aquaculture farmers across Andhra Pradesh, Odisha, Gujarat and Tamil Nadu.
Despite India being the world's largest exporter of shrimp and second largest aquaculture producer globally, the industry is fraught with various challenges – ranging from unscientific farming practices to inefficiencies in the value chain. Aquaconnect's full-stack platform provides a 360-degree solution for aquaculture farmers. The startup plans to use this pre-series A funding to strengthen their GIS-enabled fintech product development and accelerate the volume of exports flowing through the platform. They intend to launch their Series A round in six to nine months.

Raj Somasundaram, founder and CEO of Aquaconnect, said: "The recent investment from marquee investors like Rebright, Flourish, AgFunder, and others is a strong validation of our goal to become India's largest aquaculture value chain aggregator, and will help us scale up in both size and scope. We will deploy the fresh capital to scale our farm advisory, financial services, and marketplace for seafood exports."

Commenting on the investment, Brij Singh, general partner of Rebright Partners, said: "We are backing Aquaconnect to help enable digital transformation in India's aquaculture industry by supporting all stakeholders to increase exports of high-quality seafood with traceability to key markets like Japan."
Anuradha Ramachandaran, investment director of Flourish, said: "Flourish is proud to back Aquaconnect. Raj and his team have developed a platform that uses data and technology to help farmers maximise their income, access financial services and connect with customers. Aquaconnect is a compelling example of how financial services that are integrated with popular platforms can empower small businesses and enhance their owners' livelihoods, reflecting the importance of embedded finance as an investment thesis for Flourish."
Based out of Chennai, Aquaconnect was founded in 2017 by Raj Somasundaram, an IIT Kanpur alumnus. Before starting Aquaconnect, Raj founded Hexolabs, a mobile VAS company, that operated across 15 countries in Asia, Latin America and Africa. The World Economic Forum has named him among "Young Global Leaders 2012" in recognition of his leadership and contribution in the field of mobile communications and information services. He also became a 'TED Fellow' in 2009 for his accomplishments in Mobile4Good initiatives in emerging markets.
Aquaconnect's leadership team includes industry veterans from consumer internet, BFSI, and data science backgrounds. Arpan Bhalerao, the Chief Growth Officer, is an IIT Madras and Indian School of Business alumnus, who previously served as an AVP at Urban Company. Karthivelan, the Chief Operating Officer, is a seasoned banker, while Venkatesan OV, an MIT TechReview recognized data scientist, leads the technology and data sciences team. Finally, Amit Salunkhe, ex-Head of BFSI at Cropin, and Sudhir Silawal, formerly with Farmguide, are spearheading the fintech and GIS endeavors respectively.
*Aquaconnect is part of Hatch's investment portfolio, but The Fish Site remains editorially independent.