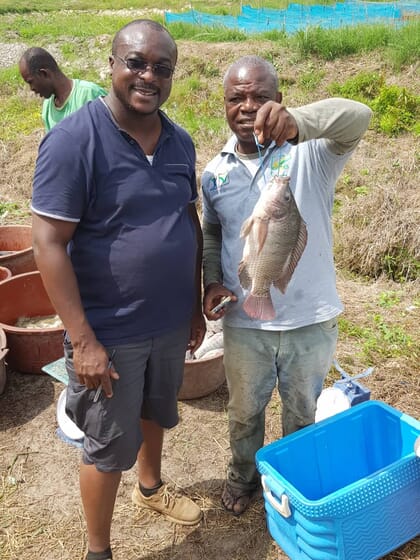 Can you tell me a bit about the Ivory Coast's fish farming sector?

Local aquaculture production equates to less than 1 percent of domestic needs. There are officially over 1,000 farmers but, in reality, only 150 are active. Production is estimated at around 5,000 tonnes – 99 percent of which is tilapia – while the needs for our 25 million people are estimated at more than 500,000 tonnes per year.
Despite this, the production potential of Côte d'Ivoire [the Ivory Coast] is enormous. The surface area suitable for aquaculture is estimated at more than 350,000 ha. Most of the production is done in ponds, some in floating cages. Only one company using RAS technology has operated here so far, but it has now closed down.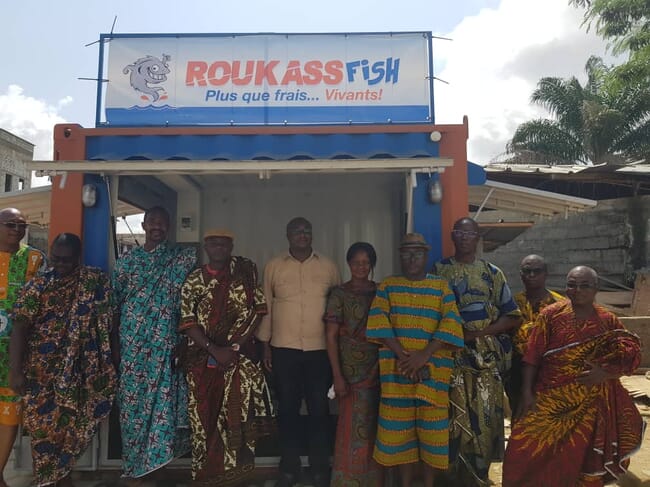 Can you tell me a bit about your background?

I was a financial manager (risk management and project management) for eight years in the telecom industry, with a particular focus on risk management and project management. Since 2015 we have been involved in entrepreneurship in the field of agritech and we moved into aquatech in 2019.
What inspired you to embark on a career in aquaculture?
I am passionate about the rural world and have a personal mission to contribute to the prosperity of African farmers. Also, in view of the enormous potential of aquaculture in terms of job creation, wealth creation for the Ivorian population and food security, aquaculture represents an ocean of opportunities that can have a big impact on the population.
Can you give me a brief overview of your company and concept?
Our company is developing a local brand, called Roukassfish, which we would like to set the standard for the production and marketing of fish in Côte d'Ivoire. We will provide both fresh and live tilapia, the brand is named after a local dance as our fish are better than fresh.
It is now a question of developing our own distribution network (by creating our own and franchised shops) and supporting selected small farmers integrated into the brand so that they produce quality fish. We support them by submitting specifications, facilitating access to quality inputs and soon to financing and others impacting solutions.
What challenges are you aiming to solve?
The country's aquaculture sector faces several challenges: including marketing, distribution and finance. It is especially difficult for small farmers, who have enormous difficulties in obtaining quality inputs. From our point of view, the biggest challenge is fish quality: when we know that imported fish – most of which come from Asia – potentially carry health risks and we must provide innovative solutions to improve value chains and ensure their durability.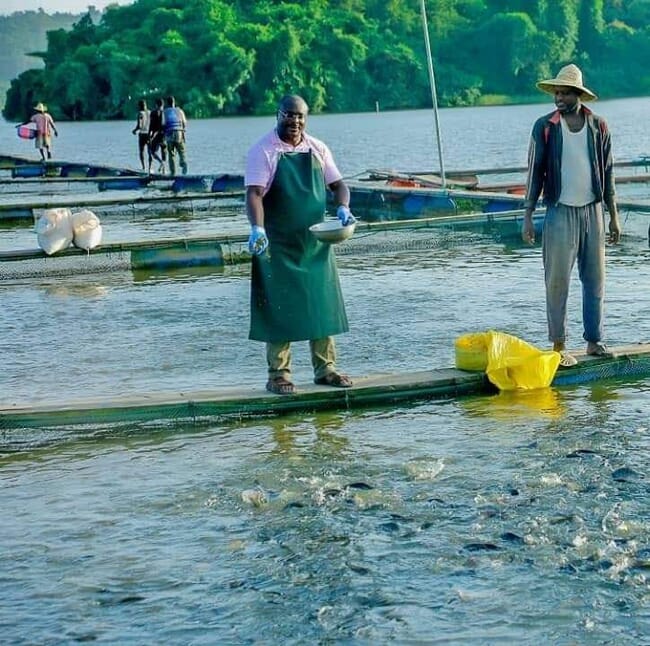 What does a typical day in your current role consist of?
I often visit our partner farmers and talk with them. We also organise the marketing at our points of sale. And we continue to work on our business plans.
How many small farmers are part of the network and what sort of feedback have you had from them so far?
For now, we have five farmers in the network and all is going well. We are successful, but it takes time to build trust and encourage them to produce more.
Do you see potential for the company to expand?
Yes, insofar as we are pioneers in this field. The company plans to expand in the main cities of Côte d'Ivoire by deploying local points of sale. And by organising the farmers who are based around these cities, we can create a real aquaculture economy.
We also want to expand in the sub-region, especially in Niger and Burkina Faso, which have a huge need for fish. We have already had people who have shown interest in what we do. In terms of species, we also want to develop red tilapia. And there is also a strong demand for shrimp, whose current price is very high. We would have to be able to produce shrimp locally.
How would you like to see the company evolve in the coming years?
By the end of the year we'd like to cover the city of Abidjan with a network of 50 points of sale and to increase the size of our network of farmers to 20. From 2023 we'd like to sell 70 tonnes of fish per month, then expand throughout the country from 2024. The project is certainly ambitious but achievable and we are currently working to raise funds.
How do you think the country's aquaculture sector can help to meet the demands of West Africa's growing population?
If Cote d'Ivoire exploits its full potential it can produce more than 1.2 million tonnes of fish per year. This production would not only fill its production gap but also allow the country to export over 500,000 tonnes per year – enough to cover most of the needs of landlocked countries such as Burkina and Niger. But to get there it would take willpower and, above all, good investment.