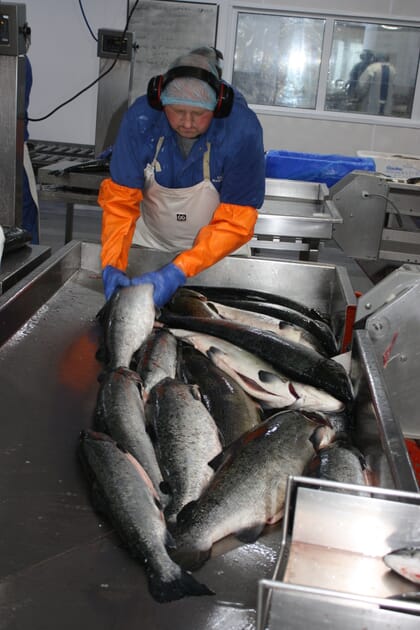 "Seafood, the most traded food globally, is operating with a broken supply chain. Bottlenecks are apparent at both processors and distributors. If the seafood market were working efficiently, harvesting output would have fallen more dramatically. To date, lower seafood prices have failed to stop this oversupply, which means that seafood waste is rising," concludes a new report by Planet Tracker.
The report notes that the global seafood trade was worth $164.1 billion in 2018, having increased at an annual growth rate of 4 percent between 1976 and 2018, and is projected to reach $194 billion by 2027.
According to the report, seafood supply chains have been dramatically affected by the Covid-19 pandemic.
"Many fish farmers have been unable to sell their harvest, requiring them to hold on to large quantities of live fish or destroy them. This has reduced their cash-flow, as lost income and additional expenses, such as prolonged storage costs, impact their business," states the report.
Further along the supply chain, suppliers and processors are struggling with unplanned closures. Processing facilities have been affected by labour shortages because of workers' exposure to Covid-19 and quarantining requirements.
The transportation of seafood products, both as a raw product to processors and from the processors to the retailers, has been hampered by restricted border access, health inspection delays and civil action. For example, Chilean truckers recently went on strike, while air freight routes have suffered because of widespread cancellations. Transporting salmon products by air has risen in price by at least 50 percent in 2020.
"Supply chain disruption is likely to shrink the seafood trade in 2020. Forecasts suggest that developing countries will be disproportionately affected, in part due to trade policies that restrict seafood exports which fail to meet tightened environmental standards," the report claims.
Trade restrictions imposed on seafood exports because of the pandemic have led to an oversupply in the domestic markets of producing countries. In turn, this has resulted in falling domestic seafood prices and rising levels of food waste.
Declining shrimp exports illustrate trade difficulties
The report notes that the shrimp/prawn sector entered 2020 having already experienced two years of oversupply and associated price declines. This has worsened during the pandemic as there remains too much supply in the face of falling demand. In 2018, Ecuador was the second largest shrimp exporter after India, accounting for 17.7 percent of global trade of frozen tropical shrimp and prawns. However, Ecuadorian shrimp and prawn exports are expected to fall by 50 percent in the second half of 2020 because of the pandemic – largely due to lower demand from Chinese markets, caused by pandemic-related bans in regions such as Jinan and Shanxi, after traces of the virus were found on packaging.
Many shrimp farms have been forced to stop production, as operating costs are not being covered by sales revenue. Some farmers have reported a 56 percent decrease in shrimp prices, from $2.50 per lb to $1.10 per lb.
Decrease in salmon prices illuminates oversupply problem
Meanwhile the price of salmon also "reveals a sorry tale for harvesters", according to the report. Indeed, it notes that the price is down 18.1 percent over a 12-week period across the major production regions - Norway, Chile and Scotland. Scottish salmon reached the lowest price levels in years, with 1-3kg fish falling below $5.30/kg. Primarily driven by this revenue decrease, Leroy Seafood reported a 58 percent reduction of operating profit in Q2 2020.
Even with the increase in seafood retail sales in 2020, in some countries, the report details that supply outstrips demand, as much of the hospitality sector continues to operate below capacity. Broadly, the restaurant to retail sales ratio is around 60/40. The very recent bounce in the price of Scottish salmon has been attributed to the UK's "Eat Out to Help Out" scheme, in which the Government subsidises meals for consumers eating in restaurants. As this scheme only operates for the month of August, the salmon price increase is likely to be temporary. Norwegian price decreases have been partially mitigated by the Chinese demand, but despite this exports to China from Norway are still 39 percent lower year-on-year. Salmon prices are expected to remain low until the end of 2020.
Seafood for landfill?
Some countries such as Indonesia or Vietnam are still producing seafood products, but are unable to access international markets because of logistical disruptions.
"The outcome is either opting for storage or disposing of the seafood. However, the storage option has its limitations. Extended periods of storage by these mid-stream players – processors, traders, exporters and importers – will impact on their operating costs. The longer the company waits for more favourable market conditions, the higher the operating costs. Management is forced to assess whether it is worth taking this risk. If not, the waste route becomes the default outlet," argues the report.
Can the seafood industry adapt?
The report notes that some processors are aligning with online retailers, which has simplified and shortened supply chains. Demand for packaged, frozen and canned products has risen as households stocked up on non-perishable food, at the expense of fresh seafood options.
"An opportunity exists to use this 'unwanted' fish protein for aquaculture feed, but logistics appear to be frustrating even this option. So, the industry looks set to send vast volumes of edible seafood to landfill," the report concludes.