Seaweed is currently experiencing a renaissance in demand. With many trace elements that are essential to our diet, it has huge potential as a superfood, a biofuel and in pharmaceuticals and cosmetics.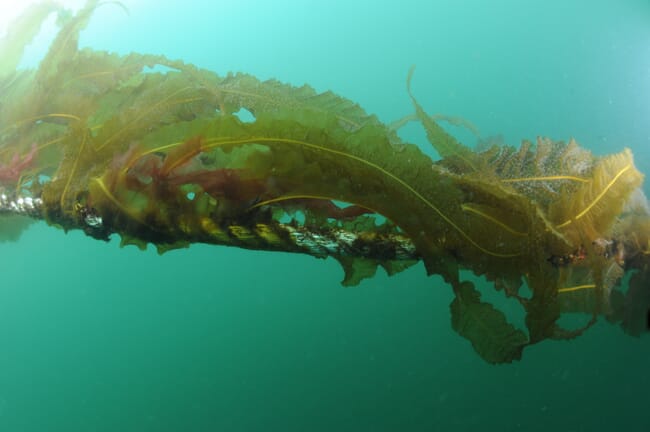 The UK may not have a long history of seaweed farming but the idea is gaining traction in recent years - with a number of operators beginning to spring up. One example is Scarborough firm SeaGrown, which has licensed a 25-hectare site four miles into the North Sea to cultivate brown seaweed species – Laminaria digitata, Saccharina latissimi and Alaria esculenta – which grow naturally in the area.

Founded by former Scarborough fisherman and diver Wave Crookes and his partner, Laura Robinson, a marine scientist, SeaGrown aims to be the first UK firm to introduce offshore farmed seaweed into new markets by 2021.
"We have opted for a site with sufficient space to cultivate the required volume of seaweed for industrial use as well as for food products. We believe we are the first offshore seaweed farm in the UK, and whilst this brings significant benefits it also poses significant challenges from open water weather conditions," says Crookes.
Crookes is correct. There is currently only one aquaculture installation in the UK – Offshore Shellfish in Devon – that is further from the coast. And the scale of the Scarborough operation would make it one of the largest aquaculture sites in the country.
"Our seaweed farm will be established as soon as we are permitted by the government to work again post Covid-19," Crookes continues. "The site is clear of fishing activity, commercial shipping and leisure activities. It's also off an area of the Yorkshire coast that's absolutely prolific for the type of seaweed that we're aiming to farm. We can only assume that when we take it offshore it will grow prolifically in great conditions. We have a high-energy environment thanks to the waves and swell, and lots of nutrient flow with a constant, strong tidal stream and cold water."

But seaweed is not the only marine life SeaGrown will be farming. The company is going the extra nautical mile by participating in an upcoming trial that aims to highlight the benefits of cultivating seaweed and shellfish together, and point the way towards a sustainable alternative to existing scallop-farming methods. With funding from the Seafood Innovation Fund, Crookes and Robinson will cultivate local king scallops within their seaweed farm, along with oysters, in separate, mobile units. This will provide an alternative to dredging – the traditional scallop-harvesting method, which can cause considerable seabed habitat degradation.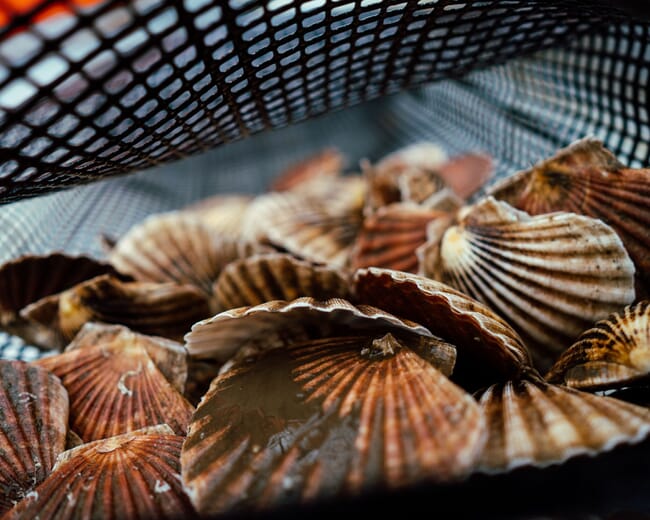 According to Yorkshire Wildlife Trust, the UK currently lands about 30,000 tonnes of scallops a year, the majority of which come from dredge fisheries in which a heavy metal bar is dragged along the seabed.
"The decision to start this trial was made when I spoke to Yorkshire Wildlife Trust about complementary farming that I could do on my seaweed farm, and we identified shellfish," said Crookes. "As a former diver, I've seen how destructive dredging can be. But it's also controversial because of the inevitable conflict between the local fishing fleet, which uses static gear to catch crabs and lobsters, and large, migratory scallop-fishing vessels that aren't aware of the static gear below and accidentally plough straight through."
SeaGrown will be farming the scallops in novel, mobile, modular cage units on hauling lines. These will be attached to buoys and suspended below the seaweed to minimise any impact on the seafloor. A custom anchoring and retrieval system will enable the cages to be hauled up when necessary. Spat will be grown to a viable size in a hatchery, ultimately by SeaGrown themselves, before being moved offshore and reared to market size. The team is currently trialling the cages to ensure that they can withstand the environment and keep the scallops alive and healthy. Crookes says that the system will complement his seaweed farming to create a natural process for offshore shellfish cultivation, while the seaweed will provide an ideal environment for the shellfish to grow.
"If the equipment works, we'll try to apply to the Seafood Innovation Fund for a full research and development trial, and we'll hopefully have some hard data as the foundation for our study. It's important to be convinced that the gear will work, hence an introductory trial," said Crookes.
One key feature of the trial is that everything will be in symbiosis, with the seaweed eating up carbon and the shellfish filtering and cleansing the water, creating an artificial vertical reef that shelters crabs, shrimps and scores of other marine species. Crookes hopes that in time his farm will act as a fish aggregator, where small fish will graze amongst the seaweed. This will lead to larger fish, predators and a wide range of fish and mammal life.
Hopes are high that the system will also be robust enough to meet the challenging conditions of the North Sea.
"We're using our own experience of operating in a challenging environment, along with some educated guesswork and mathematics, to make sure that we have the most likely configuration," he said. "There will be several different types and set ups of cages – because part of the work is to disprove certain methods in favour of others, so we will have a clear winner at the end, where we know that it will be able to support the shellfish that will live in it for quite some time."
The trial will also demonstrate how offshore farms can sustainably grow multiple species. Cultivating seaweed near the surface allows it to absorb sunlight, take in carbon dioxide from the atmosphere, retain it and release oxygen into the water. Seaweed also grows extremely fast, and because it de-acidifies seawater, it makes it easy for anything with a shell to grow. The shellfish also benefit from the increased oxygen levels in the water and release nutrients that will feed the seaweed. Degraded or dying ecosystems can also be revitalised thanks to seaweed groves that become nurseries and sanctuaries for other marine species.
"It's a natural, circular process, where one benefits the other, and we think we can make exponential gains with both by using them in conjunction with each other," said Crookes.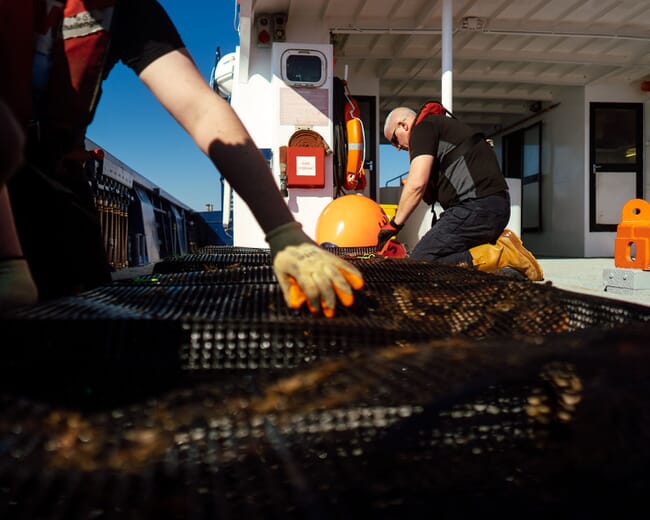 SeaGrown's trial was due to run for three months, from February until the end of April when the coronavirus pandemic hit. But in the meantime, as preparations get underway, Crookes and Robinson are looking at other issues, including the economic opportunities of seaweed and shellfish farming and wider benefits for local communities. Both hope that the trial and future work on their seaweed farm will create employment for former fishing-industry employees with the necessary maritime skills for offshore farming. The scallop hatchery will offer technical, skilled posts while there will be knock-on effects for the local economy, with local companies, suppliers and contractors working on SeaGrown's vessels and property, as well as helping with processing and transportation. University collaborations and future PhD opportunities are also in the works, and – thanks to increasing consumer awareness of the environmental impacts and provenance of food – there is already a market waiting to be tapped in to.
"The amount of support we've had through media and the local community has been overwhelming," said Crookes. It's great to see that SeaGrown is a popular addition to the industrial landscape in Scarborough and along the Yorkshire coast."
For Crookes and Robinson, the seaweed- and scallop-farming trial, if successful, could be an extremely sustainable, massive resource with many different applications.