An exception to the conventional picture of developing countries supplying seafood to developed country markets is found in the herring industry where large volumes are sold by developed countries for consumption in developing countries. This latter trend is illustrated in figures for first quarter Norwegian herring exports which show strong increases in frozen round sales to Africa as well as increases in fillet exports to East Europe.

Stronger overall supplies will be a key feature of European herring trade during 2008. The increase is expected to impact mainly on the availability of smaller grades of frozen round herring for which there is a buoyant demand in African markets.

Nigeria a leading market for Norwegian herring

Although the North Sea quota is lower this year, an increase in the 'spring spawning' herring quota in the North – East Atlantic should mean an overall increase in catch volumes. Norway in particular is likely to benefit from increased supplies. The country's quota from the spring spawning fishery is higher by 19% to 926 000 tonnes, an increase exceeding a 40% decline in its North Sea quota to
64 000 tonnes.

The new quota situation is reflected in a sharp increase in Norwegian first quarter exports with frozen round herring volumes up by almost a half, to 208 000 tonnes, compared with the first three months of 2007. The increase is largely accounted for by a jump in sales to Africa but notably to Nigeria which has seen higher herring demand as a result of weaker supplies of mackerel and horse mackerel.

An almost five fold increase in exports to Nigeria has lifted this country into the number one export market overtaking the Russian Federation which has seen volume sales of round herring from Norway fall by 18% this year. Russia, which appears to be switching more to fillet imports, is still the top round herring market for Norway in value terms, sales reaching NOK208 million during the January – March period ahead of NOK197 million for Nigeria. A significant increase is also evident for Norwegian round sales to Egypt with volumes more than doubling to over 13 000 tonnes. Egypt remains well behind the Ukraine, Norway's third market which registered a 31% increase in first quarter volumes.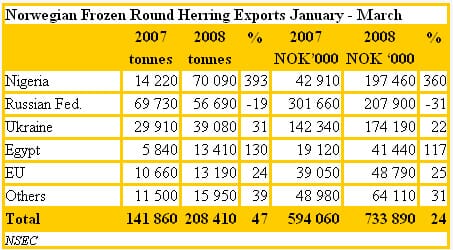 Despite the strong export increase, prices do not appear to be weakening as much as might be expected. Demand conditions are generally favourable and, although first quarter average unit values for Norwegian exports are lower by 16% compared to the same period last year, the decrease is partly due to a greater mix of smaller, and cheaper, grades in total exports. Average unit values for the mainly smaller round grades destined for Nigeria are at NOK2.82/kg compared to the bigger, and more expensive, grades sold to the Russian Federation (NOK3.65/kg) and to the Ukraine (NOK4.46/kg). The 2008 decline in average unit values in NOK terms for both Nigeria and the Ukraine is of the order of 6-7% compared to the first quarter of 2007.
Increasing fillet sales to the Russian Federation and the Ukraine
While African markets have increased imports of frozen whole herring this year, East European markets have taken increased fillet volumes. Sales from Norway to the Russian Federation, Poland, the Ukraine and Belarus have all increased compared to the first quarter of 2007. Overall Norwegian exports increased by 44%, to over 50 000 tonnes, with Russia confirming its position as the leading market following a 46% volume increase to 18 500 tonnes. The fastest growing market is the Ukraine, doubling its imports from Norway to almost 6 000 tonnes.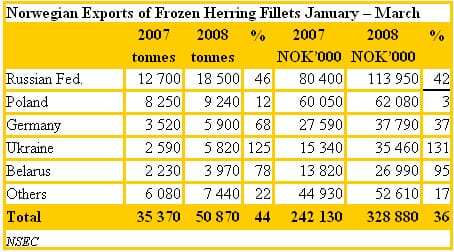 Firm prices to continue
Frozen herring prices remain firm going into the second quarter of 2008. European Price Report indications for round herring (delivered St Petersburg) are generally higher in dollar terms compared to first quarter prices. Fillet prices in NOK terms are also firm and roughly in line with February levels. With low frozen herring inventories reported in Norway, the firm price trend should continue into the second half of this year.
May 2008