Sponsor message
Are you trying to break into aquaculture industry or already working in the field and looking to gain additional expertise for career development?
Habituation is key: how to get the most out of lumpfish
A new study has shown that lumpfish who have habituated to their surroundings will consume more sea lice and exhibit less biological stress.
A study in Frontiers in Veterinary Science has shown that lumpfish are better able to control sea lice levels in aquaculture if they have previous exposure to Atlantic salmon. The study, which specifically measured biological stress in lumpfish, compared the stress reactions of experienced (those who had previous exposure to Atlantic salmon) and naïve (those without previous exposure to Atlantic salmon) lumpfish.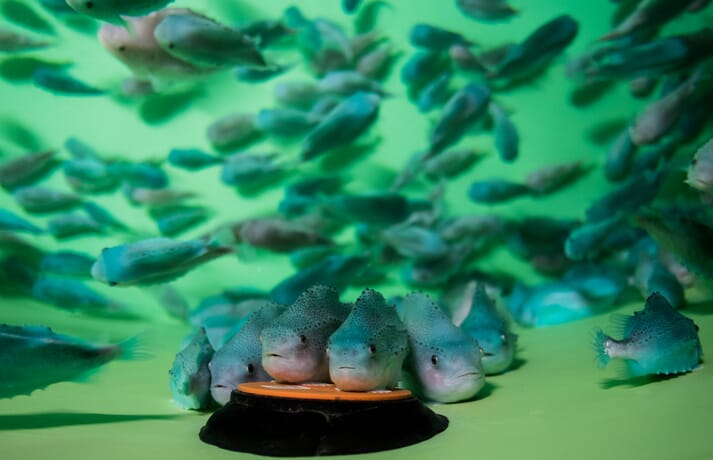 Initial results indicated that the naïve lumpfish showed greater biological stress when exposed to Atlantic salmon. This stress resulted in higher levels of cortisol in the blood, increased burst swimming activity and the fish maintaining a large distance from the salmon. This group of reactions indicated that the lumpfish viewed the salmon as a predator. It also meant that naïve lumpfish avoided the salmon in the tank and spent less time grazing on sea lice.
When analysing the behaviour of the experienced lumpfish, the researchers noted that this group displayed a lower level of stress overall. These observations led the researchers to conclude that the experienced lumpfish had habituated to the presence of salmon in the tank. In addition to habituating to their surroundings, this group spent more time grazing on sea lice. This behaviour indicates that they would be more effective if used in a commercial setting.
Lumpfish are becoming more popular in commercial aquaculture because they can reduce sea lice levels without harming the farmed fish. Their use in aquaculture is also seen as a more sustainable sea lice management tool when compared to medical treatments. However, given the high mortality rate of lumpfish in commercial aquaculture, many researchers have questioned the ethics of using the species as a widespread delousing strategy.
Considering this ethical dilemma, researchers and fish farmers are now focusing on how to ensure commercial lumpfish are not adversely affected during the farming process. Addressing this issue will ensure that lumpfish remain a viable and sustainable delousing strategy in the future.
Recommendations
The researchers made several recommendations based on their results. To begin, they suggested that experienced and habituated lumpfish be used in commercial aquaculture to improve overall welfare and delousing capability. In order to habituate the fish to their tankmates, naïve lumpfish should initially be reared with members of their own species, and gradually introduced to Atlantic salmon before they are fully employed in aquaculture. This would decrease their biological stress and improve their performance.
Sponsor message
UMass Sustainable Aquaculture Online Courses
Aquaculture is an increasingly important source of safe, nutritious, and sustainable seafood for people worldwide. Globally, aquaculture production must double by 2030 to keep pace with demand. These increases in demand for aquaculture products, food security considerations, and job creation have generated an increased need for skilled workers.
Discover how you can be part of this rapidly expanding industry.
Read the full study here.