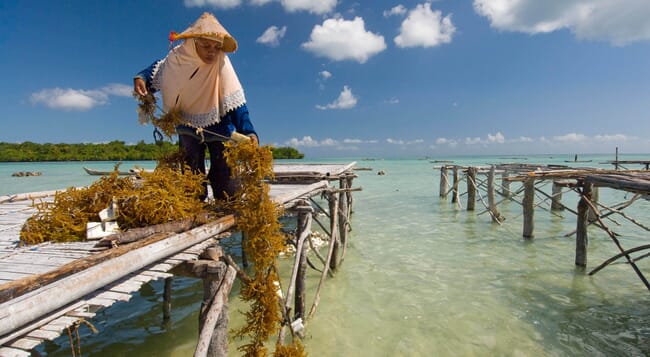 The report, published by the Nature Conservancy and Bain and Company, suggests that current blue carbon prices would not be enough to incentivize climate-smart farming practices. Despite evidence that farmed seaweed can sequester small amounts of carbon, which has driven interest in carbon financing to support farmers' livelihoods and encourage the implementation of practices that provide climate benefits, this is currently not enough to drive change within the industry, according to the report.
The report states that for a carbon financing program to financially motivate behaviour change, credit prices would need to be about 10 to 15 times higher, research would need to show much higher sequestration levels, or the industry would need to develop practices that dramatically increase carbon sequestration.
However, while carbon crediting is unlikely to drive meaningful growth in the near-term, positioning seaweed as a low-carbon alternative to higher-emissions products could deliver both economic and environmental benefits.
According to the report, one sector which could promote growth within the farmed seaweed industry is the bio-stimulant market. These are materials that improve terrestrial crop yields and health, nutrient uptake, stress tolerance, and soil quality. Already a rapidly growing industry, the seaweed bio-stimulant market currently requires between 250,000 to 500,000 tonnes of seaweed per year, most of which is wild harvested. Already poised for 13 percent annual growth, there is even more room for development; if seaweed bio-stimulants were applied to just 3 percent of global farmland, it would boost demand to 3 million tonnes.
Similarly, seaweed bioplastics are poised to grow market demand and serve as a replacement for less sustainable products. Unlike traditional plastics, which are derived from petroleum and don't decompose, bioplastics are derived from renewable resources and are often biodegradable. However, some bioplastics are sourced from materials that require large amounts of inputs – including land, freshwater, and fertilizer – to grow, while seaweed does not.
However, despite the large potential of these markets to boost the farmed seaweed industry, seaweed is significantly economically disadvantaged compared to traditional products and competing green alternatives in both the bioplastics and biostimulant markets, according to the report. In order to overcome this disadvantage, there is a need to either justify a higher price by differentiating seaweed as a premium product or lower the price through greater efficiencies, improved processing technology, or subsidies.
"Not only does [seaweed] require no freshwater, land, or fertilizers to grow, but it can restore ocean health by removing excess nitrogen from coastal waterways, offsetting the localized effects of ocean acidification, and providing habitat for a variety of marine species," said Robert Jones, The Nature Conservancy's global aquaculture lead, in an announcement from the organisation.
"As the sector grows, it's important we rigorously evaluate both the opportunities and limitations of seaweed farming so we can ensure investments are well placed and have the best chance of generating positive outcomes for communities and ecosystems," he added.