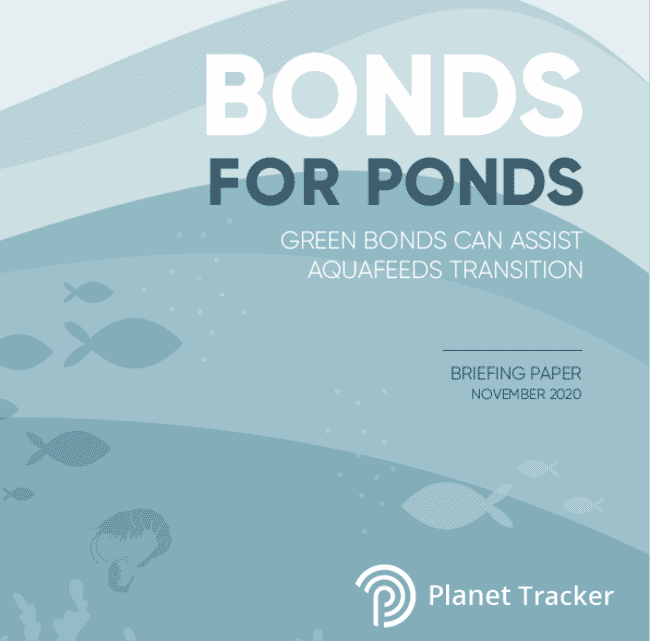 So claims a new report by Planet Tracker, which points to the importance of finding a way to finance a transition away from many traditional sources of aquafeed ingredients.

"Aquafeed producers have already transitioned from fish-based protein to soy, and now are projected to incorporate novel ingredients but may not have the upfront capital required to scale solutions quickly," states the report.
Green bonds are a debt instrument issued by governments, development banks or others to raise capital from investors to finance projects with positive environmental, economic and climate benefits. $262 billion-worth were issued worldwide in 2019 and the non-profit financial think tank argues that these bonds "can supply the upfront capital required for research, scaling innovative feeds and transitioning to deforestation-free soy, while providing creditors with an assurance that proceeds will be allocated appropriately".

Planet Tracker argues that aquafeed accounts for approximately 80 percent of environmental impact in seafood production. 94 percent of soy supply for Norway's aquaculture sector in 2017 originated from Brazil, and the land-use footprint for imported soy protein concentrate for its salmon industry alone equalled the size of Luxembourg.
Amid this high dependency are growing concerns linking salmon feed producers with deforestation and human rights abuses, relating soy production.
With fishmeal prices projected to rise 92 percent between 2010 and 2030, and 67 percent and 74 percent of Norway's and Chile's farmed salmon producers respectively making robust sustainable soy commitments, sourcing an alternative is imperative to reducing costs, environmental impact and supporting the projected 48 percent growth of the aquaculture sector by 2024, the report states.
Though more sustainable alternatives do exist – such as black soldier fly larvae, single-cell proteins and GM canola oil – they are not, according to Planet Tracker, currently available at scale.

Success stories
Mowi and Grieg Seafood have already issued the first green bonds in the sector, with sustainable feed listed as a key use of proceeds in their respective frameworks. Both bonds were significantly oversubscribed, with demand for Mowi's €200 million issuance exceeding €700 million, indicating the appetite that exists for debt issued to embed and scale effective sustainable practices, not only offering access to long-term sustainability, but also operational, reputational and financial benefits.
Grieg's green bond framework specifically states:
All marine ingredients will meet the sustainability standard set by the Marine Stewardship Council (MSC), or the International Fishmeal and Fish Oil Organization Responsible Supply Standard (IFFO RS), or the Aquaculture Stewardship Council (ASC) standard on fish meal and fish oil.
All soy ingredients are to be sourced from certified suppliers, meeting the standard of Proterra or the Round Table on Responsible Soy (RTRS) to ensure segregation of certified and non-certified soy.
Procurement of feed should either support commercialisation of novel fish feed ingredients with a smaller footprint, such as insect meal, or improve fish health and welfare.
Mowi's green bond framework does not specifically mention novel fish feed ingredients but does contain a requirement on 100 percent deforestation-free soy as verified by ProTerra certification or by a certification scheme with equivalent requirements, ensuring segregation of certified and non-certified soy in the supply chain.
According to the Planet Tracker report, these examples show "the opportunity that exists for investors to finance step-changes in capital needs to improve financial and environmental performance in the face of high growth expectations".
"With key players along the entire aquaculture supply chain already making the transition to sustainable feed – and financing costs likely to decrease as green bond issuance in the sector becomes more commonplace – the pace of this transition should be accelerated," Planet Tracker concludes.
The following link provides access to the full report, Bonds for Ponds.