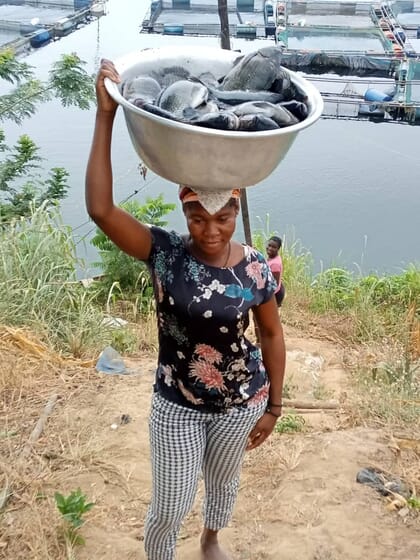 Ghana's tilapia farmers are finally bouncing back after the twin challenges of ISKN virus and the Covid-19 pandemic. A recent visit to Lake Volta showed a lot of activity, with most farmers not only returning to their former production levels but also planning to increase production. Some partnerships have been reviewed, but new partners have mobilised fresh money and are investing in equipment.
As Charles Derby, a fish wholesaler, said: "The outlook for tilapia is very bright. Prices will be high from now because many farmers did not start new cycles due to Covid. And I can also tell you that tilapia is no longer an urban delicacy. People in the districts and rural areas are eating more tilapia, the only difference being that they are preferring 400 to 500 gram sizes. As we buy more local fish, our imports will go down."
Anais Legendre, marketing director of Cycle Farms, the French company which started producing insect-based catfish feed two years ago and has now added a tilapia line, says: "Tilapia production is certainly on the rise, and I'm not only talking about the Volta Lake. We have customers in Kumasi, Sogakope, Asankragua and Sunyani. The pond farmers are doing appreciably well. Our sales figures have risen substantially recently, and that includes tilapia feed."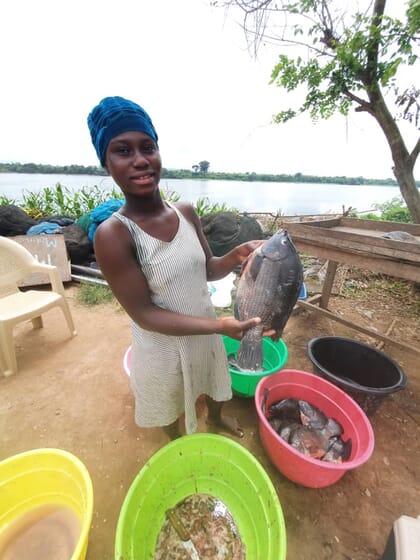 Derby agrees, noting that: "Pond tilapia farmers are doing better now because they are looking beyond feed issues as their main problem. For a while they were asking for cheaper or subsidised feed. But they had other issues. They needed high quality technical skills, and their input supply system, especially for fingerlings, was weak. And they had a major problem with the supply of good quality fingerlings. They are doing better together as an association."
President of PFA, Jacob Ainoo-Ansah, confirms that "we are meeting the fingerlings supply needs of our members. They are ordering larger quantities, and that's a good sign for the future".
Catfish curve
The fortunes of Ghana's catfish farmers have also risen substantially, and could outstrip tilapia in the near future. Most of the big investments that have been made in aquaculture recently have been in catfish, and they involve substantial production figures. The bigger companies are entering into catfish production with an eye for an expanded local market and export.
SkyFox, which operates an increasing number of farms in Ghana and across West Africa, is looking to become more vertically integrated.
Its CEO, Patrick Apoya, says: "Processing has always been our objective. We are about to start processing our harvest into tasty processed products. In addition to opening our own food joints, we will also link up with catering operators, and not only in Ghana. We expect to be noticeably present in West Africa."
Cluster Farming, the Dutch-owned hub farm, currently has 18 big satellite farms, and expects to double that number before the end of the year.
"We are behind schedule due to Covid-19, but we are gathering momentum," says Maurice Valkenburg, CEO of Cluster Farms. We are now installing our processing plant. We will start sending blast-frozen catfish across the West African market very shortly. Over the long term, we are targeting the European and American fillet markets."
Dr Shadrach Amponsah, CEO of Kumasi-based Wontesty Ventures, a big catfish farm and processor, says that tilapia farming is improving in recent times, thanks to the appreciation by the farmers of the need for better technical skills and management. "They have improved appreciably, mainly because they are working under the PFA," he says.
He also believes that the time is ripe for a surge in catfish production.
"Catfish is a big delicacy, and now that the lake and river stocks are getting depleted, fish farmers are filling the void. The demand for the 'traditional' 400 to 500 gram sizes has shot up, and demand for the 1 kg and beyond has ballooned."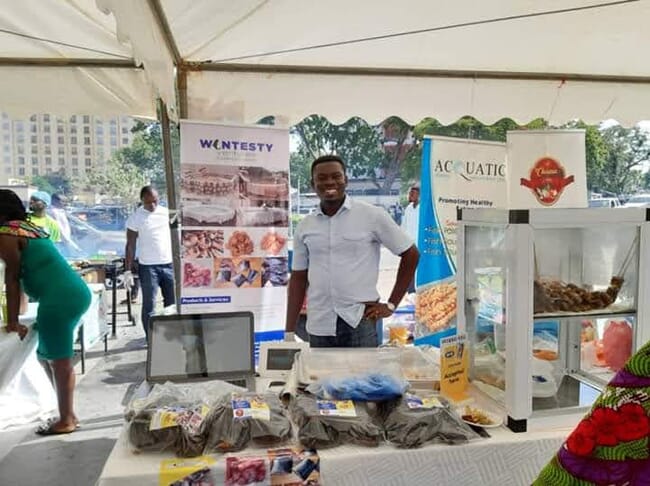 "Point and kill joints [restaurants in which customers can choose their fish from a tank of live ones] used to be found only in Accra, but they are everywhere in Kumasi and Takoradi and other big towns. Restaurant customers are also demanding more large sized catfish. And we are doing quite an amount of processing. We sell sausages and kebabs, nuggets, fillet and smoked catfish. I can tell you this: catfish is the new tilapia in Ghana. I believe tilapia production and consumption will continue to increase, but the prospects for catfish are better, especially when you think about the export market. That is a huge market which Ghana is gearing up to enter. Presently we are best able to supply the needs of the Africans in the diaspora, for whom smoked catfish is an absolute necessity."
Along Lake Volta and nearby towns, there was much to indicate that Ghana's aquaculture was fast recovering from the effects of the ISKN virus and Covid-19. At Jekiti, a busy John Domozoro, technical manager of PBA Farms, was busy with artisans installing a new storage tank. And at Akuse, officials of Cycle Farms Feeds were spending the day with some customer farmers.
"We are exactly two years old in Ghana today," Legendre said. "We decided to spend the day with our customers here, and we are very pleased to find them taking in a good harvest. This says a lot about the prospects for aquaculture in Ghana. We are coming out of the difficult times. Perhaps we will not have to wait longer to see whether it is tilapia or catfish that will win the current 'war'?"