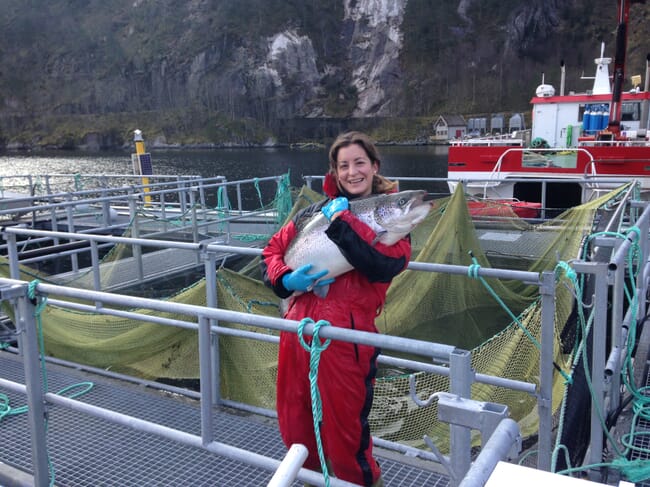 Can you tell me a bit about your background?
I am originally from Chile, where I obtained my veterinary degree from Universidad Mayor in Santiago. After a few years working for a pharmaceutical company making vaccines for salmon, I moved to Australia to complete a masters and a PhD in aquaculture at the University of Melbourne, in collaboration with the Institute of Marine Research in Norway.
My PhD studied the transmission of sea lice (Lepeophtheirus salmonis) by conducting a multidisciplinary study of their biology and epidemiology. After my PhD, I did three-and-a-half-years of post-doctoral research at CSIRO, Australia's leading science agency, investigating an emerging fish virus of concern to the Tasmanian salmon industry, developing novel diagnostic tools for early detection and prevention.
I currently work as a senior lecturer at the School of Veterinary Science of the University of Sydney and also do research behind the scenes to help support the industry.
What inspired you to pursue a career in aquaculture?
My family were involved with the salmon industry, and I worked for one summer in the sector when I finished high school, back in the day when harvest and bleeding was done next to the pens and fish were carried in bins with salt back to shore. I loved being able to work outside on a boat, and near the ocean.
During vet school, I wanted to work in conservation (mainly because I wanted a job working outside the office), but when I started applying for jobs, I got a role at a Chilean pharmaceutical company Centrovet, which was later acquired by Virbac, making vaccines for the salmon industry. That made me realise I wanted to pursue a career in research in the aquaculture industry, which also involved an element of working outdoors and in an industry which provides food and livelihoods to millions of people.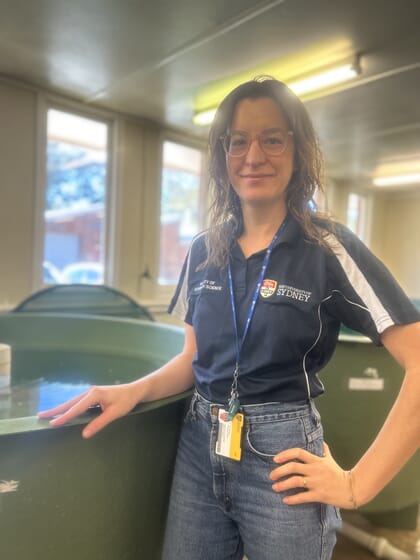 What have been the highlights of your career so far?
I've been very lucky to have the opportunity to work with salmon in different parts of the world, including Chile, Norway, Australia and more recently I've been collaborating with researchers in Scotland.
In terms of R&D, one the highlights of my career was the development of a novel PCR test which increased the sensitivity for detecting pilchard orthomyxovirus (POMV) – which was affecting the salmon industry in Tasmania. The test is currently used in the surveillance programme for the virus.
I am also very proud that I am finally back in vet school working as an academic and I have the opportunity to train the next generation of veterinarians in Australia, where I get to share my passion for aquaculture and hopefully inspire a few other people to pursue a career in this sector.
What have been the biggest challenges you've encountered in your work?
Being a Latin woman working in an industry that can – at times – be male-dominated can be challenging, especially when I was working in Chile 10 years ago. It meant that, occasionally, I have to work harder than my peers to prove myself.
A lot of women I know leave their jobs (or go part-time) after they have a child, and they really struggle to get back into the workforce, due to the cost of childcare and lack of extended paternity leave (at least in Australia) to share the load of caring for children. This is particularly challenging if you are an immigrant and don't have family support nearby.
If we want more women in the workplace, especially in leadership roles – which is crucial for aquaculture, and the economy more broadly – it is imperative for industries and government to provide support for the care of young children.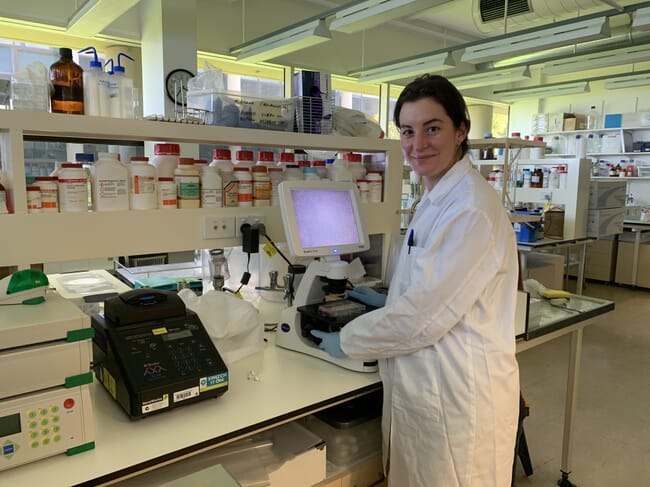 Have you encountered any particularly inspirational individuals or organisations along the way?
One of my mentors and my PhD supervisor, Prof Tim Dempster, who is now a professor in aquaculture at Deakin University. He is a very inspiring and creative scientist, who always encourages his students to think outside the box and challenge themselves. He also kept me sane throughout my PhD and was always very supportive of my ideas, encouraged me to publish my research from very early on in my career, and has always been there providing mentorship and advice.
I also find women who break all the barriers and start their own business very brave and inspiring. Dr Christine Huynh, a fish veterinarian graduated from USYD, and founding director of Nautilus Collaboration, is one of them.
What does your current role involve?
I am currently a senior lecturer in intensive animal production and health, focused mainly on aquatic animal health teaching and research.
I teach vet students about aquatic medicine and the management of aquaculture species, delivering both theoretical and practical classes. Students learn how to collect proper samples for a full clinical examination of fish and how to perform a thorough necropsy for investigating disease outbreaks. I also take them to visit Green Camel, a beautiful project farming barramundi and Murray cod in a large aquaponic system, right next to our university. For most of them, this is the first time visiting a fish farm.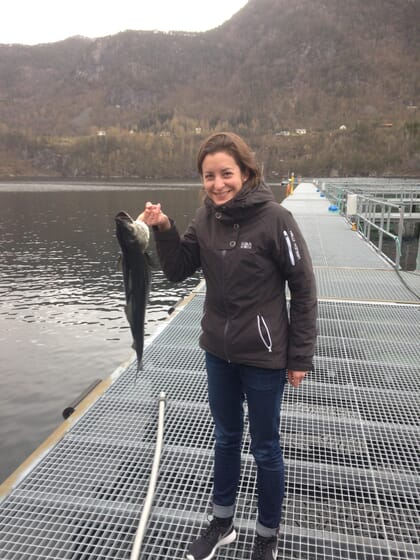 I also conduct my own research at the school, where we have a small RAS facility and aquaria for disease challenge experiments. I started last year working with barramundi, an economically important aquaculture species in Australia and the Asia-Pacific region.
My latest study looked at the impact of cold stress and skin injuries on the infection with an opportunistic pathogen (Vibrio harveyi) in barramundi.
My current research is trying to understand what are the factors influencing disease with bacteria that are generally present in the environment (or are part of the normal commensal flora of fish), but sometimes cause mortality in stressed or immune-compromised fish, triggering an increase in mortality.
How do you see the Australian aquaculture sector evolving?
The salmon industry is still expanding, but is a little bit limited in terms of geographical scope to expand. Barramundi is growing, but we import 60 percent of the barramundi we consume – much of it from South East Asia – which suggests there's potential for further growth, although there's a fear that imported barramundi could spread pathogens, in the same way imported prawns were linked to the outbreaks of whitespot syndrome virus (WSSV) in the shrimp sector a few years ago.
One of the challenges for the barramundi industry is the variety of ways it's farmed. It's much more diverse than the salmon sector – barramundi are farmed in ponds, in raceways, in sea pens – which means that there are many different issues for the industry and the industry association struggles to find the common ground and common priorities on which issues to devote research to. There are also a lot of medium- and small-scale producers.
In the prawn sector, CSIRO are doing a lot of work with indigenous communities – projects that have some potential. Elsewhere, although whitespot is now considered endemic to the area around Brisbane, the rest of Australia is considered whitespot-free and it's important to ensure surveillance to prevent it appearing elsewhere. They're also trying to develop specific pathogen-free (SPF) broodstock, but they're not there yet.
What diseases do you think pose the biggest threat to global aquaculture?
From the perspective of the salmon industry, in Norway for example, one of the biggest threats to the industry is the increase in mortality at sea which has been increasing in recent years – mainly caused by the stress induced by sea lice treatments and opportunistic infections.
Gill health (and complex gill disease) is also a large problem in Scotland at the moment, and this is driving an increase in the use of antibiotics. The use of antibiotics in Scotland was historically very low, but is unfortunately increasing. This is where academia and industry have to work together to improve gill health and find alternatives to antibiotics to treat and prevent bacterial infections.
Some emerging opportunistic pathogens in the salmon sector include some bacteria species that are causing increasing numbers of issues and these include Moritella viscosa and Tenacibaculum spp. I also believe that their growing impact is related to handling stress during seawater transfer, more numerous mechanical sea lice treatments and overall poor mucosal health.
Emerging viral diseases are also a threat to other aquaculture industries. For example, Lates calcarifer herpes virus (LCHV) is a newly emerging virus affecting barramundi and it may be more widespread than we think. This virus could also play a role in immune-suppression, again predisposing fish to opportunistic infections.

What advice would you give to anyone who's considering becoming a fish vet?
It is a dynamic and exciting industry. It is expanding worldwide and providing livelihoods to millions of people around the world. It is also a new industry compared to other animal industries, but the level of innovation in some industries (the salmon industry in Chile, for example) is significantly larger, which makes it a very exciting sector to work in.
If you could solve one problem in global aquaculture, what would it be?
At the last annual conference of the Fish Veterinary Society in Edinburgh this year, an experienced fish veterinarian presented the high mortality levels currently observed for salmon in Norway. This problem is not unique to Norway, Norwegians are just reporting it – they are generally very transparent with industry affairs. This high mortality, however, suggests that we still have unresolved issues with fish welfare.
Mortality is the culmination of poor welfare, and a very crude indicator of it.
If I could solve one problem, I would like to improve the welfare (and policies around welfare) of farmed fish. And do how we do this? More transparency from industry, but also by getting more veterinarians involved in the sector and playing an active role in decision making, advocating for policies to support fish welfare and the long-term sustainability of the sector.
How would you like your own career to progress?
I'd like to stay in academia for at least the next five years, teaching the next generation of vets and inspiring new vets to make that jump and work in the aquaculture industry. You hear that big salmon farming companies like Huon and Tassal struggle to find fish vets, and have to advertise for months, or years, to find the right person.
In terms of the next big research topic, I want to get into trying to figure out whether diseases caused by certain emerging pathogens – like Tenacibaculum – are due to the pathogens evolving, or it is because we are producing more stress in the fish.