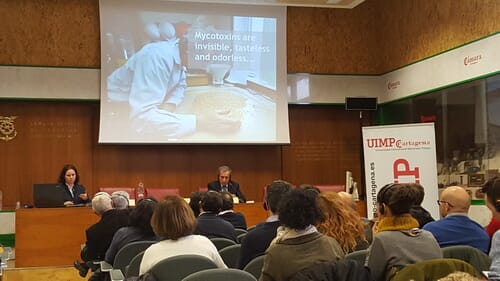 The event was directed by Juan Ignacio Conesa, Director the Animal compound feed producers of South East of Spain and aimed at animal feed professionals and university students.
Reknowned Spanish and foreign professionals and researchers participated in the event. Speakers analyzed the present situation of Animal Nutrition with special emphasis on Food Safety and the public opinion and perception of consumers.
PhD Radka Borutova, Business Development Manager at Nutriad, presented on "Mycotoxins, Food Safety and Mycotoxin Management", discussing the main problems produced by mycotoxins in Animal Production, the impact on Food Safety and strategies to counteract their effects. Attendants were interested to learn.
Ms. Borutova referred to the feed survey that Nutriad conducted in Spain: "The Nutriad 2016 mycotoxin survey concluded that this year's harvest of maize in Spain was of medium quality (>LOQ but below EU recommendation levels) in terms of mycotoxin contamination, which is comparable with the results from 2015. Based on the results of this survey conducted immediately after the 2016 harvest, the belief is that this year's maize crop in Spain should not be automatically considered safe for inclusion into finished feed rations for all animal species and a degree of vigilance is prudent."
Nutriad delivers products and services to over 80 countries through a network of own sales offices and distributors. Supported by 4 application laboratories and 5 manufacturing facilities on 3 continents. Find out more at www.nutriad.com