The Scottish Sea Farms' Triathlon Festival 2018 took place on the grounds of the University of Stirling, on one of the hottest weekends of the year so far, and involved sprint, relay and novice races, along with an obstacle-based challenge for under-16s.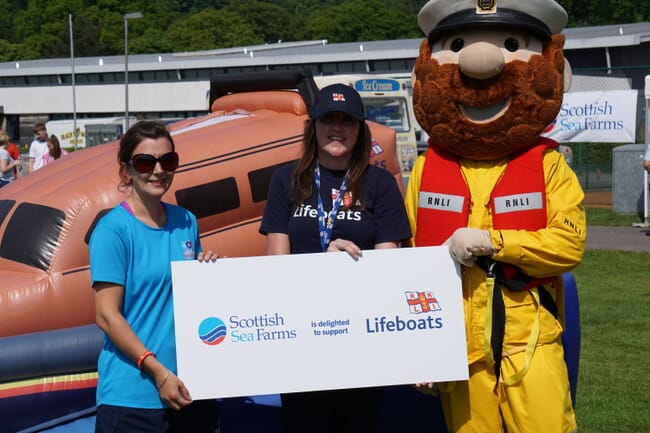 This is the second year that the company has held its Triathlon Festival, which was first introduced in 2017 to give employees, customers, suppliers and their family and friends a fun reason to get and stay active, all while raising money for good causes.
This year's charity, the RNLI, was chosen following a company ballot, with the team setting themselves the challenge of raising enough to buy a new D class inshore lifeboat – the workhorse of the RNLI for over 50 years.
Over 120 participants signed up to for the event, many putting in months of training. Thanks to their dedication, and the family and friends who either joined them or supported them through donations, the event raised in excess of £38,000 towards the cost of the new lifeboat with Scottish Sea Farms' Heart of the Community initiative providing the remainder.
Lynsey Anderson, Community Fundraising Manager for the RNLI, said: "Support on this level means everything to the RNLI. Our volunteer crew go out 24/7 in daylight and darkness, in good weather and in bad, to save lives at sea. We're not Government funded, we're reliant on public donations, so to have companies like Scottish Sea Farms rally round on our behalf is really something to see and the day itself has been incredible."
Company MD, Jim Gallagher added: "The Triathlon Festival really sums up the spirit of Scottish Sea Farms: active, proactive and community-spirited. To use that same spirit to help support a cause as much-needed and as close to our hearts as the RNLI is a truly proud moment for us all. We've welcomed close to 300 people here today, and we've been supported along the way by many more, all of whom had one thing in mind – to help us achieve our target of a brand new lifeboat for the RNLI."