WSI's 2019 competition attracted 32 entries from 14 countries – an 88 percent increase compared to 2018 – making the international jury's job all the more challenging.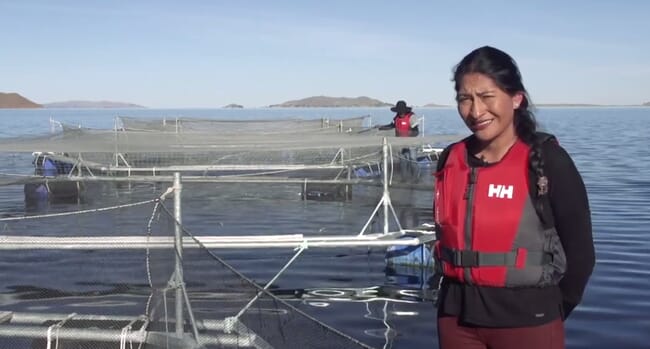 "This year the videos of very high standards pay a wonderful tribute to women working in the seafood sector. Their commitment, their resilience and their love of their work are portrayed very convincingly. All actors in the videos, directors and real characters, should be warmly congratulated," said Marie Christine Monfort, WSI president.
Winners
First prize was awarded to a film called Women of the Arousa Sea, which follows the fortunes of a number of women in Galicia who make their living from various sides of the seafood trade. The judges declared it to be - "The best! Touching, strong, positive, with context and showing diverse angles of women at sea."

Second prize was awarded to a film called Oyster farming in Wadatar, which shines a light on the struggles of a group of female oyster farmers in India. It was was hailed as highlighting a "Very interesting and positive initiative, where women overcame prior opposition and go in the water."

The third prize went to the makers of Truchas arapa, or The Aquaculture Women of Lake Arapa, which features interviews with members of a sustainable trout farming project in the Peruvian Andes. According to the judges it is: "A promising aquaculture initiative where Reyna Callata Chaco a very inspirational role model provides good leadership to other women."

In addition, two entries were awarded the WSI prize of Excellence.
Leadership des femmes transformatrices au Sénégal was deemed to be an: "Excellent video - great music and visuals, where women were at the front and innovations current and important."
Meanwhile Women with tradition was billed as:"A one family business inspirational for other families in the community".

A special WSI mention was awarded to Mujeres del mar, (Mexico), which was hailed as a "Very good example of the work of a community in which women share experiences"
And a second Special WSI mention went to Mujeres a bordo (Galicia) for highlighting "the key issue of prejudices severe on land but inexistent on board. Excellent lesson to those who do not believe that a woman can do it!"

"The standard of all the films was high, and they demonstrated the many ways in which women are active throughout the seafood industry. There were happy tales and sad tales, tales of bravery and perseverance, and tales of the struggle against circumstance. A couple of films even brought a tear to my eye. All the women should be congratulated on their outstanding efforts; they left me in awe," said Nicki Holmyard, UK-based seafood journalist and mussel farmer, who was on the judging panel.
The 2019 competition received the support of the French Development Agency (AFD) and the International Association for Fish Inspectors. MATIS from Iceland, a loyal support to WSI for the third year, supplied the technical logistics.
"We are happy to announce that the 2020 edition is open and we look forward to receiving new wonderful testimonies from all over the world, making visible the two often invisible yet paramount contribution of women to the seafood industry," concluded Monfort.

Further information
Those interested in the challenges and opportunities facing women in the seafood sector are welcome to attend the latest Women in Aquaculture seminar, which is being run by The Fish Site and EAS at 16.30-17.30 on 9 October in Berlin. Attendance is free for delegates to AE2019, but places are limited.