Sponsor message
Are you trying to break into aquaculture industry or already working in the field and looking to gain additional expertise for career development?
Farm of the Future: Rearing Bluefin the New Way
The Fisheries Laboratory of Kinki University in Japan has found a possible way to address the problem of declining tuna stocks by cultivating completely farm-raised Pacific bluefin tuna. In the first of two articles, Bonnie Waycott explains how it's done.
Yellowtail, flatfish, red sea bream, grouper - the species being raised at Kinki University's Fisheries Laboratory are much like any you would see on a standard fish farm. The Laboratory's Oshima Experiment Station sits about 5 hours from Tokyo in Wakayama Prefecture, southwest Japan. There, university scientists are involved in the farming of a wide variety of marine species.
The Laboratory has a colourful history: it all began in 1948 with a seaside research facility in the town of Shirahama in Wakayama Prefecture. "Cultivate the seas" were the words of Koichi Seko, Kinki University's first president who founded the facility. Aquaculture research began there in 1970, and the university has been the first organization to successfully raise red sea bream and amberjack using full-cycle aquaculture, a process of raising fish from eggs to adults rather than from juvenile fish caught in the wild.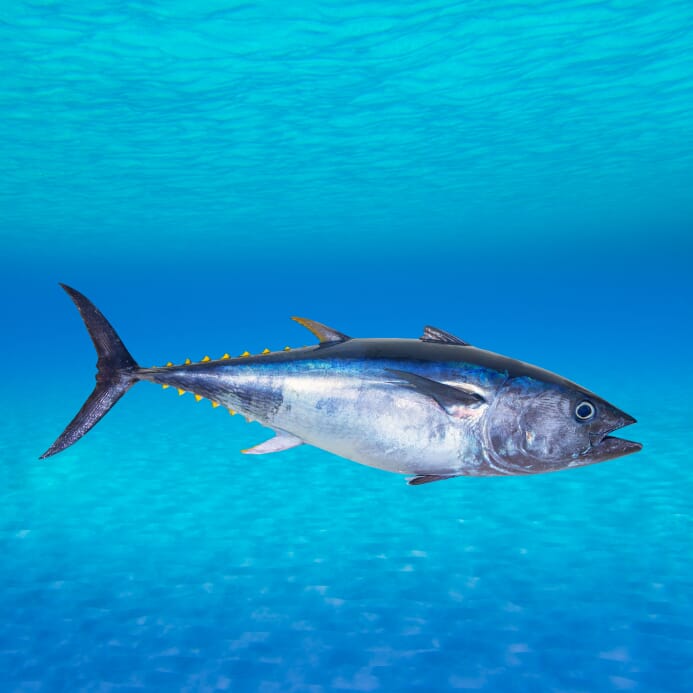 Today it has come quite far from its grassroots beginnings. Although it continues to farm a myriad of species, its most significant work involves tuna. In 2002 it became the first in the world to cultivate completely farm-raised Pacific bluefin tuna.
Bluefin tuna is a favourite food of the Japanese and tuna consumption has been rising worldwide. Bluefin are fished mostly for use in sushi restaurants in Japan and other parts of the world. They fetch extremely high prices, making them attractive to fishermen. But natural stocks are declining, and amidst fears that the decline will continue and become even more dramatic, the Laboratory has focused its research on the use of full-cycle aquaculture as one solution to the problem.
"Thanks to our control over all processes of the bluefin tuna lifecycle, we can offer a stable supply of tuna without depending on fish stocks in the wild," explained Professor Yoshifumi Sawada, Director of the Laboratory's Oshima Experiment Station.
Rearing Bluefin
The Laboratory produces 50,000 - 100,000 juveniles and 80 - 100 tonnes of edible tuna a year. The broodstock are raised for at least 3 years. When they reach around 1.5m long and weigh 80kg, their fertilized eggs are collected from the surface of the water, and the eggs hatch into larvae in about 32 hours. The newly hatched larvae are then raised in tanks until they reach around 6-7cm long. It takes about 40 days for them to grow into fry, after which they are transferred to ocean net cages.
The Laboratory is using ocean net cages not so much down to investment cost or operational reasons, but because they have more space and are much better suited to bluefin tuna.
"They're good because the tuna swim all the time," explained Sawada. "The fish collide with the walls and are difficult to rear in land-based tanks."
Lighting is added to the centre of the cages to prevent collisions at night. This is particularly necessary for fry that are 52-53 days old after hatching, because they have a less developed sense of vision and their survival rate decreases drastically without some form of lighting. About 3 months after hatching, the fish reach around 30cm long and weigh approximately 300g. It takes them about two years to grow to over 1m long and weigh 20kg, at which point they are ready to be sent to market.
Feed Issues
Newly hatched larvae eat rotifer, and artificially formulated diets are introduced in the late larval period and early juvenile stages. But each tuna at the Laboratory must eat 10-15kg of fish for every 1kg of its body weight so feed costs are high. At the age of 2 they are given skipjack mackerel, a species that is good for larger tuna in particular as it's rich in protein and oils and doesn't cost much.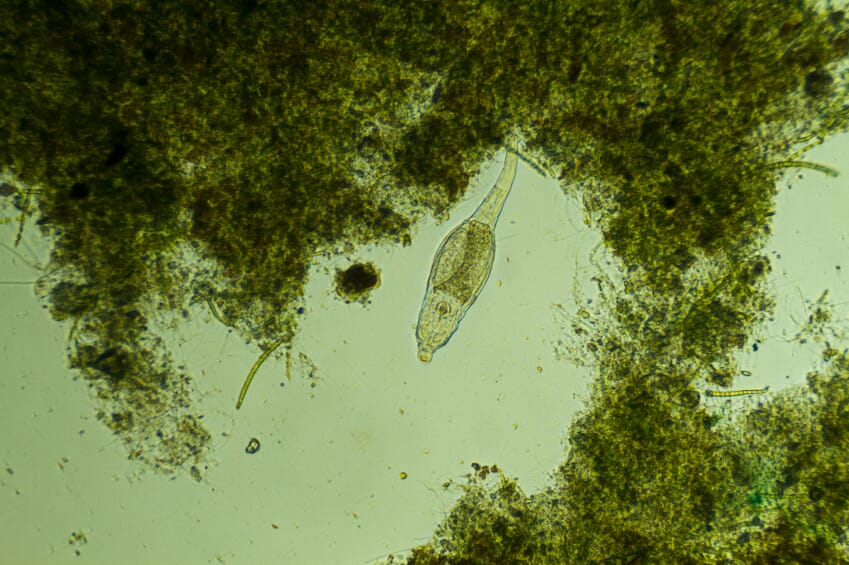 But replacing fishmeal feed with plant protein is important for the Laboratory to ensure that its operations are sustainable. "We can address the issue of feed in two ways," Sawada said. "The first is to develop plant protein feed, and the other is to find a good alternative that can be digested more effectively than fish protein."
Sawada believes that soybean, corn meal and sugar cane are all hopeful candidates, and in the meantime has begun an alternative feed project named the "Green Tuna Project," to study the possibility of plant-based feed.
Biosecurity
The Laboratory keeps an appropriate stocking density, cleans its nets regularly, disinfects seawater and maintains fish health through suitable nutrition. Viral diseases are treated with vaccinations, while water exchange rates in the ocean and efforts to minimize feeding make operations environmentally friendly. The most critical thing for the Laboratory is the prevention of disease and collisions.
At the end of 2014 the Laboratory received a boost when it joined forces with Toyota Tsusho to begin the mass farming of bluefin tuna hatchlings at a site in southwest Japan. It's continuing to pump out some important research, with the ultimate goal of reducing pressure on wild bluefin tuna stocks.
(820 words including subheadings but not introduction and ending in italics)
In Part 2, Bonnie Waycott looks at the challenges the Fisheries Laboratory faces and its future projects. Read Part 2 here.
October 2015
Sponsor message
UMass Sustainable Aquaculture Online Courses
Aquaculture is an increasingly important source of safe, nutritious, and sustainable seafood for people worldwide. Globally, aquaculture production must double by 2030 to keep pace with demand. These increases in demand for aquaculture products, food security considerations, and job creation have generated an increased need for skilled workers.
Discover how you can be part of this rapidly expanding industry.