With 640km of coastline, territorial seas extending 12 nautical miles and an exclusive economic fishing zone of 350 nautical miles, the potential for aquaculture in Kenya is huge. But coastal areas are the country's least developed, with over 60 percent of people living below the poverty line.
Initiated in 2010, the KCDP - which is now operated by the national government - is a multi-sectoral development initiative that aims to enhance revenue generation and the effective management of the country's coastal and marine resources and strengthen the conservation and sustainable use of marine and coastal biodiversity. With its strong commitment to sustainability, Kenya's government has been instrumental in the sustainable utilization, management and conservation of natural resources and ensuring that the accrued benefits are shared among citizens.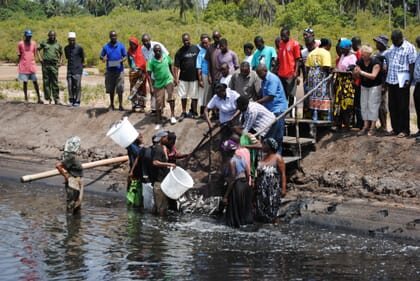 "This commitment is clear in Kenya Vision 2030, our national long-term development blue-print that emphasizes the need to address social inequalities and ensure that the poor can improve their incomes and living standards," says KCDP Project Manager Dr Jacqueline Uku. "This includes people in coastal regions. There, the aim is to conserve coastal mangroves and marine resources."
Due to the excessive overuse and poor management of coral reefs and mangroves, the value of Kenya's coastal resources has been degrading. Organic pollution from major urban areas has also had a negative impact.
"One of the KCDP's roles has been to strengthen governance and improve monitoring and enforcement capacities to re-develop coastal areas," says Dr Uku. "That's the first step towards reversing degradation and using natural resources more sustainably. We will increasingly involve capture areas, especially deeper near-shore areas that are exploited by artisanal fishermen. We are hopeful that as mariculture increases, illegal offshore fishing will decline. We will create a better understanding of land capability and use, and improve infrastructure, capacity building, assessment of markets and technology to add value."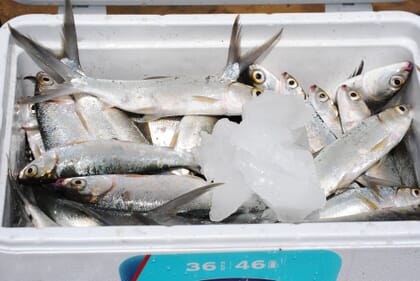 Hosted by the Kenya Marine and Fisheries Research Institute (KMFRI), the KCDP has received funds of US$30 million and US$5 million from the International Development Association (IDA) and Global Environmental Facility (GEF) respectively. Government institutions that are part of KCDP have partnered with NGOs and organisations such as the Wildlife Conservation Society (WCS), CORDIO (Coastal Research and Development in the Indian Ocean), COMRED (Coastal and Marine Resources Development), the World Food Programme, the Kenya Forestry Service, Pwani University and the Technical University of Mombasa to develop management plans, guidelines and governance tools. The KCDP supports seaweed and milkfish farming in Kwale and Kilifi counties, coral reef restoration in Wasini (Kwale county), mud crab and artemia farming in Kilifi county and business skills training for small and medium entrepreneurs. Its biggest community investment is a grant programme called Hazina Ya Maendeleo Ya Pwani (HMP), where community-based organizations receive grants for natural resource management and infrastructure/community service projects.
Milkfish aquaculture
One project is the farming of milkfish to protect mangroves in Kwale County's Makongeni village. Following an environmental assessment, five ponds (40 x 30m) were constructed at the Makongeni Fish Farm between 2013 and 2016 to each hold 3,600 milkfish fingerlings at high densities. The ponds are stocked during the rainy season when the mangrove channels are full of milkfish seed, and farmers are trained to formulate feed locally with fishmeal, maize bran and cassava flour.
"We recently introduced blood meal as an alternative protein source, and farmers are taught how to process and mix it with other ingredients. Fingerlings are also sampled once a month to determine growth and survival," says Dr James Mwaluma, a principal research officer at KMFRI.
"Reforestation and fish farms go together extremely well," adds Dr Uku. "Mangrove forests provide nursery areas and shelter for fish and seed. Part of the Makongeni project was the planting of mangroves, and now we have a small mangrove nursery, mainly consisting of the Rhizophora mucronate and Ceriops tagal species."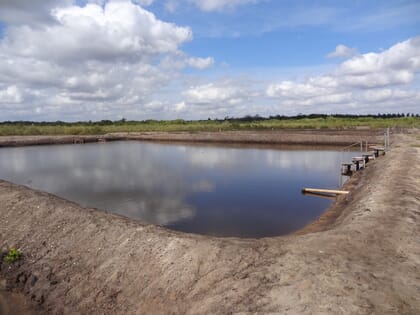 The Makongeni Fish Farm has made giant strides in reducing pressure on mangroves through mariculture. Mangrove conservation is crucial - without mangroves, it would be impossible to obtain wild milkfish seed and they are also important areas of carbon sequestration. But what began as a trial-and-error project in mid 2004 is attracting attention for another reason.
Opportunities for women
"It is very significant, not just because of mangrove conservation and improving the fortunes of an entire village, but also because of the number of women involved," says Dr David Mirera, a silvofisheries senior scientist at KMFRI who was behind the introduction of the Makongeni project.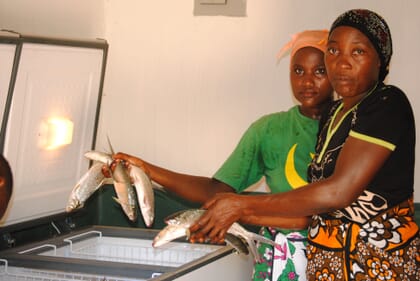 "In Makongeni it was considered taboo for women to fish for a living, but today many are challenging this," says Dr Uku. "Men focus on fishing in intertidal areas away from the mangroves, but because mangroves are closer to shore, it's easier for women to take part in restoration activities or establishing fish ponds nearby. The fish farms are also close to their homes so there is less risk of them being out at sea, they can focus on their homes and ponds whenever required, and they benefit from the extra income coming into their households."
Things have not always been easy, with predation by birds, theft of fish by other community members, a lack of seed, conflicts in groups and a high dependence on technical support. But the biggest reward is progress. Another KCDP initiative is the Baraka Self-Help Group, whose members invested in a fish shop that is now used as a market outlet for their produce from ponds. The KCDP lent their support by providing two freezers. When there is no production in the ponds, the group stocks the freezers with other fish bought from fishermen to sell, and generate an additional income. The potential to grow from a fishpond into a centre supplying quality fish is the biggest transformation the KCDP has seen.
So far, the KCDP has laid the foundations for improved fisheries and coastal development, while enhancing the sustainable utilization of natural resources. Dr Uku is confident that much more can be done.
"I hope our initiatives will continue to receive support and grow into what we call demonstration centres, where peer learning can take place," she says. "This will transform the rest of Kenya's coastal areas, through experimental learning and lesson sharing. Investment in coastal aquaculture requires strong demonstration centres and long-term technical support. I would also like to see a marine hatchery established by the Kenya Marine and Fisheries Research Institute, for the diversification of species and to support communities as they take up more aquaculture projects."