The extended special edition reviews activities carried out during the last EAFP conference in Belfast, which was attended by over 500 scientists from 43 countries. The issue includes updates from the largest EU-funded fish health research consortia – TargetFish, ParaFishControl, and VIVALDI – together with reviews by leading keynote speakers and summaries of the workshops that covered important topical issues for aquaculture.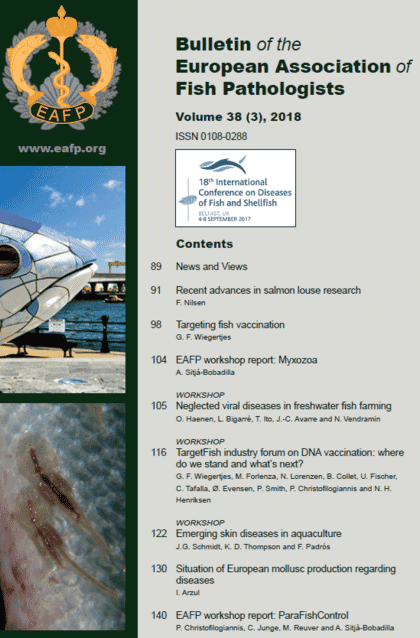 Highlights of the issue include the keynote address made by Professor Frank Nilsen, from the University of Bergen, who explained how molecular tools have enabled detailed studies on sea lice moulting and host-parasite interactions, including semiochemical-mediated host detection and fish immune response, or on parasite physiology. This acquired knowledge may become pivotal towards the implementation of efficient control strategies.
An article by Professor Geert Wiegertjes, from Wageningen University, reviews possible vaccination strategies developed through the TargetFish project consortium, which is looking into possible prophylaxis treatment to protect against over 10 important aquatic pathogens affecting European aquaculture. The success of bacterins is described for bacterial disease in trout (such as rainbow trout fry syndrome), while bacterial toll-like receptor agonists, such as flagellin, are described as effective adjuvants. The review also covers aspects on protective adaptive immunity in fish, concerns over DNA vaccine safety and the challenges of oral vaccination.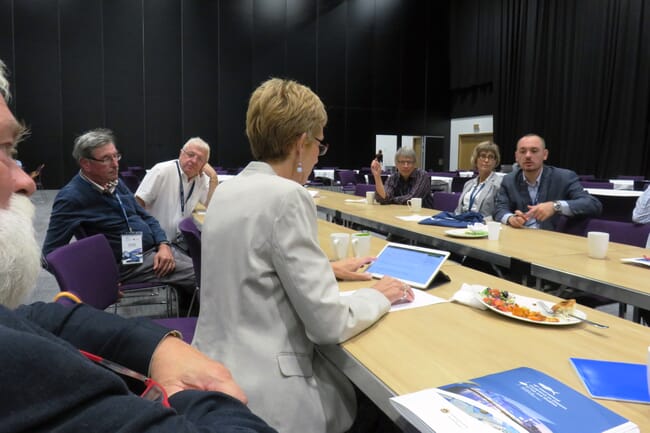 Also featured is a presentation by Dr Isabelle Arzul, from the EURL for Mollusc Diseases, who reviewed the geographic distribution of molluscan diseases, including the cases of previously exotic European protozoan diseases, as well as emerging diseases. Disease control, regulation and surveillance are covered in this comprehensive summary.
The issue also contains summaries from three of the workshops at the EAFP event, including the discussion between scientists working on Myxozoa, on neglected viral diseases in cultured freshwater fish, and on emerging skin diseases in aquaculture. The future of DNA vaccination was discussed within an industry forum promoted by the TargetFish research consortium. Advances in research to develop tools and control strategies against parasites threatening European farmed fish were discussed in an industry forum promoted by the ParaFishControl research consortium, a collaborative network with 29 partners from 13 countries.
Since 2010 the EAFP, with 842 members across 37 national branches, has been publishing its bulletins in full colour, adopting new editorial initiatives and now aims to become an open-access journal.