The operation was undertaken in Norway by SalMar Farming, Hydrolicer Production and Vamar AS, using the SLC-02 barge and crew.
Three cages of broodstock were successfully deloused. Replacing the Aqualife fish pump with one from Hydroflow made it possible to treat such large fish. The Hydroflow fish pump was developed by Hydrolicer Production, Cflow and PG Flow Solutions. The first line was installed and tested in collaboration with Midt-Norsk Havbruk.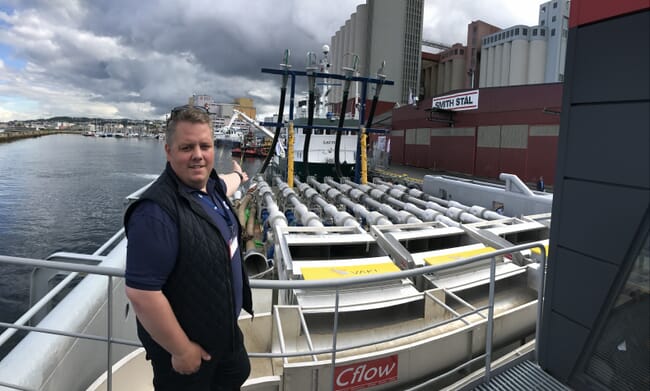 "This is one example of how hard work, patience and good cooperation have been essential factors behind us achieving a goal. I am proud of what we have achieved together with all the parties involved," says Vegard Holm, operations manager for SLC-02.
Following approved tests of the pump itself, SalMar Farming and Vamar AS have been the first to test it in combination with Hydrolicer's delousing system. The barge with the new system has also been used at two of Bjørøya Fiskeoppdrett's locations, where it processed 50 tonnes of salmon hour per line, recorded a 89 percent louse removal rate and a mortality rate of only 0.03 percent one week after treatment.
"It is very rewarding to get this feedback from Bjørøya Fiskeoppdrett," says Odd-Einar Grøntvedt of Hydrolicer Production. "Salmar Farming, Bjørøya Fiskeoppdrett and Midt-Norsk Havbruk are all intensely focused on fish health in connection with fish handling. Hydrolicer Production is highly satisfied with the collaboration and these three companies' contributions to getting the fish pump and the Hydrolicer system to work well together. Enthusiastic and knowledgeable people who know these systems well have been good at challenging us as suppliers. We really appreciate this and find it very rewarding to see that we are able to succeed together."
Åkerblå participated when the pump was put into operation. Their conclusion is that, based on use of the Hydroflow pump, satisfactory fish welfare is achieved, even for large broodstock.