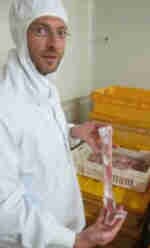 François Meurice
The predetermined size of polystyrene trays used in supermarkets means that the specifications leave behind substantial pieces that can hardly be described as 'trimmings' in the way that might once have been the case.

"The stock in trade of Boulogne is hand filleted fish," Meurice explains.

"Here is a coley fillet, from which a packer has taken the back and is left with the thinner belly pieces."

He is holding a piece of coley from which one can readily discern the full length of the original fish. From the readily identifiable tail section to where the gills would once have been, the only way this wild caught fish can be standardised is in the portions that are taken from its fillets.

Valofish sold 2,000 tonnes of fish last year and is investing in additional equipment that will be commissioned after the summer holidays.

"In September, we will be able to process fish frames with the heads attached."

Another advance will be the ability to recover white fish flesh from the frames without discolouration. During conventional processing, blood in the vertebral column is squeezed out, producing bright red flesh that is unsellable.

"This autumn we will be able to wash out the blood, leaving behind the fibres, which have the colour we need," Meurice anticipates.

Often the work of sorting fish by species and category is already partially done, but there is a lot of hand work still to do at Valofish before coproducts can be sold on. Pieces might arrive with the skin on or off, or with bones, but before the 7.5kg boxes of minced fish can be dispatched, both skin and bones need to be eliminated.

"Our job is to add value for food manufacturers who don't need complete fillets when their recipes use small pieces of fish," explains Meurice.

Two thirds of his sales come from his own production in Boulogne's Capécure district, while he carries out additional trading in consignments of fish skin from filleting centres in countries with substantial filleting centres such as Viet Nam.

"Fish from hot climates have skin that yields more gelatine than you can get from cold water fish," Meurice explains. For this reason it makes sense to undertake the shipping involved.

As well as taking in offcuts from his neighbours in Capécure, Meurice will on occasion take space with hauliers who have part loads to complete and can bring in bulk bins of fish offcuts from around Europe. This trade is dependent on freight rates: if oil prices go beyond a certain level, there is no margin to be had from bringing in such consignments.
Traditional Formula of Fish, Fire and Wood Smoke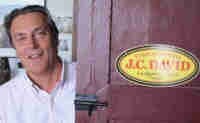 Hervé Diers
"Quality first" are the watchwords of Hervé Diers, director of fish smoker JC David. He has a vision for the future that is as strong as his respect for the traditions of the past.

His business has just earned accreditation for the Marine Stewardship Council and Mr Goodfish.

"By certifying and guaranteeing the supply chain, we can satisfy consumer expectations as the the origins of our products," explains Diers.

"It also allows us to make a clear distinction between our products in terms of both traceability and food safety. More to the point, it allows us to underline the top of the range positioning for our brand and to underline its difference from similar products."

JC David's signature product is the traditional mildly smoked herring: this is instantly recognisable in its vacuum packed form, although it is also offered in other formats, such as rolled lengthways, for instance (ballotin) or packed in oil with garlic and parsley inside clear lidded bowls.

The dual certification reflects the fact that multiple retailers such as Carrefour France are increasingly looking to list MSC-certified fish products, while JC David products are also widely sold through fishmongers and restaurants. The visual appeal of a traditional product in clear, modern self service packaging is a strong selling point.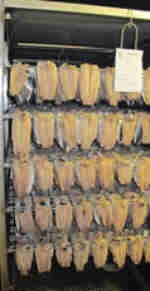 Herring smoking in a corrèze or traditional fish smoking oven.
The fish is prepared for smoking and opened flat before being smoked bone-in in one of the site's 40 vertical ovens for between 24 and 48 hours. The smoke from the burning oak fires rises through two storeys of the building to smoke the fish evenly on both sides in ovens called 'corrèzes' behind full-height wooden doors.

Once the herring comes out of the corrèze, the bones are removed and the skin stripped away by skilled filleters, known as 'fileuses'. If they are to be made up as ballotins, the work is passed on to skilled 'ballotineuses', who roll the fillets by hand in cellophane.

"These are traditional trades that have all but disappeared elsewhere," remarks Diers.

"They are part of our tradition here, though."

There is something almost magical in the simplicity of the process, Diers observes.

"We don't need to add anything. The subtle flavours of fish and wood smoke are already in perfect harmony."

In addition to herring, JC David works with other species ranging in size from sprats to salmon. The top of the range smoked salmon start out from Loch Duart, on the north west corner of Scotland.

Loch Duart is the first Freedom Food-accredited salmon business where fish are raised slowly with very low stocking densities. This ensures a firm, muscular fish which is as close to a wild one as can be acheived in captivity.

Three sites along a stretch of the Sutherland coast are used in strict rotation, ensuring a year for the wind and tide to clear any traces of the previous occupants before restocking cages. Every effort is made to replicate conditions in the wild, including irregular feeding times.

This Scottish salmon also has French Label Rouge accreditation, rare outside France, which is a testimony its consistently high quality. At JC David, the salmon is dry salted and carefully rubbed with selected spices before passing 24 hours in a corrèze, which ensures the salmon is smoked to perfection.

This year sees the launch of 150g smoked haddock steaks, prepared with just a touch of natto to give the light orange colour of traditionally smoked fish. Also coming out this year are salted and smoked Sea Tiger prawns; as well as 150g lightly spiced and braised salmon steaks.
August 2010