Designed by Malakoff it is also the first vessel to be laid down in the firm's new boatbuilding facility at the Greenhead base, Lerwick.
Cooke Aquaculture Inc, which is based in eastern Canada, has invested heavily through Cooke Aquaculture Scotland in the Shetland salmon farming industry, most recently investing of £2 million in cages and equipment for local sites.
Malakoff, which has been building boats since the 1870s, has a long pedigree of boatbuilding for the salmon farming industry, stretching back to the mid-1980s. The business is perhaps best known for its Voe Boat range – a type of small, durable, aluminium workboat that can be configured to suit almost any requirement. However, the company also has in-depth experience of the design and construction of larger steel workboats, and has previously launched mono-hulls, multicats and catamarans, many of which are still in operation.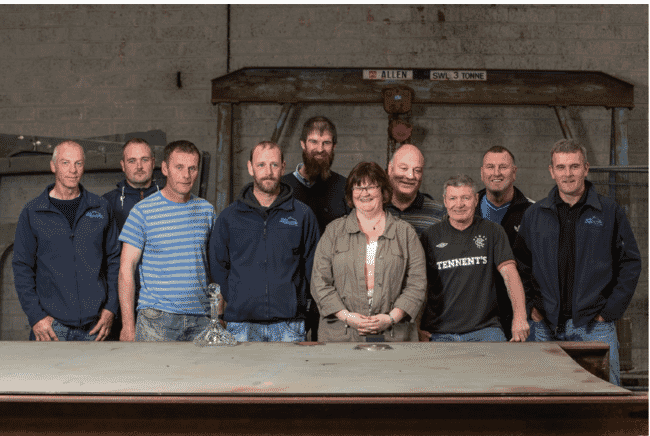 Cooke's David Brown explained why they chose to use Malakoff: "Cooke has a long-established working relationship with the Malakoff through the use of their diving services, slipways and inspection and testing services. Although Malakoff have never built a boat for Cooke directly, through our investments, we have inherited a number of Malakoff workboats. These boats are still used in our day to day operation and we are looking to replicate their durability in our next build.
"It's also really important to Cooke Aquaculture to invest in the local community and its economy. By using Shetland firms and local labour, we help to maintain and expand local knowledge and skillsets, which ultimately benefits our business and the islands as a whole."
The vessel is the first to be built at Malakoff's new fabrication facility, and the contract shows the value of the aquaculture industry to the islands' wider economy.
Malakoff Project Manager, Ryan Stevenson, explained.: "Malakoff have had plans to expand the boat building division for some time. The catamaran workboat order from Cooke Aquaculture Scotland has allowed us to act on these plans, which have led to the opening of a new workshop. This represents a significant expansion for the company and the local economy and we would like to thank Cooke for having the confidence to work with us to develop a workboat to suit their needs.
"The new fabrication facility is a huge asset - at over 80,000 square feet we can have up to three of these types of vessels under construction at the same time. It also has enough space to allow a much more efficient build process, with different areas for prefabrication and assembly - basically, steel comes in at one end and a finished vessel comes out the other."
Vessel specifications
14m length
7m beam
6mm shell plating with 10mm reinforced corners at wear points
2 no. 280 hp engines
1 no. 5 tonne and 1no. 3 tonne capstan
23Tm Palfinger crane